An all-through education in London
Posted on 24th May 2018 in School News, Which London School?, Prep Schools Guide Tweet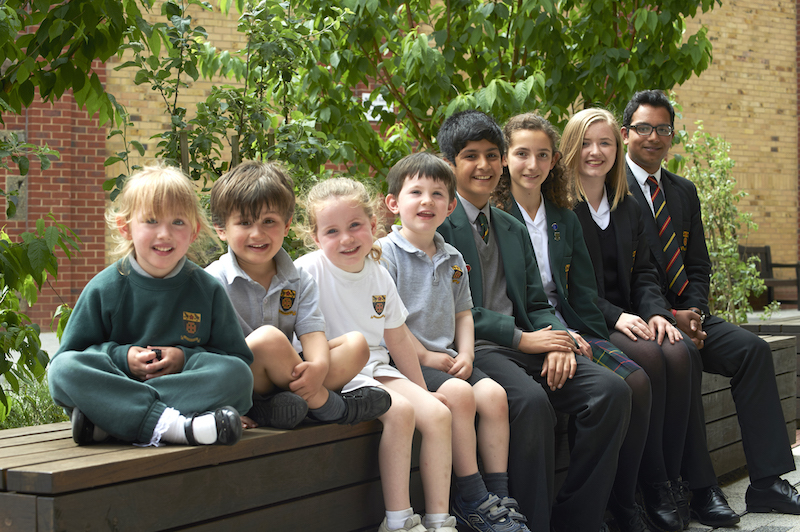 Andrew Johnson, Headmaster of St Benedict's, Ealing, outlines the advantages of a seamless education from 3 to 18 in the capital...

After 10 years as Headmaster of a rural boarding school in northern England, I am now at the helm of a London day school.
The two schools could hardly be more different: one set in an area of Outstanding Natural Beauty and twenty miles from the nearest city; the other in Ealing – John Betjeman's 'Queen of the Suburbs', with its Edwardian dignity, fine Benedictine Abbey, and impending Crossrail connection. Coming to live and work in London, from the green and pleasant land of Lancashire, has brought into focus all that London has to offer.
An obvious advantage for any London day school is that world-class museums, galleries and many other resources are on the doorstep, bringing learning to life. Inspirational visiting speakers are easy to attract to St Benedict's, since many live in the capital: authors regularly visit, to talk about their work and to lead creative writing sessions; politicians, journalists, entrepreneurs, scientists and Olympians feature each term in our calendar. If there's an open lecture at the London School of Economics, or the British Library is running research workshops, our students can easily attend. Alumni of all ages and stages regularly drop in too, to talk about their career paths and to offer work experience placements. City day schools benefit from a high degree of connectivity. What we may lack in rolling acres of green space, we make up for in stimulating events and opportunities.
St Benedict's has the distinct advantage of being one of the few 3-18 day schools in London, offering a seamless education from Nursery to Sixth Form on the same site. The benefits of an all-through school, for pupils and parents alike, are obvious. Children can make firm and lasting friendships, enjoy familiar surroundings and facilities, and feel known by their teachers, as well as benefiting from a continuity of approach, ethos and community. The school run is much simplified if siblings can be dropped off at the same place; there is a single school calendar to deal with rather than several sets of dates and events; and one set of teaching staff to get to know, over a longer period of time.
School years are made up of a series of important transitions: from Nursery to Reception class; from the Early Years Foundation Stage to Year 3; from Junior School to Senior School, and finally into the Sixth Form. These transitions mark out significant social and intellectual landmarks in a child's education and are made much easier if they are negotiated within the same school, on the same familiar site. We manage these steps very carefully so that each stage is a natural progression, rather than a bewildering jolt. Our Nursery offers an excellent preparation for 'proper' school, for example, as it is housed in the same, brand new Early Years department as children in Years 1 and 2, sharing many activities and resources. Three year-olds at St Benedict's follow a carefully planned curriculum which frequently dovetails with the Reception class' activities: artwork, stories, music and dressing up may relate to a given theme, such as The Wild West, or Ice and Fire. Specialist teaching in music, art and PE enriches children's learning and provides expert tuition, as they begin to find where their enthusiasms and talents lie.
Junior school children frequently attend events at the senior school, such as the annual Science Fair, plays, concerts and author visits. As they approach the big move into Year 7, children aged 9 and 10 attend several special science, languages and history lessons at the senior school. Taught by senior teachers, often assisted by Sixth Form students, these lessons are very effective in helping to familiarise the children in advance of their transition.
Academic tracking, departmental syllabus planning and pastoral care all bridge the gap from junior to senior school too, ensuring that each pupil receives close, informed care and attention.
Any parent of a Sixth Form student will tell you that these two vital years go by particularly quickly. Students must adapt to the greater degree of independence, both academic and organisational, required by A level study, as well as make big decisions about university applications. If it is possible to stay at the same school for the Sixth Form after GCSE, this makes the settling in period much quicker, since students and teachers already know each other. After GCSE exams in the summer, introductory A level lessons are given, to prepare the ground for more advanced study.
Sixth Form students are essential role models for the rest of the school, and there are many ways in which they can show leadership, as Prefects, House Captains and by mentoring younger pupils, for example. Many of our students volunteer to help out in the junior school where they began their school careers, to hear young children read, or to help with IT.
At St Benedict's we offer unparalleled opportunities for personal development, including over 100 clubs and societies. Pupils of all ages achieve on the sports field, and in music, drama and dance. We have a national reputation for rugby and, as a fully coeducational school, a very strong reputation also for hockey, netball and fencing. We have also seen huge recent success in the Duke of Edinburgh's award.
As a London day school, we have a particular responsibility to teach pupils to engage safely with the real world, as our pupils travel in from across the capital and beyond. We give them straight-forward information and advice about the negative influences they may encounter. Being equipped with this awareness will serve them well – now, at university and beyond.
More positively, we enjoy strong connections with our local community, through voluntary service, for example, in residential homes and primary schools, or supporting local charities.
London day schools reflect the hugely rich and diverse demographic of the city, rather than being hermetically-sealed, rarefied or remote. It's interesting that both my former, boarding school and St Benedict's each have pupils who are of 33 different nationalities. The difference is that, at St Benedict's, they don't fly in for the term; they live here, and belong to the same society. London's cosmopolitan and multicultural environment is a positive feature of school-life.
Andrew Johnson became Headmaster of St Benedict's, Ealing, in September 2016.