Boarding in the 21st Century
Posted on 18th Dec 2018 in School News, Boarding, Which School? Tweet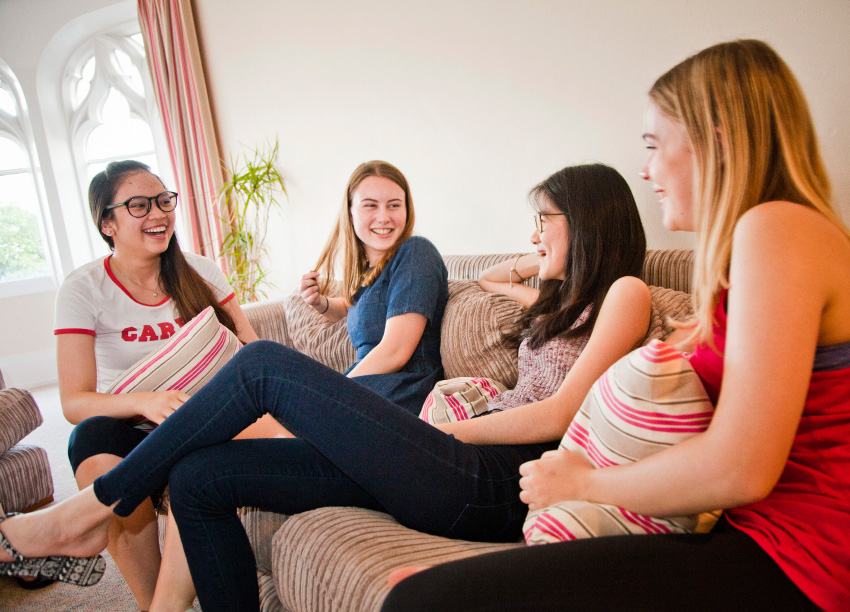 Olivera Raraty, Headmistress of Malvern St James Girls' School, says innovation and modernity complement tradition.
The modern boarding experience is a world away from that of previous generations. Gone are the days of letters written home on a Sunday afternoon, queuing for the only house phone with a stash of 10p pieces, dismal food, and long weekends stretching away with not much to do.
Pupils now enjoy accommodation with all modern conveniences, a raft of options for weekend and evening activities, excellent food to suit even the most fussy or jaded of palates (Vietnamese street food, anyone?) and the freedom, as they get older, to take the vital steps to independence which will be expected once they leave.
The gym is open till 9pm, the Library till 9.30pm, there is likely to be an in-house film night, an external subject lecture, a trip to the theatre or a social with a nearby school. Boarding houses also have kitchens for the older girls so they can cook for themselves if they want to, and entertaining spaces so that they can have friends around. It is a slice of freedom, but not so much as to overwhelm them. There is also the support and structure that young people need to feel secure. They have the chance to try new things and to take risks, but in a safe and supportive environment. They also have fun learning together in the House studies in the evening, and revision is so much easier and more fun when you have lots of friends to test you! Teachers are often available in the evenings as well as the House staff, so there are always people around to talk to and to get help from.
Anecdotally, from the feedback we get from parents, students, and employers, we know that as a sector we are getting this right. Former students who come back to talk at school, comment on how well prepared for university they were compared to their day pupil peer group. They had already worked out how to manage their time and work/life balance, they were more self-disciplined and
self-motivated, and they were able to work a washing machine and cook themselves a decent meal! They have also learnt valuable life skills in knowing how to get on with and live with very different personalities and learning to see the funny side of things.
Boarding schools feel less of a 'bubble' and more real-world than they did in the past. In the last decade or so, change has really picked up pace and schools such as MSJ have been quick to respond to market trends and parents' feedback. Thus a generation ago, many schools would have only offered full boarding; some full or weekly boarding. Now, many offer flexi-boarding as well to fit in with family life. At MSJ, flexi means boarding 1, 2 or 3 nights per week; and girls can change their days with relatively short notice. This is really useful if they have an early morning or late night trip or sporting fixture; or if parents have work commitments.
Pastoral care has also stepped up enormously. All good boarding schools recognise how important it is to have caring, relatable and empathetic staff, available 24/7. Our boarders are aged from 8-18, and we know that wobbles, even from the most grounded of girls, are inevitable, whether they have been with us for five days or five years. We have a team of staff, at the House, in School, and at our Health and Wellbeing Centre, to ensure that we give the best possible advice and care.
Weekends are full of things to do with an emphasis on fun and adventure – canoeing in the Wye Valley, mountainboarding, heading to the beach in the Summer, punting in Oxford, or a virtual reality experience in Bath. If that sounds like too much after a hard week, then there is 'purposeful mooching' – reading, hanging out in the Houses, cooking, and walking up to Malvern to shop or see a film.
When boarders first enter school, we make that transition as gentle as possible. We link new girls and their families with those already at the school, so that they can meet before starting. We offer taster days and boarding nights before girls start, so that they will know the routine and what to expect. In the first term, new girls will share with an existing boarder, even in Sixth Form, before moving into a single room, once they have found their feet. As well as House activities specifically designed to get girls working and having fun together, there are induction trips and days for the whole school which focus on team building.
Thanks to Skype and Facetime, home life and school life feel far more connected, even if home is on the other side of the world. At MSJ, mobile phone use is banned during the day, but in the evening, girls can contact their family as much as they like. Social media is a great facilitator too – all the Houses have social media feeds so that parents can see what is going on and engage with activities. Communication between girls, parents, House staff and school is quick, easy and seamless via the many technologies in place.
Boarding schools are rightly associated with a sense of tradition, but even a fleeting glance will show you a huge measure of modernity and innovation. Anyone who has preconceptions about foreboding and stuffy places should reconsider – and come and visit these schools which pop with adventure, laughter and amazing opportunities.