Brilliance and resilience
Posted on 24th Apr 2020 in School News, Prep Schools Guide Tweet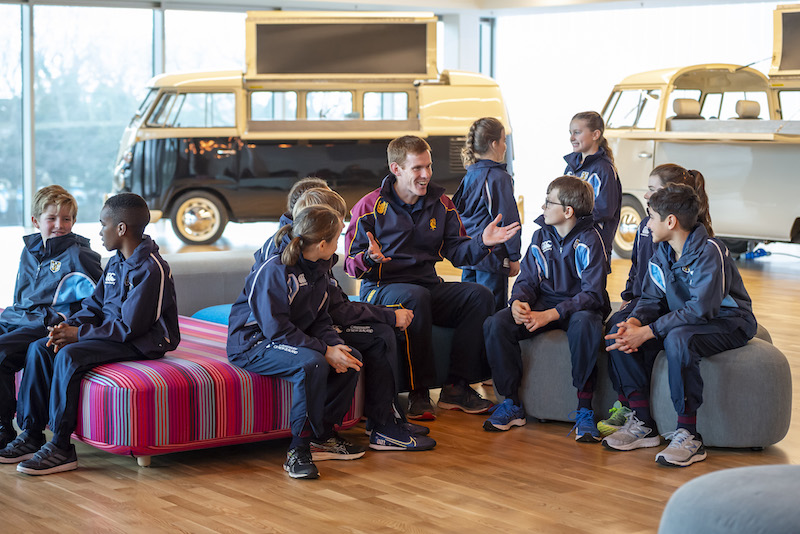 John Weeks, Headmaster of Brighton College Nursery, Pre-Prep and Prep School, explains the qualities he looks for in the classroom and beyond...
January started with a bang here at Brighton College, seeing the official opening of our new School of Science and Sport. Based alongside our Home Ground, this spectacular new building will provide boys and girls at Brighton with state-of-the-art facilities for learning and training both inside and outside of the scheduled timetable. Amongst its features, pupils will have access to a dedicated strength and conditioning suite; a 25 metre pool; a double-height sports hall with basketball court; a running track; break out spaces for physical education and eighteen university-standard science laboratories. The building has been designed by world-renowned architects OMA of Rotterdam, whose portfolio also includes the infamous CCTV Headquarters in Beijing and the Cada da Música in Porto.
I dropped into a GCSE physics lesson shortly after the building had opened where a class were learning about heat transfer. The teacher had a heat sensor that could remotely project its image onto the mobile devices being used by the pupils in the room. One pupil confidently explained how the equipment worked and how the heat did or did not transfer through certain mediums. He finished with the comment that he had never understood the topic before, but that this new approach had suddenly enabled him to have a very clear understanding. Eureka moments such as this are, of course, priceless. When I ask teaching post applicants why they have decided to enter our profession, the possibility of creating these moments for young learners is often cited within their responses; I can imagine how I would have given a similar answer when Anthony Seldon interviewed me for my first post at the College twenty years ago. If I asked myself the same question today I feel certain that my response would be slightly refined and can be best exemplified by a recent moment in a Year 6 maths lesson.
We had been teaching angles within a triangle and I could see that one particular pupil was grappling to secure an understanding of the topic; she was not managing to find consistent success in answering some of the problems. Having spotted how one of her answers was wrong she took it upon herself to revisit her workings and, a few moments later, she was delighted to have calculated the correct answer. Not a Eureka moment, but an impressive and admirable determination not to fall at the first hurdle. I reflected on how the ability to instil a high level of resilience in our learners would now be of equal importance to me as observing a moment of eureka brilliance; turning on a lightbulb is all well and good but it is just as important for it to shine in a bright and sustainable fashion over a lasting period of time.
These qualities are vital to our children as they move from our preparatory environment into their senior schools and beyond. The Director of Rugby at the College told me recently that he had been contacted by an old boy (of both the College and the Prep) who currently plays rugby at the highest level. The boy (man now) had been given some instructions by his coach and could not see how he might build them into his game. A number of weeks persevering had brought no improvement to the team's result. He had sat for several hours on a Friday afternoon analysing video footage to try and couple his own game with the coach's ideas. I was struck, not only by his qualities of determination and resilience, but also by how he had approached the situation intent on finding a solution, rather than creating a problem out of the matter. Returning to a school master for advice demonstrates impressive humility as well.
Such qualities are, of course, evident and needed across many areas of school life. One of our art scholars was telling me earlier this term how she had grappled with collating varied content for her portfolio and my U12B rugby team show impressive grit every Wednesday when they play, especially at this time of year, in the full range of British climatic conditions. As a tied preparatory school, we are blessed with access to some wonderful facilities based on our College site. On top of the breath-taking new School of Science and Sport, we use the College Chapel, the dance and drama facilities and the Sarah Abraham Recital Hall for music. As Headmaster I am acutely aware of the fact that the results generated by our facilities will only ever be as good as the teachers who teach within them; teachers who are looking to equip our pupils not only with knowledge and learning, but with the ability to show humility, to always search for a solution and to be resilient.
This article first appeared in John Catt's Preparatory Schools 2020, which you can read here: