Busy hands are happy hands
Posted on 10th Mar 2020 in Prep Schools Guide, School News, Nursery Tweet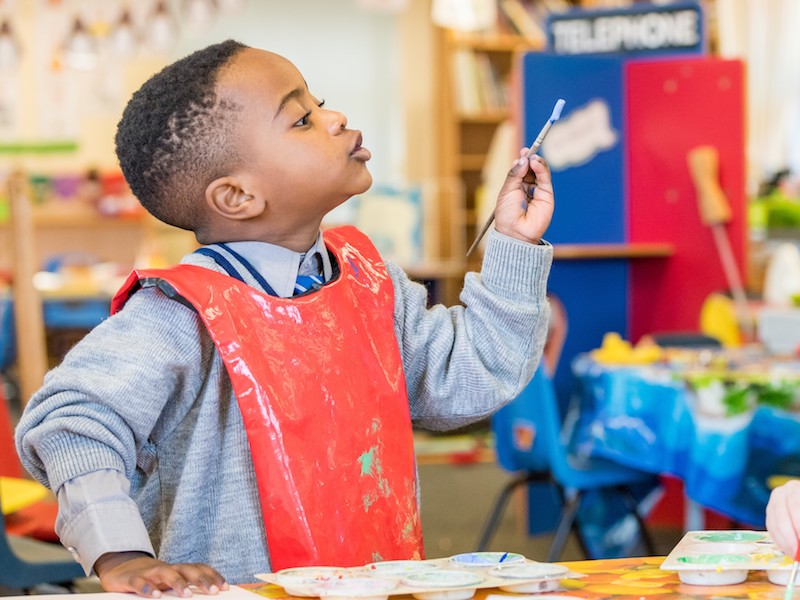 Danielle Armstrong, Kindergarten teacher at Bridgewater School, explains the importance of helping young learners develop their fine motor skills...
As a teacher of Early Learning, I cannot stress strongly enough the importance of providing young children with opportunities to develop their fine motor skills. Even from only a few months old, babies are beginning to develop these fundamental life skills when they grasp a toy and shake it, guiding their hands and a spoon to their mouths and when they begin to explore their environment. To the untrained eye they are merely playing but they are, in fact, building foundations for skills that they will come to take for granted as adults. Without good development of fine motor skills, we would all suffer and struggle throughout our day-to-day lives.
Within our Foundation Stage, we place a heavy emphasis on developing fine motor skills and hand-eye co-ordination. From the age of 36 months, children are engaged in a plethora of activities such as threading, play dough modelling and the use of scissors. We encourage the children to practice these skills daily in order to strengthen the muscles in their hands and fingers as well as developing their hand-eye co-ordination. It is essential that children are able to make large anti-clockwise movements in order to prepare them for correct letter formation further down the line. Simply put, the better control they have over small tools such as cutters and paintbrushes, the easier it will be to establish good pencil control.
According to research published on the subject and as I have seen for myself throughout my time as a kindergarten teacher, boys can often be more reluctant to write than their female counterparts, especially during their early years. We therefore strive to provide the boys in our setting with activities that will both stimulate their excitement and enthusiasm as well as proving beneficial in helping to hone the skills that they started to develop as babies. Resources such as Lego, Duplo and K'Nex, together with other construction materials, are vital to this approach as they do not only capture their imagination but also encourage the children to use their hands and fingers to push, pull, twist, pinch, etc. By creating resources and activities of this nature, we are able to entice and support children in this critical area of learning.
More frequently, we are seeing children relying on tablets and smartphones as a main feature of their play. Children are increasingly confident and competent in their use of a variety of technologies and these skills will have ever greater value as more emphasis is placed on digital capabilities. However, whilst this is undoubtedly having a fantastic influence upon their use of technology and therefore ticking many boxes in the 'Understanding the World' area of learning, this shift has meant that other areas of learning including 'Physical Development', 'Fine Motor Skills' and 'Communication and Language' are suffering as a result. These are skills which are not just needed for writing but for all aspects of life and there exists a huge variety of professions which rely heavily on such dexterity, such as doctors, mechanics, hairdressers, builders and engineers to name but a few.
Evidence shows that child development is also beginning to suffer as a result of our increasingly faster pace of life. With more and more people now struggling to juggle work and family life, time is a precious commodity and children are often not given the extra few minutes needed in order to dress themselves, fasten their own buttons or even zip up their own coats. Subsequently, young children are becoming less independent when it comes to self-help skills.
Ensuring that these needs are met during the crucial early years of a child's life gives them an excellent foundation for which to build on. It is therefore imperative that parents, teachers and practitioners work together to continue to encourage the children in our care and keep their hands busy in productive ways that we know will benefit them throughout their school lives and beyond. If we provide stimulating and fun activities that enable them to develop at their own pace, their confidence will grow as their muscles strengthen and they will become more and more adept at completing the tasks before them.
And who knows, a child with excellent Lego building skills could go on to be a world-renowned brain surgeon!
This article first appeared in John Catt's Preparatory Schools 2020, which you can read here: