Celebrations as Bedford School pupil wins prestigious national award
Posted on 13th Oct 2020 in School News, Awards, Student awards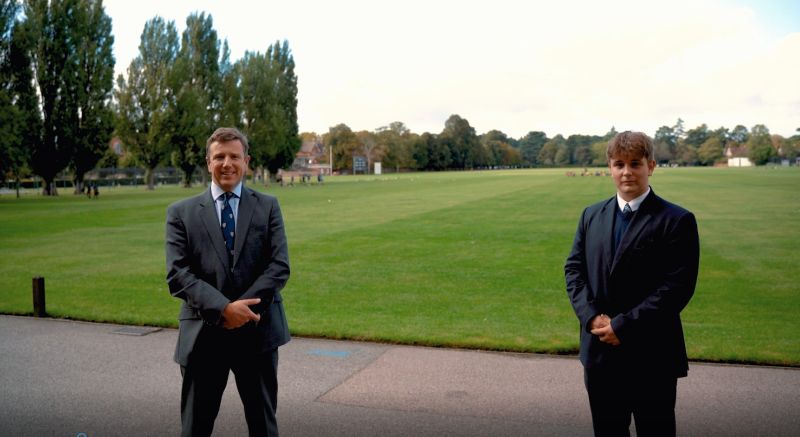 A teenager who took a leading role in the biggest positive news story of the year has been recognised with a prestigious award.
Bedford School pupil Benjie Ingram-Moore, the grandson of the inspirational Captain Sir Tom Moore, has been lauded for his work on the phenomenal £38.9million fundraiser for the NHS throughout the coronavirus pandemic.
He has now been unveiled as the winner of the Rising Star category in the 2020 Independent School of the Year awards.
Benjie played an important role in his grandad walking 100 laps of his garden before his 100th birthday, with the aim of raising £1,000 for the NHS.
Benjie, a Lower Sixth student at Bedford School, said: "I have been absolutely blown away by how life has changed over the past five months or so. During this time, I was lucky enough to go to Windsor Castle and meet the Queen for Grandad's investiture and meet the likes of David Beckham and Michael Ball, which is just incredible. They are all experiences I never thought would happen. Thank you to absolutely everyone who helped me on this journey.
"Having been preparing to sit my GCSEs, this isn't close to anything that I had expected this summer, but it is an absolute pleasure to have won this award. I hope to be able to push on from here with the Captain Tom Foundation and continue Grandad's legacy."
Benjie, who set up a Twitter account which gained a following of more than 75,000 in a week, secured a much-coveted spot on The Michael Ball Show on BBC Radio 2 and messages of support from celebrities including Dame Kelly Holmes, Lord Sugar and Jason Donovan. He also worked with his family to gain the support of BBC Breakfast and Piers Morgan at Good Morning Britain for Sir Tom's exploits.
For Sir Tom's 100th birthday, Bedford School's Great Hall was turned into a sorting office, with more than 100 pupils, parents, staff and Old Bedfordians volunteering to set aside envelopes and separate gifts, cheques and donations. They then created a spectacular display of cards which led to visits from press from around the world who wanted to see the display and speak to Benjie.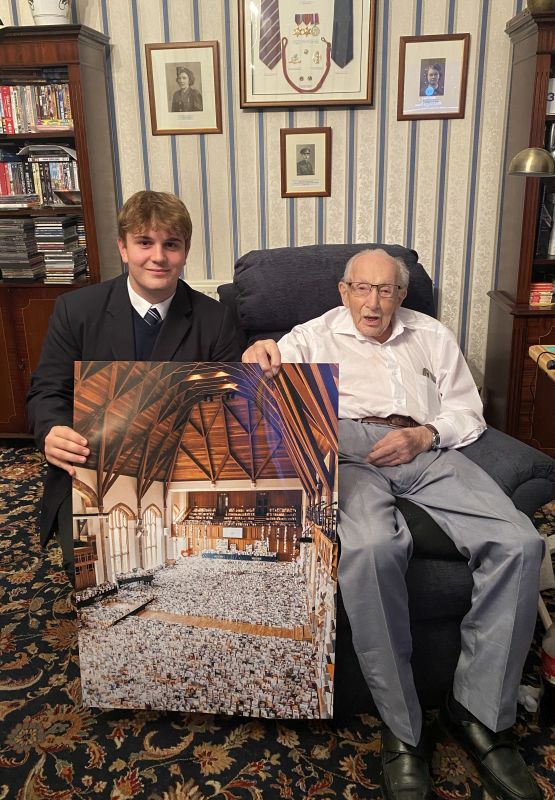 James Hodgson, Head Master of Bedford School, said: "Benjie is an incredibly modest, humble young man with a strong determination to succeed. He is consistently reliable and when given extra responsibility, will always perform the task to an exemplary standard, going above and beyond what is asked of him. It is these qualities, as well as his ability to build positive relationships, that have led him to the success that he has had fundraising with Sir Tom and his family for the NHS.
"We are incredibly proud of Benjie; he has always been a rising star. It's an absolute delight that he has been recognised in this way with the Rising Star award."
Benjie was unveiled as the winner during a virtual Independent School of the Year awards ceremony on Thursday 8th October.