Choosing a senior school for your child
Posted on 16th Nov 2022 in School News, Which School?, Choosing a school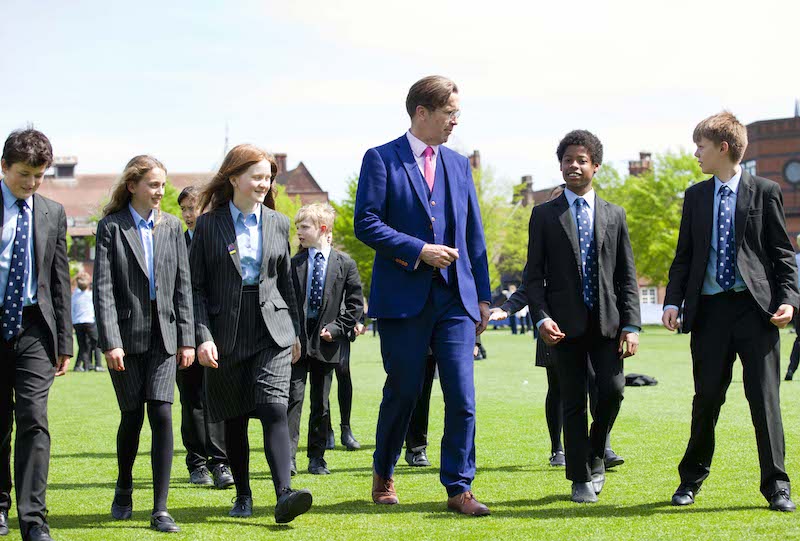 Ipswich School staff offer their advice and some questions to consider when choosing a senior school for your child
What facilities should be top of the list at senior school level?
Nicholas Weaver, Headmaster at Ipswich School, advises parents not to be overly swayed by facilities.
The simple answer here is that this is less important than the people. We are blessed with some outstanding facilities - for example, a state-of-the-art music school, excellent science labs and some of the best sports facilities in the region, if not the country. But without the quality and care of the teachers who use those facilities, children will not flourish. So, yes, you do want to see a school which is investing in all areas, maintaining an up-to-date environment and moving with the times, but make sure that you focus on the staff who inhabit that environment, as we do at Ipswich School.
What questions should parents be asking about the pastoral care/wellbeing offerings?
Audrey Cura, Senior Deputy Head Pastoral says that there are three questions that matter here:
Who looks after my child on a daily basis, getting to know them and us as parents? At Ipswich School a child will have a tutor, a Head of Year and a Head of Section so there is always someone to turn to.
What support systems are in place pastorally and academically for when things might get a bit off track for my child? As well as the tutors and Heads of Year and Section we have another layer of support which includes our School Nurse, Chaplain and Deputy Head.
And finally how does the school work with families to ensure good communication? A good school should have teachers that are approachable and both parents and children should know exactly who to turn to with any concerns.
What sort of things should you be looking for in the curriculum of a senior school?
Tom Allen, Deputy Head Academic is clear that knowledge still plays an important role: how else are students able to know which questions to ask, or where to look for information?
It is important that students gain a solid and broad foundation in STEM, Languages, Humanity and Arts subjects to give them the flexibility to meet the requirements of future employment.
It's useful to understand if the school prioritises choice or setting? You can't have both in the timetable. We prioritise student choice, although, as a selective school we know that all of our students will be able to do well. Scale can also help: larger schools offer a broader range of subjects (we offer 27 A Level options) and employ specialist subject teachers throughout the school - beware small Sixth Forms!
Just as important, does the school's approach to the curriculum encourage students to develop self-awareness, to enhance their digital literacy and to collaborate effectively with others? These are questions worth asking. Our regular Learning Scores reward these attributes and encourage pupils to take academic risks and to draw connections across disciplines.
How much weight should you give to the co-curricular offerings?
Tracy Boyle, Director of Co-Curriculum is convinced that a full and varied co-curricular offer brings long-term benefits - and enhances academic performance.
A weekly comprehensive and varied co-curricular provision is hugely important. Whether they are on the sports field, on stage or in the concert hall, pupils learn to take risks in a supportive environment, how to recover from setbacks, how to collaborate in a team-setting and how to become effective leaders.
Do you need to consider your child's personality when it comes to the type of school/ size of the cohort?
Anna Caston, Head of Year 7-8 at Ipswich School says larger schools offer more opportunity but small tutor groups help a child to settle.
Whatever the personality of your child, super outgoing or quiet and shy, the best for all children is for them to be part of a safe, small group where they feel secure. But don't assume this means they should be in a smaller school. Larger schools mean that there will be lots of different personality types within the year group and that makes it easier for children to find those that they connect with. What's important is to understand how schools manage the cohort so that children feel secure. At Ipswich School, in Years 7-8, we have tutor groups of about 20 children, in which they remain for the first two years, with the same tutor and Head of Year. I always say not to worry about coming from a small primary school into a year group that is sometimes bigger than their whole school because they only need to concentrate on those 20 in their form to begin with. The form groups become really tight teams, helped by our Cardinal Cup competitions and a trip to Cumbria together at the start of Year 8.
However, if your child enjoys sport or music or drama, at any level, then having a larger cohort is vital. Being able to have fixtures with A, B, C and D teams playing means nearly everyone who wants to play will get a match. Watching a play with a cast of 100 is quite something and hearing a full orchestra made up of school children or a choir of 80 is spine-tingling.
Whatever the personality of your child, they will need to feel safe but have the opportunity to meet a variety of people who they can make their friends for life.
This article first appeared in the 2023 edition of Which School? You can view the digital version of the guidebook here: