Cranleigh opens fourth girls' boarding house
Posted on 28th Nov 2019 in School News, Boarding, New facilities Tweet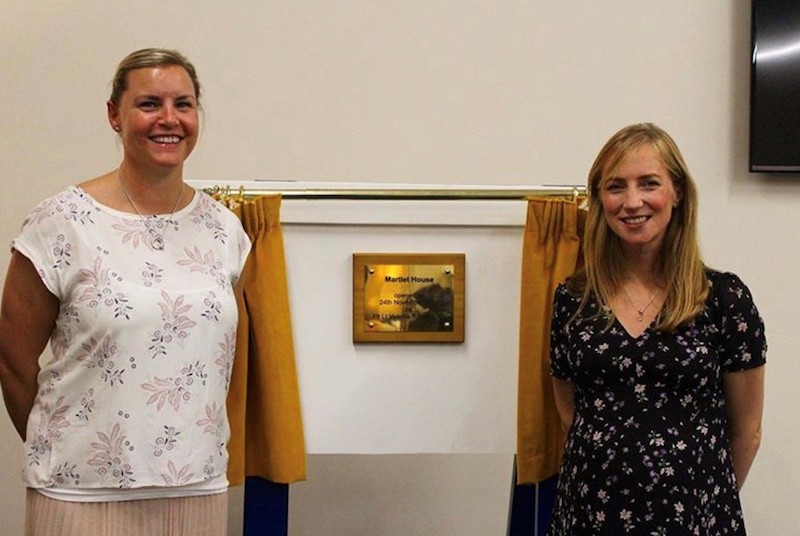 Cranleigh formally opened a new girls' boarding house to enhance its dedicated boarding community. The opening follows a period of new building and refurbishment and underlines Cranleigh's position as Surrey's most mature co-educational boarding environment.
Flight Lieutenant Victoria Turner, a former pupil and one of only a handful of female jet fighter pilots in the UK, unveiled the plaque. She gave a speech on finding your passion and the girls in Martlet were given a collection of inspirational quotes from other illustrious alumni.
Flt Lt Turner said: "Always approach life with a view to looking for the opportunities it brings, and take those opportunities with both hands. Don't worry if you don't know now who you are or what you want to be. Girls should never feel limited in their choices and you are lucky enough to be in an environment that will provide you with choice. Embrace it and embrace that inner voice that tells you you can do it."
Martlet house is named after the heraldic birds in the top left section of the Cranleigh School crest. All the boarding Houses have been built individually over the School's 155-year history and each has a unique character in its layout, although all share the same busy and nurturing ethos.
Cranleigh now has four girls' houses, Martlet, West, South, and Rhodes and four boys' houses, Cubitt, Loveday, North and East. The equal structure allows houses to be paired with boys and girls sharing activities, social events and House competitions together.
Mrs Rebecca Scott, Housemistress of Martlet, said: "Life in a boarding house is busy and huge fun. It's like a big community with lots of siblings as girls make strong friendships across the age groups and with the boys in their paired house, East. The opening of Martlet is really important to the Cranleigh community as it brings the right structure to the house system and allows full affiliations."
"Cranleigh has always been a dynamic community that does not like to stand still. We are a school with a strong history of innovation and development. We were one of the first to create a successful co-educational boarding community and we have kept our boarding innovative and vibrant whilst maintaining our close-knit family ethos and relatively small numbers," said Headmaster Martin Reader.