Dispelling misconceptions about the IB
Posted on 4th Jul 2019 in School News, International Baccalaureate, Which London School?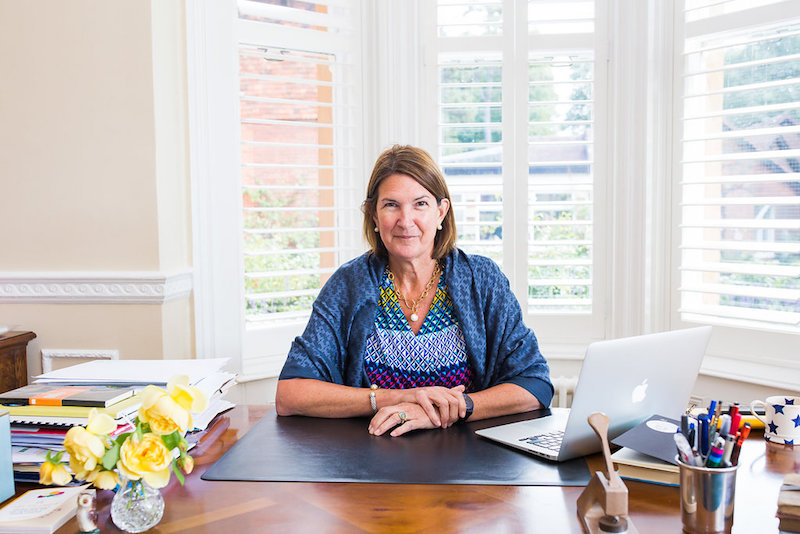 Margaret Frazier, Headmistress of Marymount London, a girls' day and boarding school in Kingston upon Thames, explains the School's guiding principles...
Marymount London is a school that celebrates student voice and choice. Marymount girls are prepared for the future by being front and center in their own learning. A proudly IB school and the first girls' school in the UK to adopt the International Baccalaureate curriculum in 1979, we have nearly four decades experience in doing something different – something guided by exploration, innovation, interdisciplinary connection, reflection, and risk taking. This makes Marymount unique.
Throughout my discussions with hundreds of prospective families over the past two years, I have seen first-hand that there are a growing number of London-based families interested in considering an alternative to the 11 and 13+ entrance exams as well as the GCSE and A-level curricula. Despite their enthusiasm for an interdisciplinary curriculum focused on critical thinking, exploration and intercultural understanding, misconceptions and misperceptions surrounding the IB exist:
"The IB is only for children of diplomatic families. It only works for those who need a portable curriculum."
The IB is now 50 years old with nearly 5,000 schools world-wide. It is considered by the Harvard Graduate School of Education to be a "best practices" curriculum – one that engages a student in her learning and teaches skills along with content – that allows for the creative and critical thinking skills that are needed in the 21st century global world. It is not a "spoon feeding" experience, but rather one that is recognized as the gold standard for creating independent, collaborative, and engaged learners.
"Top universities in the UK and around the world don't know the IB and/or don't value it."
At Marymount, we are proud of our outstanding results: a five-year average of 36 points (vs. 29 world average and 34 UK average) and a 100% pass rate in 2018. Our graduates earn offers at Russell Group/Top 20 universities in the UK, including Imperial, St. Andrews, UCL, Bristol, and Edinburgh. Outside the UK, we have graduates at Stanford, NYU, Barnard and University of Virginia in the United States, McGill in Canada and other top universities in Europe and Asia.
There is no question that UK universities place a high value on what an IB education delivers. Here is just one example: Our students have earned offers of 38 points to study law at Oxford, whereas it would have required AAA at A level or 38 points (two points above our average) to study Biological Sciences at Imperial instead of three As at A level.
"The IB is only for gifted students."
Everyone at Marymount participates in the IB program: Middle Years Programme (MYP) for Grades 6 through 10 and the Diploma Programme (DP) for the final two years in Grades 11 and 12. This is what our whole school is about. It is neither an add-on program nor a program for a small group of chosen participants, but rather a way of teaching and learning for our entire school.
"The IB is too much work, or it's too easy."
The IB places significant value on both breadth and depth – and not narrowing focus or limiting options too early. There are research projects that are challenging as well as opportunities in the Diploma Programme for higher level and standard level study. Our highly skilled and dedicated faculty are there every step of the way as subject teachers, advisors, year heads, and club moderators.
"What else makes a Marymount education unique?"
We believe in something bigger than ourselves. Our school is part of 18 other Religious of the Sacred Heart of Mary (RSHM) schools in New York, Los Angeles, Rome, Paris, Mexico, Portugal, Brazil and Mexico; we are members of a global network that offers service programs, student exchanges, leadership conferences, and travel for festivals in sport, drama, and Model UN.
As an IB School, we don't require the 11+, and we are not an exam factory. We create a positive, joyful attitude around learning. At Marymount, a student does not have to choose between physics and dance, geography and French, a love of literature or math. She can pursue her desire to conduct research in biology and be equally passionate about her extraordinary work in the art and design studios. Just this week, one of our Grade 7 students, inspired by Rebel Girls Stories, took the initiative to contact the quantum ballerina Dr. Merritt Moore and invite her to campus to share her story with our community.
"It has been said that Marymount girls love to learn and learn to love. How so?"
We are a school deliberately focused on cultivating positivity, respect, collaboration, and problem solving. Together, adults and students are inspired to be more open, discerning, humble, compassionate, connected, and kind. And we do all of this while remaining committed to the mission and principles of the IB and the RSHM.
This article first appeared in Which London School? & the South-East 2019/20, which can be read below: