DLD College London celebrates students' success
Posted on 7th Jun 2018 in School News, Student awards Tweet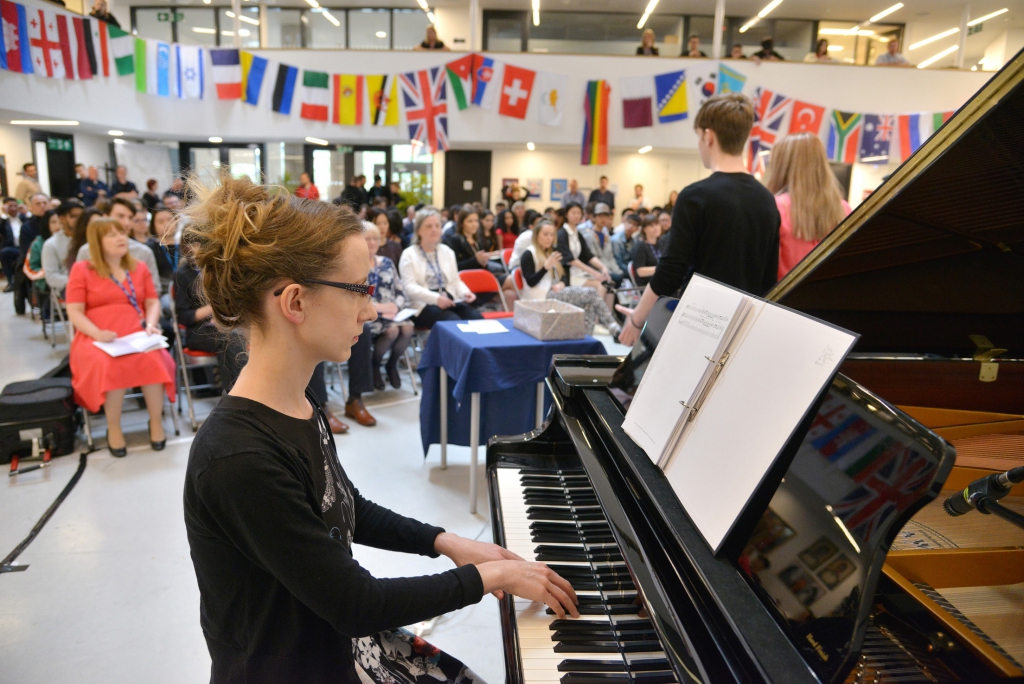 DLD College London students were recently celebrated during a special award's ceremony, hosted in the college's spectacular atrium.
In readiness for the examination period, the Westminster Bridge-based college rewarded students for their success. Select individuals from GCSE, Year 12 and BTEC first year were presented with honorary awards to praise their exceptional achievements so far this year.
Staff, students, parents and guardians were entertained throughout the ceremony by a variety of singers and musicians, including the DLD Band and Ukulele group. The talented cohort took to the stage in between awards to perform stunning musical renditions such as Elton John's 'Tiny Dancer' and 'Love Scenario' by IKON.
Principal Irfan Latif commented: 'It is important that we offer our students the opportunity to reflect on and celebrate their achievements, before the final approach to their examinations this summer. These future leaders have worked remarkably hard throughout the year and their dedication to developing themselves is clearly evident, both in and out of the classroom.
'The presentation was an exceptional event, thoroughly enjoyed by all. The eclectic mix of musical performances throughout the ceremony truly reflects the wealth of talent here within our strong and diverse community.'
Founded in 1931, DLD College London is one of the oldest and most prestigious colleges in the UK, and since its foundation has built a strong reputation amongst students, parents, schools and universities.
In September 2015, DLD College London relocated to brand new, purpose-built premises in the heart of London, on 199 Westminster Bridge Road, overlooking Westminster and the River Thames.
The college offers students the chance to study a wide range and flexible combination of A levels, GCSEs, International Foundation courses and BTEC courses.
As part of the Alpha Plus Group, DLD College aims to maintain a 'gold standard' of educational quality. Classes are small, enabling students and teachers to focus upon the most effective ways of learning.
To find out more about DLD College London go to www.dldcollege.co.uk