Exeter Cathedral School joins world's largest orchard
Posted on 10th Dec 2019 in School News, Boarding Tweet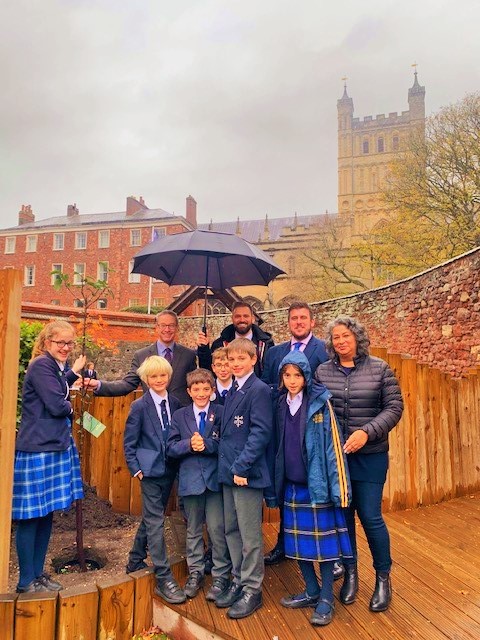 Exeter's oldest school has celebrated its unique status as a boarding school by becoming part of the world's largest orchard.
Exeter Cathedral School – the only school in the city to offer boarding as well as day places – last week held a ceremonial tree-planting in the School's mindfulness garden.
Planting the sapling in front of a crowd of boarders, Robin Fletcher (Chief Exec of the Boarding Schools' Association) said he was delighted that the day and boarding Prep School – which also educates the choristers of Exeter Cathedral – was joining over 150 other schools across seven countries to become part of the BSA Boarding Orchard.
Headmaster James Featherstone said, 'We are proud of our 840-year history as a boarding school, and to be the only school in Exeter to offer boarding to its pupils. Our boarders are a great bunch and an integral part of the School: whether they have sleepovers here because of their singing commitments at the Cathedral or because they enjoy the camaraderie and family feel, the life skills and teamwork they learn through being a boarder are second-to-none. Plus they have great fun!'.
The School gained membership of the Boarding Schools' Association – an internationally-recognised kitemark of quality – in 2017, and its flexible city-centre boarding model is flourishing. The quality of the care provided in the 40-bed boarding house was a notable feature in the official Inspection Report published in May 2019 which graded the School as 'Excellent' in all areas.