Felsted hosts MUN Climate Conference
Posted on 25th Mar 2020 in School News Tweet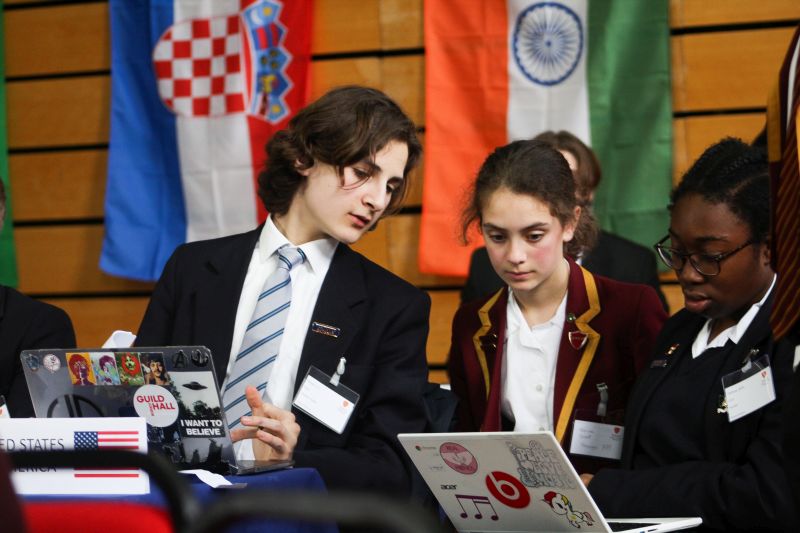 On the 1st March, Felsted School's Model United Nations (MUN) held its eleventh annual conference on the theme of climate, hosting 17 schools from across the region, including a selection of delegates from Felsted Prep School.
250 delegates represented different countries, voicing the nation's opinions with the aim of bringing about positive change. The pupils came together to discuss and debate the ever present issues of climate emergency, including the recent disruptive weather patterns to the UK, the extreme heat causing bushfires in Australia and protests in Bristol attended recently by Greta Thunberg.
The guest speaker was Tom Brown, Director of Safi Coffee - a new pupil-led initiative supporting community coffee plantations in Uganda. Felsted has strong ties to the country through their partnership with the Teach Uganda charity, helping to break the cycle of poverty through education in some of the poorest areas. Felsted pupils visit Uganda every two years, teaching in schools and working in the community.Tom encouraged delegates about the need to think creatively and collaboratively about the practical solutions the climate crisis demands.
Assistant Head (Academic) at Felsted, Mrs Lorne Stefanini comments; "Debate was vigorous in all the committees, especially as the delegates gained confidence and developed the alliances that the MUN is designed to foster. It was impressive to see that our youngest delegates were able to make full contributions to the conference, offering detailed resolutions and withstanding some challenging questions. We very much look forward to seeing them all again next year."
Felsted students are encouraged to have a global outlook and have many opportunities to get involved in public speaking, international culture and exchanges - visit their website to find out more - www.felsted.org.