From wildlife to real life
Posted on 7th Apr 2021 in School News, Prep Schools Guide, Outdoor Learning Tweet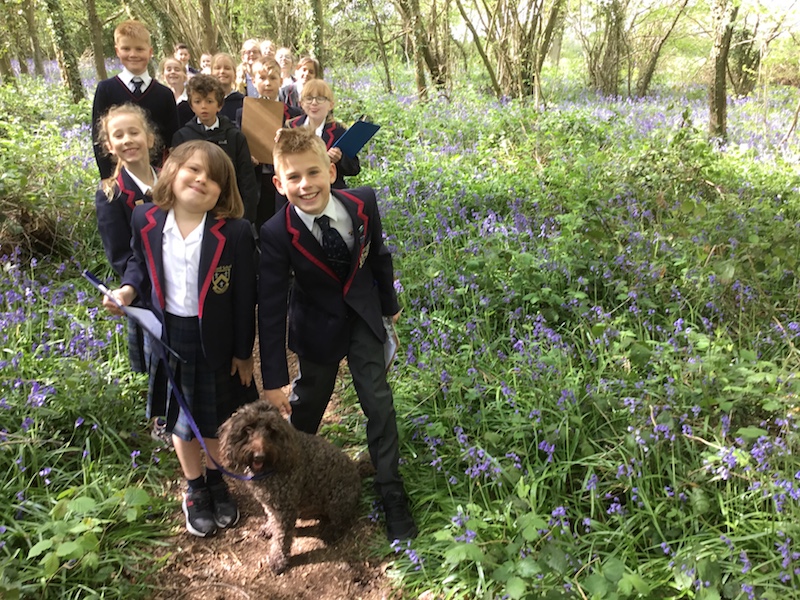 Headmaster, Andrew McCleave, explains why outdoor learning is so important to Ballard School.
"Earth and sky, woods and fields, lakes and rivers, the mountain and the sea, are excellent schoolmasters, and teach of us more than we can ever learn from books." John Lubbock, author.
At Ballard, we have always embraced outdoor learning and its importance in our pupils' lives, not just the physical benefits but developmental and emotional too. Across curricular and year groups, our pupils are outside and active whenever possible.
Located on the edge of the New Forest National Park, less than a ten-minute drive to the beach with its views across the Solent to the Isle of Wight, we are extremely fortunate to have access to a variety of ecosystems on our doorstep. With 34 acres of beautiful and varied grounds to enjoy at School, our pupils can run across fields, climb trees, jump ditches and just be children.
Several studies show that being outdoors benefits children in many ways including personal, social, educational, developmental and health outcomes.
Natural Connections (2016) noted that "greater amounts of natural space in or around living or learning environments is associated with higher levels of physical activity, better emotional, behavioural and cognitive outcomes and with children developing a greater sense of connectedness to nature." With specific benefits including:
Engagement in learning and academic achievement
Better motor skills and increased levels of physical activity
Improved mental health and well-being
Improvement in behaviour and attendance rates
Fostering pride, belonging and involvement in the community
Inspiring creativity.
Shockingly, another 2016 study reported that 74% of UK children aged 5-12 spend less than an hour outside each day, less than maximum security prisoners. Whilst many independent schools are lucky to have plenty of grounds and facilities for pupils to enjoy, it is the accessibility and diversity of these which are key.
Whether reading under a tree, or up it; writing about nature, or investigating it; experiencing the weather, or measuring and predicting it, our pupils have a myriad of outdoor opportunities. On a typical day you may see: Nursery and Kindergarten walking to the bluebell woods; Pre-Prep weeding the garden and enjoying an outdoor singing lesson; Lower Prep (Years 3-5) building a sukkah for RS and playing Samba drums; Year 6 creating their own drama performances and in Science, testing their heart-rates; Year 7 investigating ecosystems; Year 8 performing Pyramus and Thisbe; Year 9 playing hockey, football and netball as well as dancing and sailing in PE; Year 9, 10 and 11 pupils departing for their DofE Bronze and Silver expeditions. So much for all to enjoy.
At Ballard, we actively encourage our pupils' curiosity about nature and the environment; recognising all the benefits this entails. Our Victorian Water Gardens help pupils understand life cycles first-hand with frog spawn and the Ballard Mallard's ducklings. Our pupil-led Eco-Committee sets the agenda for all things green at Ballard. Not only have they developed and driven our green policies at School, but they have also taken part in many local and national initiatives, including the RSPB Bird Watch's 'What's Under Your Feet', and beach cleans. Many build bug hotels, bird boxes and bird feeders, with one pupil setting up a hedgehog home with a video so we can all enjoy 'hedgehog watch'. This year we introduced two beehives and sold our Ballard Bees' honey to raise money for the New Forest Basics Bank – from wildlife to real life.
For many schools, another key area of outdoor learning is Forest School, which is well-known for fostering resilient, confident, independent and creative thinkers; perfect for Ballard pupils. Participation further increases pupils' awareness of nature and the importance of sustainability. Following Playwork principles and the discovery learning theory, Forest School increases co-operation and problem-solving which spill back into academic lessons and learning. It encourages active participation in their own learning process, helping to develop life-long learning skills; developing autonomy, responsibility and independence. It also enhances creativity and problem-solving skills, building on pupils' prior knowledge and understanding; personalising their learning experiences.
At Ballard, we have two fully qualified Forest School practitioners and multiple sites, including a woodland stream. All pupils, from Kindergarten to Year 5, enjoy regular visits, enhancing their learning, development and well-being. At Ballard, our ethos is all about nurturing, valuing and encouraging each individual and this is very much the Forest School philosophy. In the summer, Pre-Prep pupils go to 'Beach School'; another fantastic voyage of discovery. We recognise that our pupils' capacity for positive development is enhanced when given access to the broadest range of environments and play opportunities.
These principles are applied higher up the School too, with many academic subjects making use of our outdoor classrooms, terrace and canopied areas. Subjects come to life when pupils experience them. Mathematicians observe the Fibonacci sequence in our sunflowers; scientists investigate a range of habitats; geographers become meteorologists and witness coastal erosion at work; historical re-enactments and dramatic interludes spark imaginations. Pupils experience a huge array of PE opportunities including forest and sea-wall runs for older pupils.
Team-building activities, including our Year 9 challenge week, are based on outdoor learning principles, building on all the aforementioned life skills. We also play orienteering and geo-caching games to provide a solid grounding for our successful DofE programme. Another exciting initiative is Ballard Marine, which combines STEM and sailing. Pupils have restored our six-metre keelboat and now sail, crew, learn seamanship and navigation on this and our ten-metre cruiser; extremely useful skills for the Solent. They compete nationally and won the ASTO Small Ships Race last year.
At Ballard, we embrace outdoor learning and, as cultural historian, Thomas Berry, stated: "Teaching children about the natural world should be treated as one of the most important events in their lives." We agree, as do our pupils and parents.
"Quite simply a remarkable school." (Parent)
This article first appeared in John Catt's Preparatory Schools 2021, which you can view here: