Good old-fashioned cross-country event attracts 700 children to Highfield and Brookham Schools
Posted on 19th Feb 2020 in School News, Events, Sport Tweet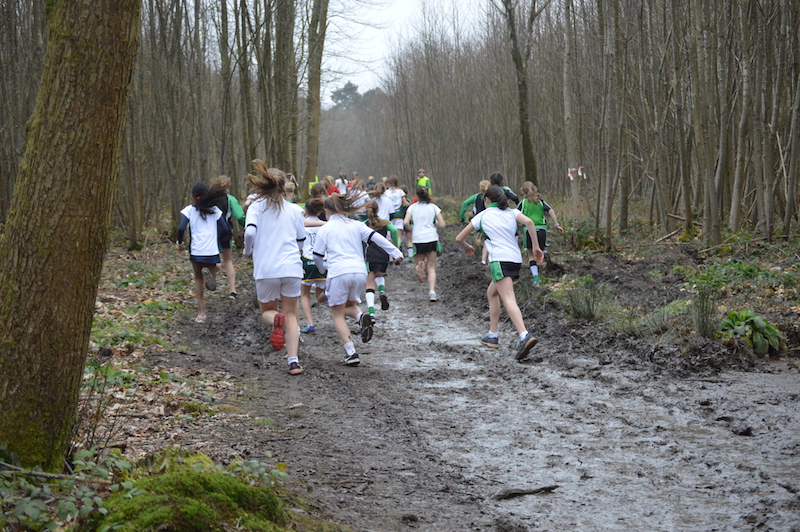 On Friday 14th February over 700 children and their parents and teachers gathered in the grounds of Highfield and Brookham Schools to take part in their Annual Cross-Country Event.
The children came from 17 different schools, a mix of independent and state, from across Surrey, Hampshire and West Sussex: Highfield and Brookham Schools, Feltonfleet School, Westbourne House, Amesbury School, Seaford College, Hoe Bridge School, Edgeborough School, Churcher's College Junior School, Bohunt School, Aldro School, Cranmore School, The Royal School, Lanesborough, Camelsdale Primary, Grayswood School, St Polycarp's Catholic Primary and Frensham Heights.
The afternoon consisted of ten races offering age appropriate routes varying from 1km to 2.9km. The course took the children through the fields and woodlands of Highfield and Brookham Schools which is situated in the South Downs National Park.
After a lot of rain from Storm Ciara the course certainly offered the children a lot of mud and tricky terrain. The winners from each race were as follows:
U13 Boys: Bohunt School, Liphook
U13 Girls: Highfield and Brookham Schools, Liphook
U12 Boys: Westbourne House, Chichester
U12 Girls: Seaford College, Petworth
U11 Boys: Churcher's College Junior School, Liphook
U11 Girls: Edgeborough School, Farnham
U10 Boys: Westbourne House, Chichester
U10 Girls: Highfield and Brookham Schools, Liphook
U9 Boys: Edgeborough, Farnham
U9 Girls: Highfield and Brookham Schools, Liphook
Phillip Evitt, Headmaster at Highfield School said, "It was simply wonderful to welcome so many children, parents and teachers to our Annual Cross-Country Event. We are extremely proud of our school grounds and it's fantastic that we can share it with so many people from outside our immediate school community. It was thrilling to watch so many children get stuck in and get incredibly muddy in some good old-fashioned sport."
To find out more about Highfield and Brookham Schools and visit highfieldandbrookham.co.uk