Increase in top grades for Brentwood School students sees over 75% receive A*-B grades
Posted on 16th Aug 2018 in School News, A levels, International Baccalaureate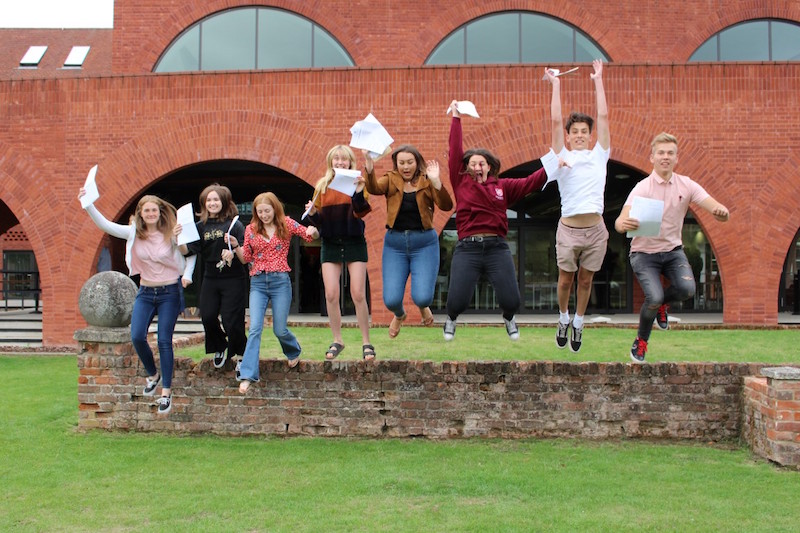 Sixth Form students at Brentwood School are celebrating a terrific set of results for A Level and the IB Diploma. The School's A*-B grade percentage at A Level has increased by 5%, 25 students received all As and A*s (or IB equivalent) and an impressive number have been snapped up by top city firms on apprenticeships.
Francesca Weedon, who got an exceptional A*A*A, is still figuring out her long-term career goals but knows she eventually wants to work with children and teenagers in some sort of capacity. A degree in Psychology from Exeter will get her off to a great start.
A very nervous Antonia Stratford had been 'expecting the worst' so was thrilled with her A*A*A grades and is now off to Bath to read Psychology. She thanked her teachers for their support. "I was a nervous wreck," she admitted, however, "The support was amazing and Mr Higgins, Head of Upper Sixth, was superb."
Budding lawyer Raes Khan was off to celebrate his A*AA grades – and a place at Bristol to study Law - with friends and family. "This School has made a huge difference…the teaching, the facilities; I have been given lots of time and support."
Deputy Head of School Darcey Edkins will be among the first cohort of students taking the new History and English joint honours course at Warwick with A*AA. Darcey, who enjoyed a summer internship at The Sun, is now well on the way to fulfilling her Journalism dream. "The School has made a world of difference to me, the teaching staff really care," she said before embracing her History teacher Ms Fuller.
Six students are heading to Oxford and Cambridge Universities. Luke Cooper, with 44 points at IB, is going to study German at St Peter's College, Oxford, and a delighted Georgia Hoggart, with 42 points, is also destined for Oxford to study German at Lady Margaret Hall.
Oscar Robins, with A*AA ,is heading to Trinity College, Oxford to read Law; top guitarist Rodi Donhue-Hibberd is planning to study Classics at Sidney Sussex College, Cambridge, with his A*A*A; Rebecca Hawkins' A*A*B secures her place to study History at Homerton College, Cambridge, and Deputy Head of School Tom Woolterton is going to read Classics at Pembroke College, Cambridge.
Oscar's grades ensure he is one step closer to his dream of becoming a barrister. "Brentwood teaches you how to study independently," he said. "I have loved the Academic Enrichment which encourages enquiry and scrutiny."
Tom Woolterton was very relieved to have secured his Oxbridge place with an impressive A*A*AA. "The Classics Department have been invaluable. To do Latin and Greek is amazing and to do them both at such a high level and with such fantastic teachers is unrivalled. The department taught Classics with fun and enthusiasm."
More students than ever have chosen to take up apprenticeships at top city firms including KPMG, Ernst & Young, JP Morgan and GlaxoSmithKline.
Anita Doal may have had a sleepless night but she was soon bright-eyed celebrating grades that will see her embark on a five-year finance apprenticeship with EY in Canary Wharf. Anita said: "I want to try something different and take a shortcut by going straight into work."
Matthew Fox is also heading off to the world of employment with A*A*B with a position as an insurance broker at the JLT Group in London. "If you can get your foot in the door it is worth trying," he explained. "I would have still tried to do this after university."
Just last month a staggering nine students received 40 points or more out of the possible 45 (the equivalent of A*A*A at A Level) for their IB Diploma results.
Three students are off to study Medicine and Veterinary courses, traditionally the most difficult to get into. Phillippa Hampson will be studying Veterinary Science at the University of Bristol with A*AB, Alex Ashaye is off to study Medicine at Keele University with 35 points, and Mark Gurin, with 41 points, will be studying Medicine at Imperial College London. In an email to his teachers, Mark said "I can comfortably say that I am privileged to have been able to have had your teaching and guidance throughout my time at Brentwood School, and it is especially true when I say none of this could have been accomplished without you. As I move on to a new chapter of my life, and realisation of my dream, I will never forget the things I have learnt, nor every instruction which has been passed down to me."
The School is a national test centre for SAT American Admissions Tests, and each year, several students in the cohort head stateside and to international universities. This year is no exception and excited students include Nicole Guo, who plans to major in Psychology at UCLA, Gloria Ma, heading to the University of Toronto in Canada, Anna Belova, in to the prestigious Parsons School of Design in New York on a scholarship and Olivia Harrison, to the American Academy of Dramatic Arts in New York.
Overall, when combining A Level and IB Results, students achieved 44% A*-A, 78% A*-B, 96% A*-C and a 100% pass rate.
Headmaster Ian Davies personally congratulated students who collected their results, said: "I'm very proud of the hard work and commitment that this year's cohort have put in over the last two years to achieve these results. I'm particularly pleased that our A*-B percentage has increased so much, showing that our students are achieving more of the top grades, and that over three quarters of students received their first choice university. All of our students deserve huge congratulations and best wishes for the next step in their lives. As always a huge thank you goes to our wonderfully talented teaching staff for their continued support for our students too."