Keynote speaker Chris Lubbe inspires DLD College students to succeed
Posted on 24th Jan 2018 in School News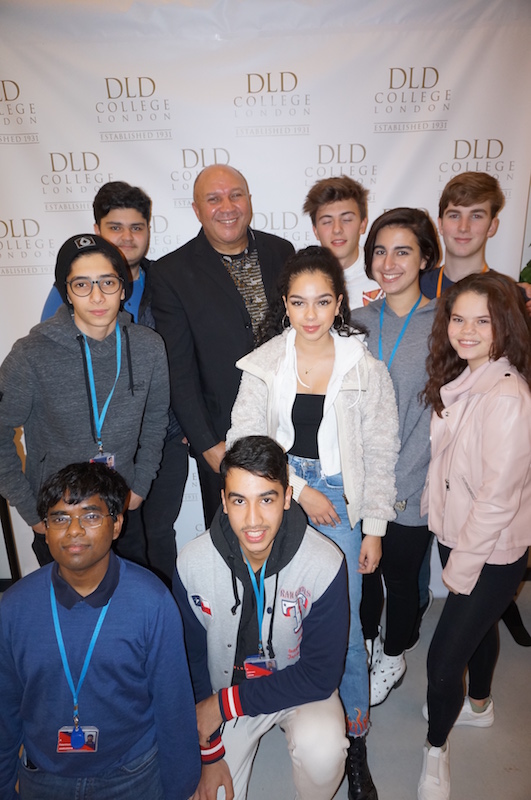 A highly-acclaimed keynote speaker recently gave an inspirational talk to DLD College London students, on the topic of discrimination.
The informative and interactive session left the audience spell-bound, inspiring them to take action and bring about change to find solutions to many of life's challenges. Determination, courage, perseverance and the power of forgiveness were key themes of the motivating message.
Chris Lubbe visited the Westminster Bridge-based college to encourage the entire student cohort to understand that successful achievement is possible regardless of race, gender or disability.
Beginning life in the Eastern Cape of South Africa, Chris discovered in high school he had a gift for speaking and led his fellow students in protest against apartheid. It was this experience that encouraged him to use his passion for people to connect, communicate and inspire positive change.
The award-winning speaker and coach brought with him a significant insight from the lessons he learned when working with key figures such as Desmond Tutu and Nelson Mandela, whom he worked alongside for several years and was a bodyguard for.
DLD College London Principal, Irfan Latif commented: "Chris delivered a deeply thought-provoking and engaging speech emphasising a philosophy and core values that run parallel with those of the college. He has a wealth of knowledge and determination to inspire positive change for success in the face of adversity."
"This motivational talk resonated with our students, standing them in good stead for both the short term, and going forward for a healthy, happy and successful life."
Those interested in finding out more about the college can attend the next open evening on Wednesday 28 February 2018, 5pm – 7pm by pre-booking at: www.dldcollege.co.uk/dld/students-at-dld/admissions-for-students/open-days/
Founded in 1931, DLD College London is one of the oldest and most prestigious colleges in the UK, and since its foundation has built a strong reputation amongst students, parents, schools and universities.
In September 2015, DLD College London relocated to brand new, purpose-built premises in the heart of London, on 199 Westminster Bridge Road, overlooking Westminster and the River Thames.
The college offers students the chance to study a wide range and flexible combination of A-Levels, GCSEs, International Foundation courses and BTEC courses.
As part of the Alpha Plus Group, DLD College aims to maintain a 'gold standard' of educational quality. Classes are small, enabling students and teachers to focus upon the most effective ways of learning.