Leehurst Swan Salisbury Schools Business Challenge team receive awards
Posted on 25th May 2018 in School News, Charity and community work, Student awards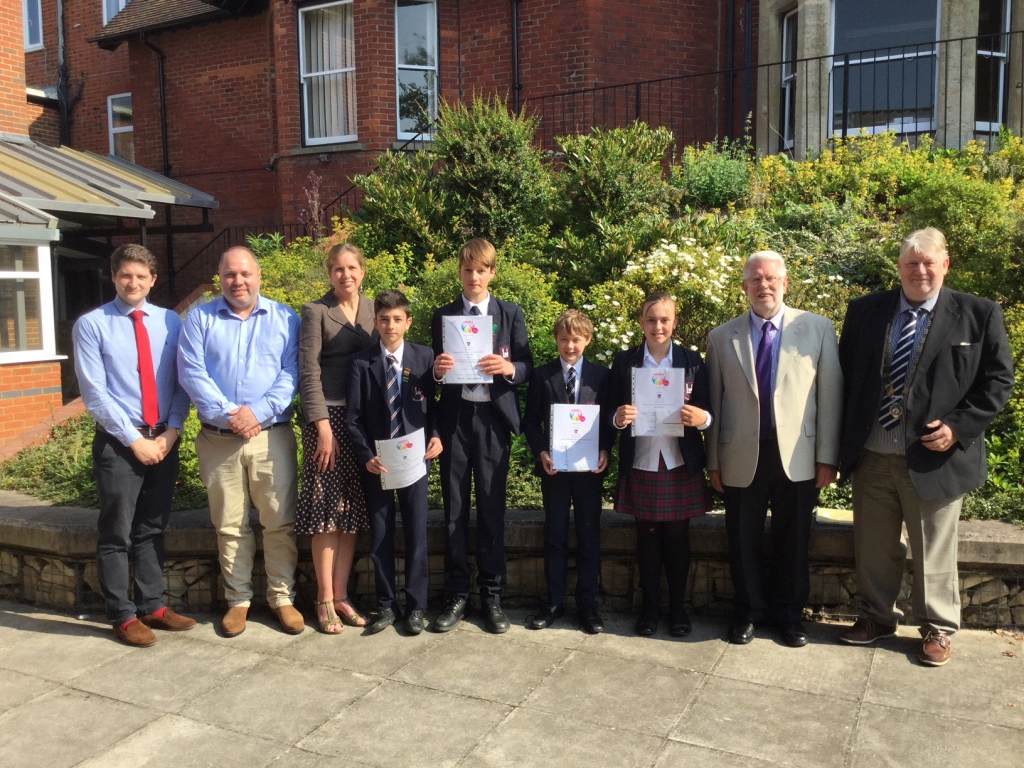 Today, the Leehurst Swan Salisbury Schools Business Challenge team received their certificates and tokens from Mr Andy Rhind-Tutt, President of the Salisbury & District Chamber of Commence. The Leehurst Swan team has been honoured with an invitation to present to Baroness Jane Scott when she visits Salisbury later this week to talk with Salisbury business leaders.
Roger Leake, Headmaster of Leehurst Swan, remarked that 'We would like to extend our thanks to Andy Rhind-Tutt, Steve Godwin (Salisbury BID), Daniel Rhind-Tutt (Salisbury Young Chamber) and Chris Brayne (Wessex Archaeology) for visiting Leehurst Swan this morning. We are very proud of the students' enthusiasm and achievements.'
In March, Leehurst Swan students from Year 8 headed down to Salisbury city centre to assess wheelchair access as part of the Salisbury Schools Business Challenge. Using recording equipment, students gathered evidence of access to venues across Salisbury and investigated what it is like to live in Salisbury from the perspective of a wheelchair user.
Towards the end of March, the project team presented their results to a panel of judges. The team made a huge impact on the judges with some excellent feedback about the quality of the planning, research and presentation.
The results of the challenge came in last week and the Leehurst Swan project team was pipped to second place by 0.01 points! What an amazing acheivement! Such was the impact of their research, that Wessex Archaeology and Visit Britain would like to work with the team on developing a wheelchair accessible heritage trail and app!
The inaugural Salisbury Schools Business Challenge aims to encourage secondary school pupils to take a closer look at the city and help to shape its future. The Our City challenge is a joint venture between Salisbury and District Chamber of Commerce, the Salisbury Journal and the Salisbury Business Improvement District.
Adults pictured (L-R):
Daniel Rhind-Tutt, President, Salisbury Young Chamber
Chris Brayne, Chief Executive, Wessex Archaeology
Bridget Wright, Geography Teacher, Leehurst Swan
Steve Godwin, Business Manager, Salisbury BID
Andy Rhind-Tutt, President Salisbury & District Chamber of Commerce