Life on Mars: Barrow Hills pupil wins national space challenge
Posted on 19th Jun 2018 in School News, Science, Competition, Student awards Tweet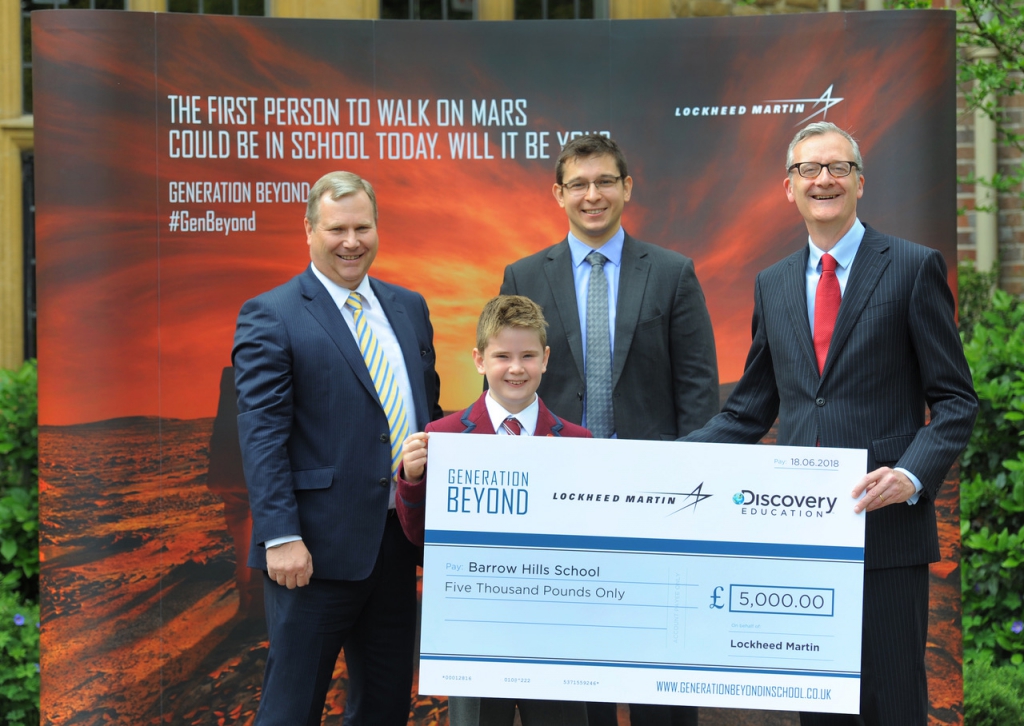 A Barrow Hills pupil is reaching for the stars after winning a national competition to design a spacecraft for NASA.
Jedd Fiander, 9, from Barrow Hills School in Witley is the winner of this year's Generation Beyond Challenge – organised by Lockheed Martin and Discovery Education.
The challenge – a UK first – was launched to schools last year as part of a new STEM education programme to inspire the next generation of astronauts. Children were asked to stretch their imagination by designing a habitation module for Orion, the NASA spacecraft which will take the first crew to Mars in the 2030s.
Young scientist Jedd scooped first prize with his vision for life on Mars: an amazing computer-generated design, enabling astronauts to live and work safely on the red planet. Designed to be assembled in Earth's orbit, Jedd's module included a zero-gravity rocket and special radiation room, leading judges to remark that it was 'very close to the real thing'.
See Jedd's winning design here: bit.ly/2stG3pM
Nine-year-old Jedd said: 'In our science lessons at school we were studying the Earth and Space and our teacher told us about this exciting competition. The inspiration for my habitation module for Orion's mission to Mars comes from things I had seen before and I enjoyed the challenge of adapting them to make them my own. I have always been fascinated by space travel, so I was enthusiastic from the start. For me, the hardest aspect of the project was utilising the limited resources in space to make my ideas work whereas the visual look and shape of my final design was easy because that was in my head from the word go!'
Barrow Hills School hosted a special celebration assembly for Jedd and his parents during which Patrick Wood, Director of International Business Development at Lockheed Martin Space, presented Jedd with his prize. Jedd received an iPad and science magazine subscription, plus a £5000 STEM grant for the school.
Eva Garcia Claramonte, Head of Science at Barrow Hills School said: 'We are naturally thrilled to learn of Jedd's success in this national competition, a win which is well deserved! At Barrow Hills, we actively encourage our children to consider Science, Technology, Engineering and Mathematics (STEM) subjects, to help them access a wide variety of exciting careers in the future. STEM-related professions offer the brightest outlook in terms of job prospects, remuneration and of course, the chance to play an important role in building a better future for the next generation. The £5000 prize money will be put to good use to further develop our STEM activities.'
Over 160 children from across the UK took part in the Generation Beyond Challenge. Pupils entered individually or as a team, presenting their ideas in a short video.
Patrick Wood, Director International Business Development for Lockheed Martin Space said: 'Our children make up a generation that will change our universe forever. These young people are the generation that will walk on Mars, explore deep space and unlock mysteries that we can't yet imagine. And that's why it's so important to us to help schools to encourage children to consider careers in STEM. I was so impressed by the creativity these pupils showed and the complexity of their designs and I'm excited about what this generation will bring to future space missions.'
The Generation Beyond Programme continues to inspire the next generation of astronauts by bringing the science of space into primary classrooms across the UK. Combining the expertise of Lockheed Martin and Discovery Education, the programme provides a complete space curriculum, bringing pupils ever closer to a new era of space exploration, and helping teachers to ignite interest in STEM subjects and careers.
Lockheed Martin has supported every NASA mission to Mars over the last four decades and is currently developing technologies to send humans to deep space in the 2030s. Discovery Education is one of the UK's leading digital learning services, providing dynamic content which enriches the delivery of STEM education.
Generation Beyond was launched in the US in August 2016, where it has already reached over 1.5 million students.
The programme is available at no cost to schools, and teachers are encouraged to register at www.generationbeyondinschool.co.uk.