'Little Miss Inventor? Any one of our pupils!'
Posted on 13th Jun 2018 in School News, Technology, Prep Schools Guide Tweet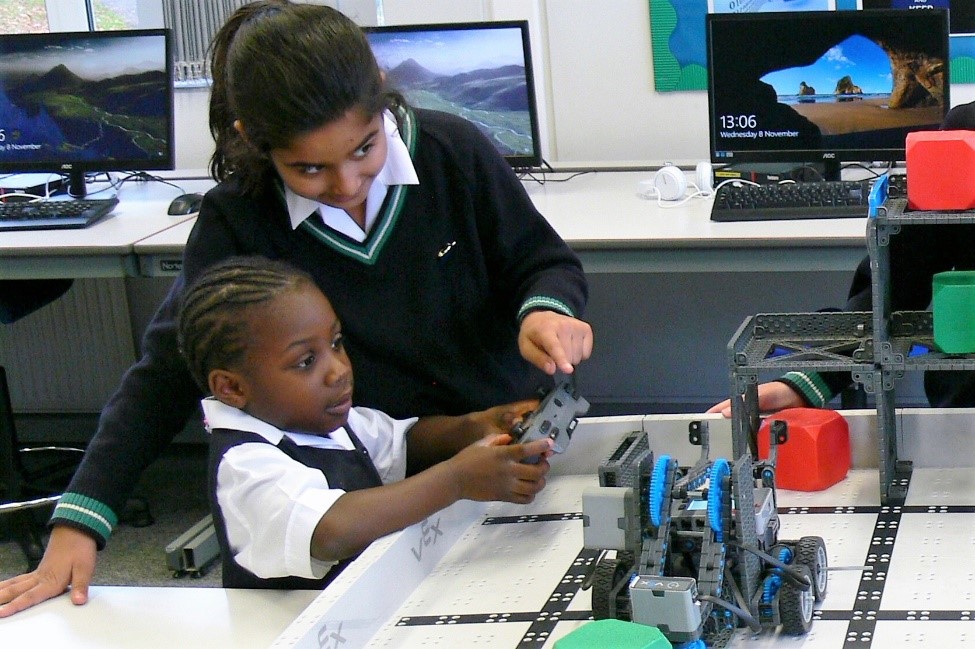 How Croydon High Junior School is continuing to embrace the future...
Sophie Bradshaw, Head of Croydon High Junior School GDST, acknowledges that not all predictions about the speed of technological advance have been realised!
"When I was eight, I asked Father Christmas for a jet pack. I think I had seen a news item about someone testing the technology and claiming they were months away from a prototype. I probably also reasoned that if anyone knew something about wingless flight, it was someone who could get twelve reindeer and a sleigh full of presents airborne.
"I did not receive a jet pack that year. Everywhere I looked, from Newsround to Terminator, there were signs that machines would one day take over the world. Thirty more Christmases have passed with no jet pack and Judgement Day (August 29th 1997 for the few readers who are unfamiliar) came and went without incident."
In 2018, Sophie leads a school that is not only embracing technology education but considers it vital for their Junior age girls, wherever their future career paths take them.
Researchers continue to try to predict the future of technology, but for those in education, particularly those like Sophie and her colleagues, designing a relevant curriculum for girls who will not hit the job market for another 15-20 years, requires foresight, imagination and a certain degree of courage. It also requires them to attempt to evaluate now how robotics and artificial intelligence will change future careers forever.
Sophie Bradshaw's view is that this represents an opportunity rather than a threat. "The report The Future of Jobs by the World Economic Forum (January 2016 forecast that 7.1 million jobs will be lost over the next few years due to advances in technology. However, with the focus being on the worry around job losses, we are failing to see that silver lining. What we at Croydon High Juniors choose to take away from the research, is that for every job that tech replaces, another one will be created. Our job as educators is to ensure our girls have the appropriate skills for the new jobs of the future. Robotics, machine learning, nanotechnology, 3D printing, genetics and biotechnology will create 5.1 million new jobs. Our advisers also tell us that the next decade will see some big companies flounder and a huge increase in small start-ups, which can be more agile than the giants in a market that will inevitably change."
As well as a Computer Science curriculum taught from Nursery, Croydon High Junior School is proud to be one of the only schools in the country with a dedicated junior careers programme. Over the last three years, their Careers in the Classroom initiative has seen girls from Reception upwards learning about the myriad opportunities in Engineering and Maths and the staff are now planning to do the same with Technology. In May this year, the girls experienced, learned and discussed how technology already influences careers as diverse as music, medicine, manufacturing and media…and that's just the ones beginning with M! Guest speakers working in these areas, many from the school's vibrant and supportive alumnae community, were involved in 'speed networking' activities, where the girls questioned them about their work and experiences and gained real insight in to what these professionals really 'do'.
Embracing the future at Croydon High is not a new concept. As Sophie goes on to explain, the school was a pioneer for modernising girls' education before the invention of the computer.
"When it comes to refuting stereotypes, Croydon High girls have always been the exception that proves the rule. In fact, the school actually introduced Chemistry into the curriculum in 1885 when many still considered any education of women a dangerous pursuit! Gender stereotyping, when it comes to subject and career choice is not a phenomenon that Croydon High girls have experience of and this attitude is certainly firmly established in the Junior School."
A recent study by Microsoft found that girls in the UK become attracted to STEM subjects just before the age of 11, but that their interest drops off sharply between the ages of 16-17. However, at Croydon High it seems STEM subjects are booming. Chemistry, Biology and Mathematics are some of the most popular subjects at A Level and there is huge excitement and pupil involvement in the Space Project, which will see the school send an object into the top of the stratosphere next summer. The Junior School is extremely proud of their robotics team who came 7th at the national VEX competition last year, despite being the only solely junior team in attendance.
What makes Croydon High Juniors' approach stand apart is the aspiration that they will produce designers of not simply users of technology. In their innovative 4D room (an immersion space which can be programmed to deliver a learning experience in space, in Tudor England or indeed anywhere) the teachers do not just design experiences for the pupils. 4D club (a group of 10 and 11 year olds) plan and deliver lessons using the 4D room to younger pupils.
The concept of the girls being designers, problem solvers and thinkers extends far beyond the Computer Science curriculum. It is a whole school ethos as Deputy Head, Sarah Raja explains. "When you work with girls in such a positive learning environment such as ours, it can sometimes come as a surprise when you realise – that even in this day and age – not everyone expects girls to be able (or to want) to do anything boys can do."
As an example, Sarah mentions the recent publicity surrounding the 'launch' of Little Miss Inventor, who became the 36th 'Little Miss' character next March, coinciding with International Women's Day and British Science Week. Little Miss Inventor is described as 'intelligent, ingenious and inventive' and "a positive role model for girls" by author Roger Hargreaves and there was an outpouring of appreciation on social media for this new animated heroine. As Sarah Raja remarks, "I struggled to remember another occasion when a new Mr Men or Little Miss character hit the national press, or sent social media channels into a tailspin. What is it about this character that makes her so radical?
"Then it came to me. I couldn't understand the fuss around Little Miss Inventor because to us, here at Croydon High, the characteristics that make her inspirational and different are the characteristics that we see in every girl, every day. So, in March, if you'd like to read Little Miss Inventor's story, then visit any local book shop. But if you'd like to see her in action, just speak to any Croydon High girl."