Living the dream…
Posted on 20th Jul 2018 in School News, Prep Schools Guide Tweet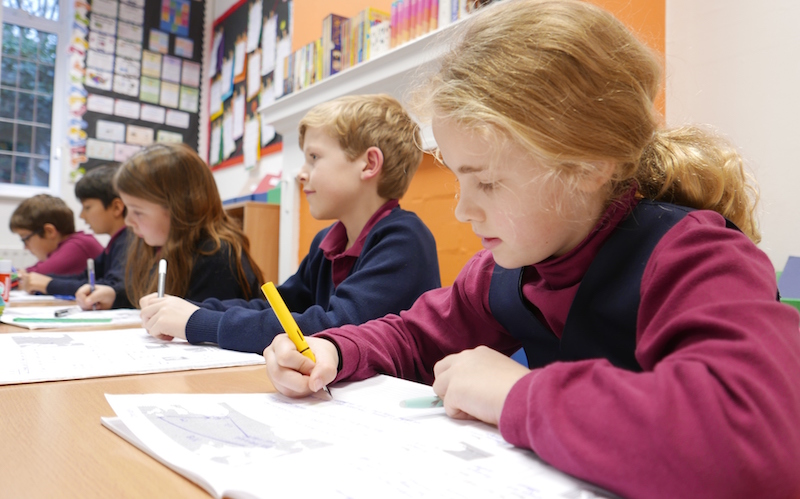 Caroline Goodsman, Headteacher of Heathfield House School in Chiswick, West London, explains how a school she opened with her sister is going from strength to strength...
Whilst growing up myself and Pauline spent numerous hours role playing 'schools' just as many other siblings do when at primary school. We enjoyed nothing more than doing big red ticks over booklets we had created for our dad to photocopy! Even then the dream was to be a teacher! Education was always high priority within our family and believed to be a gift that no-one could ever take away. I suppose this is where our passion for education comes from and what drives us to deliver the best education we possibly can for the children that attend our School.
A little bit of history…
Pauline Williamson and myself, Caroline Goodsman, are fully qualified teachers with a great deal of experience. We have taught in a variety of educational environments and still love teaching children. Whilst working full time, we also set up a tutoring business which grew rapidly and we got to the stage where we saw well over a hundred children per week. This enabled us get the finance together to purchase a nursery in Chiswick. From here, the journey began. With determination and positivity it is amazing what can be achieved when you put your mind to it.
Heathfield House School opened in September 2004 with just eight pupils. It benefits from being placed in a prime location and makes use of numerous local facilities. The school is now in its fourteenth year and has grown significantly since its early days with nearly two hundred pupils currently on roll.
The school has a family feel, with both myself and my sister taking a very hands on approach to achieve our goal. I am the Headteacher at Heathfield House School and as such I am in charge of the education of all of the pupils that attend. Luckily, I get to teach on a daily basis which is still a highlight for me. I still get to do lots of big ticks, although now it's green pen rather than red. Pauline is in charge of the administration of our school and does all the paper work required. However, she jumps in readily if lessons need to be taught.
Now, in 2018, Heathfield House School continues to be fast paced and evolves to meet the ever changing demands of the pupils that attend the school. The determination, hard work and perseverance that the nursery and school were founded upon still remain fundamental aspects of their ethos. A positive growth mindset is fostered in pupils, where they develop an understanding that they can learn from challenges. The school 'Keys to Success' of determination, positivity, honesty, respect and responsibility remind pupils of the fundamental skills to be successful in education and later life. These are referred to in lessons, assemblies and playtimes by both pupils and teachers.
As mothers, our belief is at the age of 3 or 4 we do not know where our children's paths will take them so as educators we want to enable them to thrive in whatever path they choose to take. Education opens doors and for our children and those within the school all we want to do is open all doors possible.
The school is still small enough for each pupil to be known well but also large enough to provide a wide range of opportunities. Personalised support is put in place for pupils to enable all to thrive. Pupils take part in sporting and academic inter-house competitions as well as spelling bees and talent shows. An annual art gallery showcases every pupil's work, music concerts celebrate the achievements of pupils and allow them to develop their performance skills, and dramatic productions give pupils the chance to perform on stage. Regular sporting fixtures are arranged with local schools, allowing pupils to enjoy the camaraderie and team spirit of competing in matches. School trips enrich the school curriculum and provide pupils with valuable learning experiences.
Pupils achieve well and go on to a wide range of highly selective secondary schools. Each year, old pupils are invited back to visit the school and these events are very well attended. Old and current pupils relish the opportunity to share their experiences with one another, with old pupils particularly enjoying touring the school to find out all of the exciting changes.
Heathfield House School is a happy, friendly place to be where children are confident individuals who enjoy school and learning. Children are at the heart of what we do.
We want to instil in all the pupils in our care the idea that you can achieve great things with determination, positivity, respect, honesty and responsibility.