Marlborough House School embraces the great outdoors
Posted on 4th May 2021 in School News, Outdoor Learning Tweet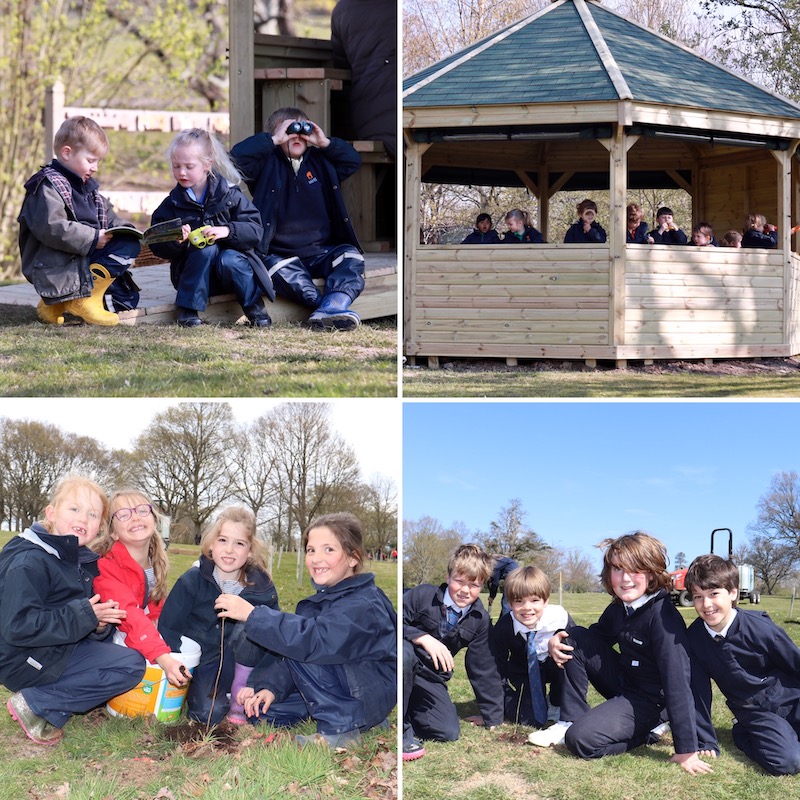 Marlborough House School, a country prep in Kent, has whole-heartedly embraced their new initiative 'The Great Outdoors'; a wonderful blend of outdoor learning, well-being and all things eco.
In the first weeks of the Summer Term, pupils excitedly completed the school's project to plant over 200 native trees; creating a winding woodland walk and growing their busy Forest School: "Let's come back every day to see how much our tree has grown," said one enthusiastic Year 6 child.
Next on the agenda was the installation of a timber outdoor classroom overlooking the lake, creating a focal point to further support their outdoor learning activities across the curriculum. With both projects completed in April, it has been a fun and active start of term for the MHS community, with 'positive energy' pretty much summing up the school spirit.
Marlborough House affirms that while it is the grades acquired in the classroom that will earn pupils their scholarships and senior school places, it is the character skills that will prepare them for life and their future well-being. With outdoor learning a popular option to drive character strengths and transferrable skills, such as problem solving, creativity and resilience, 'The Great Outdoors' aims to encourage children in these areas. Acutely aware also of the increased screen time that children have experienced over the past year, the initiative also heralds a renewed focus on mental and physical well-being for the school in 2021.
Of course, as a Prep School with over 30 acres of leafy grounds, complete with an astro, a swimming pool, an active Forest School and a varied extra-curricular programme, enjoying the outdoors is an established part of school life. A new focus though is the school's timely integration of environmental education into the curriculum. In true MHS style, every child is encouraged to have a voice and a role to create meaningful change at school, whether that's through planting a tree or contributing to the Eco Committee.
A keen Eco School having joined the scheme in 2019, the school is also working with the Woodland Trust and Wild Kent as it steers pupils towards an appreciation of the environment and an understanding of the world, and climate issues, they will inherit. Fittingly, the ethos of the school is 'Enjoying Today, Educating for Tomorrow'.
The school, which takes pupils from 2.5 through to 13 years, welcomed new Headmaster Eddy Newton in September 2020. In addition to 'The Great Outdoors' initiative, Mr Newton has announced well-received plans to extend the school's Art and DT building by 40% this summer.