Mayor of Brent opens Maple Walk School's Secret Garden, a new outdoor learning space
Posted on 15th Nov 2023 in School News, New facilities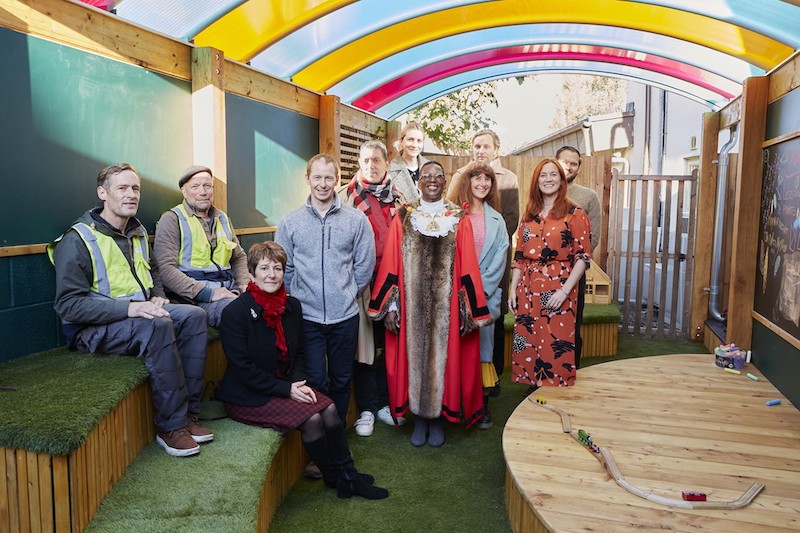 Two years in the making and plenty of fundraising, Maple Walk Prep School has opened their new outdoor learning space made possible by the school's community spirit. The pupils' ideas are at the heart of the design and parents support turned them into a multi-use space for pupils to read, perform, or have curriculum lessons outside.
Mayor of Brent, Cllr Orleen Hylton, commented: "What a great example of a school community coming together to make an ambitious project reality. From empowering the pupils to contribute with their ideas, and such strong support from the parents the result is an in interactive and innovative outdoor leaning environment."
The curved, stepped grass seating encased with pockets of plants, flowers and sensory areas face a wooden stage, with its blackboard back drop. River Holloway, Director of Curved Earth Landscapes, explains: "We've focused on creating a truly multi-use, all-weather green space for large groups of all ages and abilities. Our proposed rain and UV canopy is a nod to the Mondrian-style coloured square roof tiles."
Mrs Murdoch, Maple Walk's Head, commented: "Learning outside brings excitement, energy and an extra buzz to lessons, boosting confidence, social skills, communication and opportunities for problem solving. It's great to see the children's enthusiasm and engagement in the space, surrounded by fresh air and nature… and that's just in one afternoon!"
Committed to the environment and making sustainable choices, Maple Walk has a host of eco credentials, including a ground source heating pump that means they are energy self-sufficient, and a sedum roof top to nurture wildlife. Together with their EcoSchools Green Flag Award; their 10th year of being awarded Gold for TfL STARS; participation and support of the Green and Healthy School Streets project of Crownhill Rd; and links with Forest and Family at Roundwood Park, Maple Walk has a green and community-focused future ahead.