Moulsford Prep School hosts Oxford Playhouse Plays Out Tent
Posted on 21st Jun 2022 in School News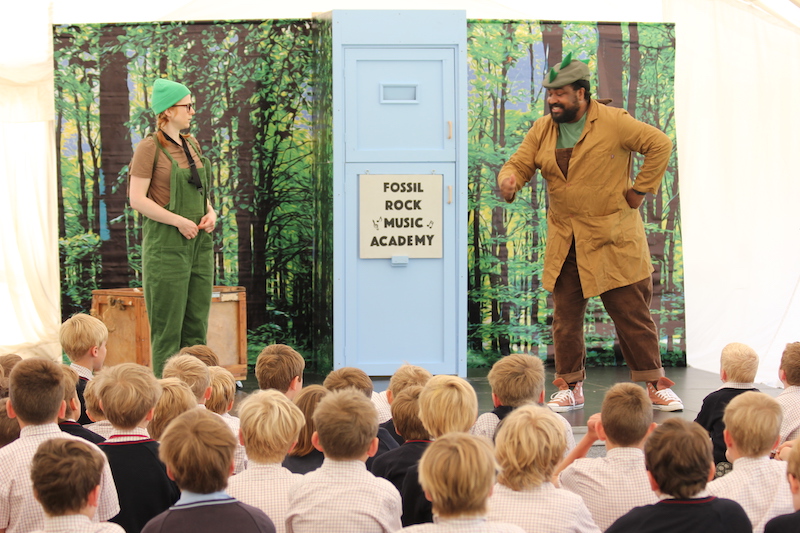 On Saturday 11th June, Moulsford Prep School in Oxfordshire hosted the 'Playhouse Plays Out' Pop Up Tent. The tent, run by Oxford Playhouse, travels around over the summer bringing theatre for children and families to all corners of the county.
This year's fun and interactive show, Animal Rocks, was aimed at 4 to 11-year-olds. Through music, animals and a story of migration, it explored the important themes of tackling prejudice and discrimination, as well as understanding community and identity. It asked the young audiences 'How will you make everyone feel welcome?' It ended with the message that it doesn't matter where we live or how different we are, we can all come together and make music.
The show was performed to 200 boys at the school over the course of the day on Friday, and on Saturday Moulsford welcomed over 150 local children to the tent, along with their families. There was a lot of audience participation and laughter and everyone enjoyed the show.
Ben Beardmore-Gray, Headteacher at Moulsford Prep School commented, "It was a delight to host the Oxford Playhouse Pop Up Tent. Working in partnership with them has provided the perfect opportunity to bring theatre to a wider audience and open our doors to the local community."
Alice Jessop, Participation & Learning Officer at Oxford Playhouse said, "Oxford Playhouse was resident at Moulsford School for two full days, and our cast and crew received the warmest and most attentive welcome by both staff and pupils. We were very pleased to be working with the school to open up the beautiful grounds to children and families from surrounding villages, whilst providing free theatre performances of our new touring production 'Animal Rocks'. A huge thank you to Moulsford for helping to create such a friendly and accommodating experience for us and our audiences."