​Newbury MP visits Downe House School for an inspiring student careers talk on politics
Posted on 20th Oct 2022 in School News, Guest speakers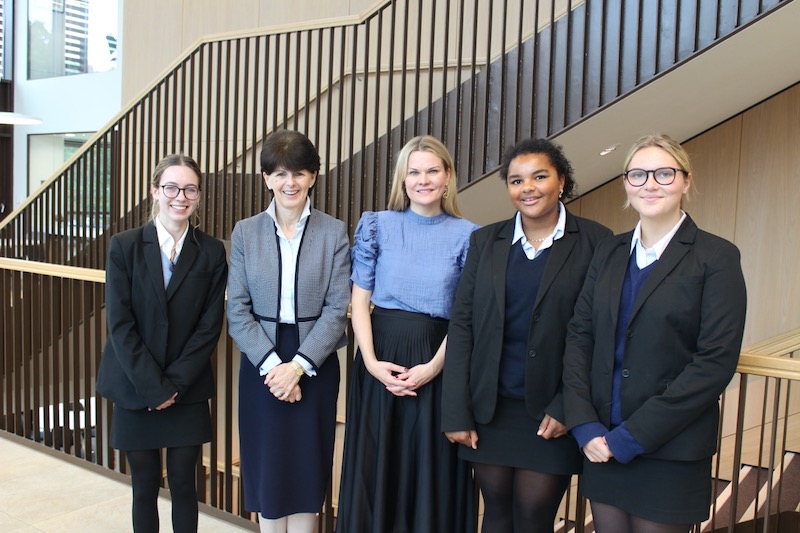 Downe House, an independent boarding school for girls, recently welcomed local MP for Newbury, Laura Farris, onto its campus in Cold Ash, for an inspiring careers talk with its sixth form students.
Farris spoke candidly in the school's auditorium about her own career journey into politics from her days at Oxford University through to becoming an MP in 2019. Sharing anecdotal insight into her childhood, Farris spoke fondly of growing up around politics and debating ideas around the dinner table with her later father, Michael McNair (former MP for Newbury).
The talk, which was part of the sixth form students' enrichment programme, revealed how Farris had always had an interest in the political world, as she spoke to the students about her time as a young political journalist working in both America and London, before being called to the Bar in 2007.
Headmistress at Downe House, Emma McKendrick, who met with Ms Farris ahead of her talk, commented: "It was a pleasure to welcome our local MP into our school community and there couldn't have been a better moment in time. Our bright and talented sixth form students certainly didn't shy away from posing a challenging array of questions to Laura, covering the economic situation, immigration, the coronation, the environment, and her thoughts on Rishi Sunak and Liz Truss. As such, she was extremely impressed by their level of engagement and interest and answered their questions openly and honestly. It was a thoroughly enjoyable and inspiring session for us all."
The sixth form enrichment programme at Downe House School regularly includes talks and workshops from a wide range of guests who talk on both topical issues that enhance and broaden students' global outlook and depth of knowledge on current affairs, as well as sessions linked to their A level studies and exploration of future career paths.