Pocklington School selected to join Yorkshire Carnegie Rugby Club's outreach programme
Posted on 13th Sep 2016 in School News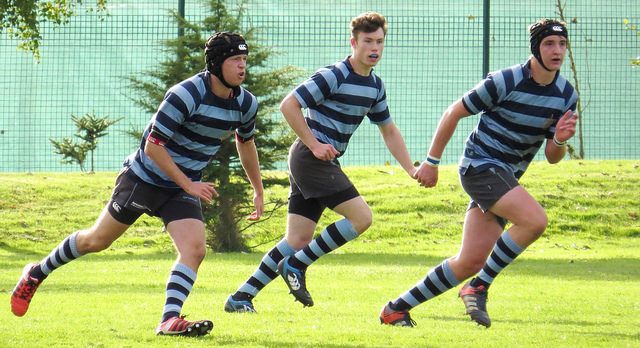 Pocklington School has been selected to join Yorkshire Carnegie Rugby Club's new Affiliated Schools Programme this year.
The affiliation will give the school's players the opportunity for some of them to play at Headingley Carnegie at a home fixture, the chance to take part in a 1st team training session, two team player visits and other benefits.
As well as encouraging more youngsters to play rugby, Yorkshire Carnegie's outreach programme will also be on the look-out for talented young players with the potential to join its academy and train to play at the highest level.
Pocklington School's Master i/c of Rugby Sean Houltham said: "We have been recognised by Yorkshire Carnegie as a school that supports the individual to achieve their potential, whilst also balancing their sporting and academic needs. This partnership is a great opportunity for pupils of all abilities to enjoy rugby, develop their skills and fulfil their potential."
Among Pocklington School's rugby elite was Lewis Wilson, who left the Upper Sixth this summer. Lewis was Yorkshire Carnegie Senior Academy, player of the year in 2015, has 3 caps for England U18 and was joint vice-captain of the school's 1st XV.
Adam Blades, Yorkshire Carnegie Community Manager, said: "It is great to have Pocklington on board as one of the 16 affiliated schools."
"This is in recognition of the commitment Pocklington has shown in attending various Yorkshire Carnegie games and events over the past few years. They have also allowed us the use of their school facilities as a host venue for our community events."
The club has a number of existing player development programmes in place with schools. The Affiliated Schools will run alongside the existing schemes and will provide further opportunities for schools across Yorkshire to further engage with Yorkshire Carnegie. It is not focussed on player development.
Lisa McCann, Schools Development Manager added: "We are delighted to launch this scheme for our schools. This is a chance for us to engage all of their students with Yorkshire Carnegie even if they do not play Rugby Union. We are hoping to inspire the next generation of Yorkshire Carnegie fans and this is an exciting time for us."