Priory School triumphs at Island Athletics
Posted on 23rd Jun 2022 in School News, Sport, Competition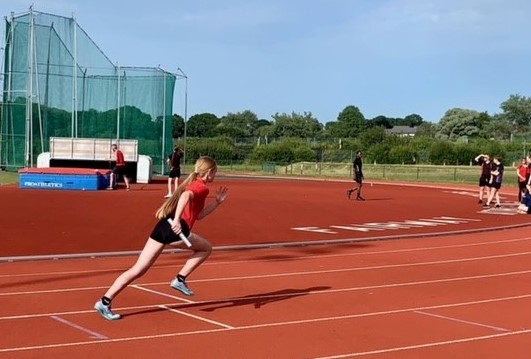 On 16 June 2022, Priory School's Year 9 and Year 10 athletics team took part in the Island Athletics meeting in Sandown with excellent results.
Alongside the encouragement from all the teachers and parents who came, great teamwork was on display throughout.
Priory took 7 first places across track and field and 10 second / third places. Milo Barnes, Year 9, won his 100m sprint. Caelen Goldberg, Year 9, won both the 800m and 1500m.
Lydia Soar of Year 10 won all events she entered – 200m, 300m and high jump. She then ran the first leg in the 4x100m girls relay at the end of the afternoon to establish a clear lead that her three teammates upheld to come home winners, maintaining Priory's tradition of relay running.
Sports Coach, Mr Byrne, and PE Teacher, Miss Boynton, told the team: "We are incredibly proud of all of you!"
It was a delight to be back on the magnificent Fairway track after two years of Covid lockdowns and few competitions.