Royal Hospital School host Model United Nations Conference
Posted on 29th Jun 2022 in School News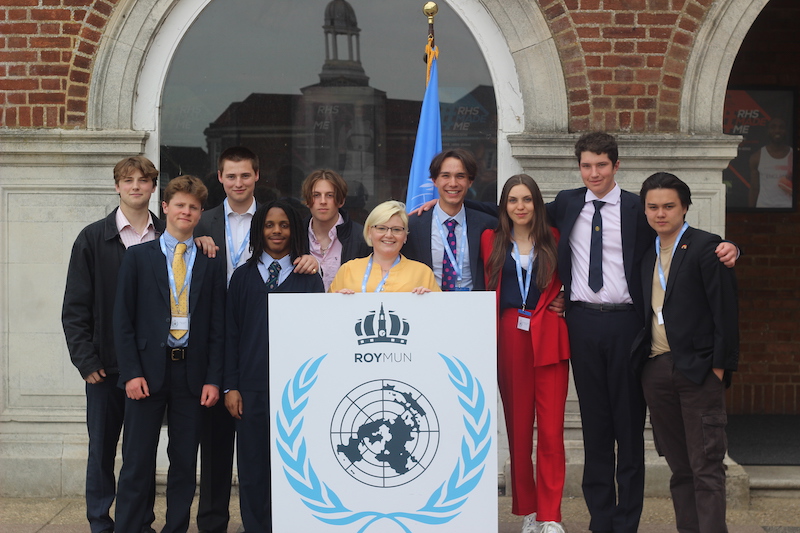 The Royal Hospital School (RHS) in Holbrook, Ipswich, hosted a Model United Nations Conference weekend with over 80 pupils attending from RHS and other schools including Alleyn's in London, Felsted in Essex and Cheadle Hulme in Manchester.
The conference weekend saw delegates allocated committees including security, human rights and UNOOSA (The Office of Outer Space Affairs). Each of the committees focused on specific peace keeping topics, from the question of vigilante justice to whether space should be militarised.
On the lead up to the conference, delegates were provided with a country which required research beforehand to be able to provide a policy statement, in addition coming up with resolutions to other policies. Prior to starting to debate, informal lobbying took place allowing delegates to sign resolutions which their country agreed with.
A number of crises were announced throughout the weekend, which the different committees needed to solve and strategise, prompting much thought and a variety of abstract proposals on how to keep the peace. A closing ceremony took place in the afternoon, where awards were presented to the best delegates from each committee.
Ayoola Oshiyemi and Toby Chavasse, MUN representatives and committee chairs, said: "Overall it was an incredibly successful weekend, and we would like to say a massive thank you to Mrs Routledge for all the work she put in to make it such an enjoyable conference."
Mrs Routledge, Head of Year 10 at RHS, said: "It was fabulous to see pupils grow in confidence over the weekend as they debated current issues from a global perspective. This inspiring event is run by our pupil secretariat, who work really hard to ensure everything runs smoothly. Oracy, including MUN and debating, is a regular feature and popular activity at RHS, which provides valuable enrichment to our academic activity programme."