Second Talks-on-the-Hill looks deep inside the human body
Posted on 13th Feb 2020 in School News, Guest speakers Tweet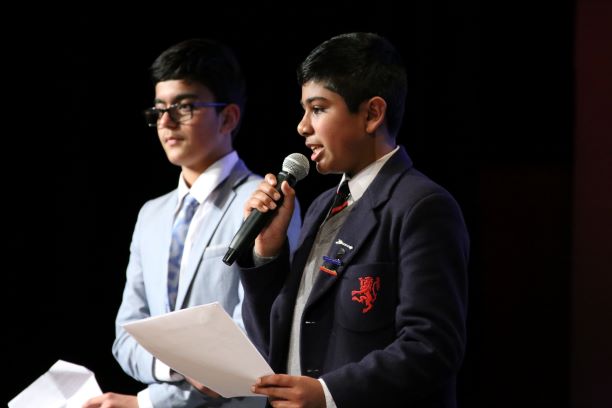 John Lyon's second annual Talks-on-the-Hill proved a detailed examination of the human body, from the viruses inside us to the way the outside world affects us.
The John Lyon Excellence Programme lecture series, Talks-on-the-Hill, in which all residents of Harrow-on-the-Hill are invited to hear talks based around on a single topic saw pupils, a teacher and invited subject experts talk about The Body in the Boyd Campbell Hall on Thursday 6th February.
Having been introduced by the evening's host, Upper Sixth student Shaurya Garkhel, the first talk was given by Year 7 pupil Harjeevan Bains, who introduced the audience to the human brain, explaining how with its help we had all become superhumans, capable of flight, medicine and peace, amongst other things.
The first invited guest, Professor Derek Gilroy then talked in detail about vaccines and how they work to combat viruses in our bodies. The Professor of Immunology and Head of the Centre for Clinical Pharmacology at University College London, who is a John Lyon parent, also spoke with conviction about the dangers of the growing 'anti-vaccination' movement.
Finishing the first half, John Lyon Teacher of Biology Edward Mendelblat focused not on what is useful within the human body, but what bits of us now serve no purpose; those vestigial structures lost to evolution such as the tail, and about bodily parts and functions we retain for no discernible use, such as wisdom teeth and goosebumps.
Year 7 pupils Madisan Nimalathasan and Rafay Raja opened the second part of the evening with a look at how our environment affects our body, some of which we can't control but other which we can, such as how much and how well we sleep, to our use of an increasingly large range of connected devices.
A-Level Biology, Chemistry and Mathematics student Rayyan Hussain, looked into the little-regraded world of natural remedies and asked if they could be the solution to a healthy body, and especially advantageous owing the increase in resistance to antibiotics.
Last to take to the stage was keynote speaker Jane McAdam Freud, a renowned artist whose work is shown in exhibitions across the world. Using images of her own works which all focus on the body in a variety of ways, she described how she as an artist compares the space of the body in relation to the space in the studio and how her work is constantly moving and evolving.
Lively questions and answers at the end of each session drilled down on some of what had been heard in the talks, with plenty of questions on human tails, remedies to illnesses and, topically, on Coronavirus to the Professor of immunology.
After the event, the John Lyon pupils spoke about their experiences.
Madisan said: "Talks-on-the-Hill was a very overwhelming experience. As I am a very inquisitive person, I found out answers that I had questions to. Delivering the talk was the hardest part, as my heart was not pounding, but aching, as I did not want to mess up in front of the school and the public. What helped me to get through is the knowledge that if I have seen other people my age do it, why can't I do it?"
Rayyan said: "This event was remarkable! I got to talk on a topic I am very keen on. As I grabbed the microphone on the stage it felt silent but that later turned into laughs and joy as I began to connect and engage with the audience."
Rafay said: "Talks-on-the-Hill was a great experience. It made my confidence grow and my public speaking strength better. At the beginning, it was frightening to stand up on the stage as it was my first time, but once I started speaking, the words just came out without any effort."
Harjeevan said: "I felt that speaking at Talks-on-the-Hill was a great experience, but I initially found it to be quite daunting. I built up my confidence by researching the topics and got lots of encouragement from my teachers."