Should you send your daughter to a girls' school? How single-sex schools are tackling gender imbalance
Posted on 10th Apr 2017 in Independent Education, Girls' Schools Association, Single-sex education Tweet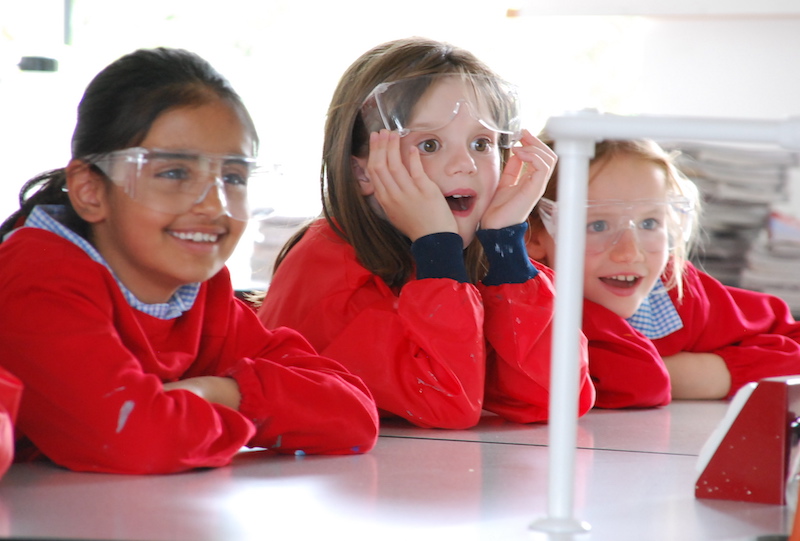 It's the 21st Century yet girls and boys continue to perform differently in certain subjects. Charlotte Avery of the Girls' Schools Association considers the impact of environment on gender imbalance...
It seems not a week goes by without something in the news about the gender imbalance in our schoolchildren's achievement. If it's not the lack of girls taking up physics and a career in engineering, it's the fact that the UK's gender imbalance in maths is one of the most pronounced in the developed world.
Across most developed countries, according to the OECD (Organisation for Economic Co-operation and Development), boys are better than girls at maths. The fact that you may think no surprise there may well be part of the problem. According to the OECD's Andreas Schleicher, the difference doesn't exemplify innate differences but is driven by girls' lack of confidence in their maths skills, alongside lower expectations that they will need maths in future careers. There is, Schleicher says, a close correlation between expectation and achievement.
What does this mean for parents looking for the right school for their children? Simply that, if you want your son or daughter to feel completely free to pursue their natural interests, unfettered by gender stereotypes or the gender-weighted expectations of either themselves or others, then you must do everything you can to make sure that both your child's home and school environment, and the people in them, place as few gender-weighted expectations on your child as is humanly possible.
You'd be forgiven for assuming that educating girls alongside boys would eradicate stereotypes and result in girls every bit as likely to study maths and boys every bit as likely to study English. Unfortunately – at least in the UK – the facts trounce this hypothesis.
Closing Doors is the most recent research on the subject by the Institute of Physics. It looks at six subjects with big gender disparities, three with a male bias and three a female bias: English, maths, biology, physics, psychology and economics. The findings show that the majority of co-educational schools fail to counter whatever drives young people to make gender-weighted choices when picking A Level subjects. The study does find co-educational schools that achieve, or at least approach, gender parity. However, the proportions are relatively low, ie 3.9 per cent of state-funded and 22.5 per cent of independent co-educational schools. What this does show is that it is possible to counteract gender imbalance, but clearly it's not something that comes easily to most co-educational schools.
Taking the opposite sex out of the equation for the few hours when young people are in the classroom can relieve significant pressure. In my opinion, it allows for focus, and experience shows that it gives pupils the space to study what they want to study – instead of what they and/or others believe they should study.
More research by the Institute of Physics, It's Different for Girls, points to the greater propensity of girls in single sex schools to study physics at A Level. The study finds that girls who attend girls' schools – in both the maintained and independent sectors – are more likely to continue physics beyond GCSE. In independent schools, the percentage of boys taking A Level physics is almost the same whether they are educated in a single sex or co-ed setting, but there is a marked difference with girls. Girls who attend independent girls' schools are almost 1.5 (1.46) times more likely to take A Level physics than girls who attend independent co-ed schools.
All this reflects what anyone who cares to peruse the exam results published by the Department for Education (DfE) can find for themselves. If you compare A Level results of girls in Girls' Schools Association (GSA) schools with those of all girls in England, you will see that girls at GSA schools are 75 per cent more likely to take maths A Level, 70 per cent more likely to take chemistry, two and a half times more likely to take physics and over twice as likely to take most languages.
But, I hear you cry, isn't single sex teaching falling out of fashion? In fact, despite a decline in the number of schools that are exclusively single sex, teaching in single sex groups – for girls and boys – is thriving. The Independent Schools Council's annual census shows that as many as 40 per cent of all the schools in its membership teach either all girls or all boys between years seven and 11; even at sixth form 36 per cent are single sex. Girls' schools today come in many different shapes and sizes. Some are exclusively all-girls, others are predominantly girls-only with boys in the nursery and/or sixth form. However, year after year, the top of the A Level league tables is dominated by schools whose sixth forms are exclusively single sex. They also fare disproportionately well in sending students to Russell Group universities and Oxbridge.
All of this is powerful data which demonstrates that being educated in an all-girls or all-boys environment can enable children – particularly girls – to counter stereotypical choices and expectations in their education. The Institute of Physics research is difficult to ignore because the sample sizes are so large.
Those against single sex education often claim that it's unnatural for girls and boys to be taught separately. Critics say that in the 'real world' men and women must work together and that schools must reflect the reality of the adult world. But the notion that children should be treated as adults is wrong. Growing up is a tricky business and, in those formative teenage years, the veneer of confidence can be alarmingly thin. If children are going to grow into confident young women and men they must first of all learn how to be comfortable in their own skins and to have a secure confidence in their opinions and abilities.
If you are concerned about gender imbalance and you want your daughter to continue to enjoy her interest in tinkering with machinery or your son to pursue his love of poetry, my advice is to consider carefully their school environment. Whatever you decide, we are fortunate that the UK independent sector provides such a great choice. As well as co-educational schools, we have the alternative of all-girls, all-boys, predominantly girls or boys, and even diamond model schools, where girls and boys are taught together in the early years, separately from age 11 to 16, and together again in the sixth form. It's a wealth of parental choice which is undoubtedly worthy of celebration.
Charlotte Avery is President (2017) of the Girls' Schools Association and Head of St Mary's School, Cambridge.
Learn more about Girls Schools' Association by visiting its page on this website. You can find a list girls' only schools on our dedicated search page.