Taunton School swimmers make a splash at Meade King Cup
Posted on 22nd Jun 2022 in School News, Awards, Sport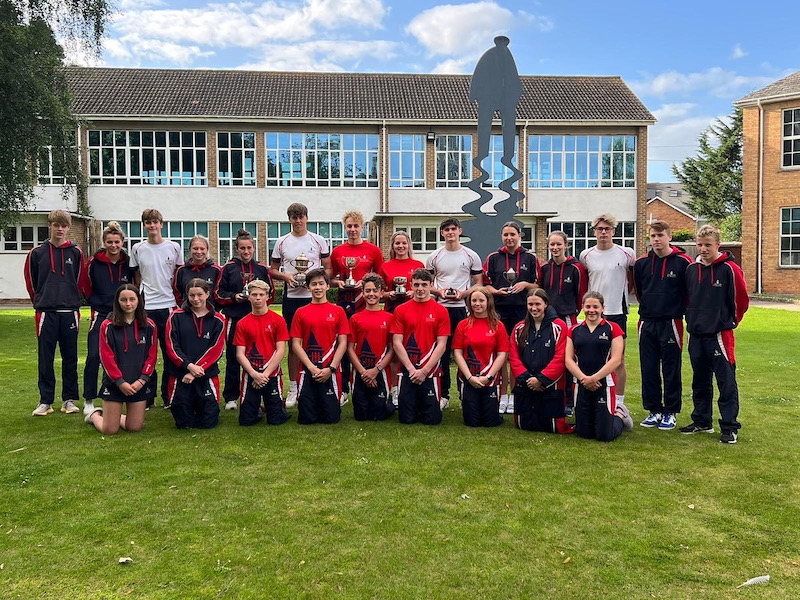 Taunton School's swimmers are celebrating after winning every category in a Somerset schools competition.
The team tallied enough points to claim victory in all girls', boys' and relay categories in the Meade King Cup, which this year was hosted by Taunton School.
Taunton School's swimmers also broke five competition records at the annual event, which take place at a different school each year.
Samantha Hallett, 14, who won the U14 girls' 50m backstroke said: "It made everyone feel proud to win all categories and it shows that everyone's hard work is paying off. This performance shows that our dedication makes us reach amazing goals. I think everyone hopes to win again next year."
Poppy Tull, 15, who won the U15 girls' 50m backstroke, said: "Watching our swim captains collect the trophies left us all with a huge sense of pride and happiness. I really enjoyed the gala."
Isla Winslow, 17, who won the senior girls' 100m freestyle, said: "It was my first time competing in the Meade King Cup and it was a great experience. It was really exciting for the swimmers who represented Taunton School to have the outcome that we did. Some swimmers also broke records that had stood for many years so this was also a huge positive that we were able to come away with."
Chloe Brown broke the competition record in the U15 breaststroke with a time of 34.75, while the U15 boys' breaststroke was won by Szymon Wyrozumski with a time of 32.35. Taunton School's teams also broke competition records in the U15 boys' medley relay, senior boys' medley relay and open boys' medley relay.
Lisa Manley, Head of Swimming at Taunton School, said: "We couldn't be more thrilled with the result of the Meade King Cup. Our swimmers have shown great teamwork, strength and determination and we are proud of how hard they have worked throughout the school year to achieve this success."
The Meade King Cup is a longstanding annual competition between four independent schools in Somerset.
Taunton School offers scholarships for young people with potential in sports including swimming. For more information visit https://www.tauntonschool.co.uk/scholarships-and-a...