The Ageas Bowl announces partnership renewal with King Edward VI School and Stroud School, King Edward VI Preparatory
Posted on 19th May 2022 in School News, Sport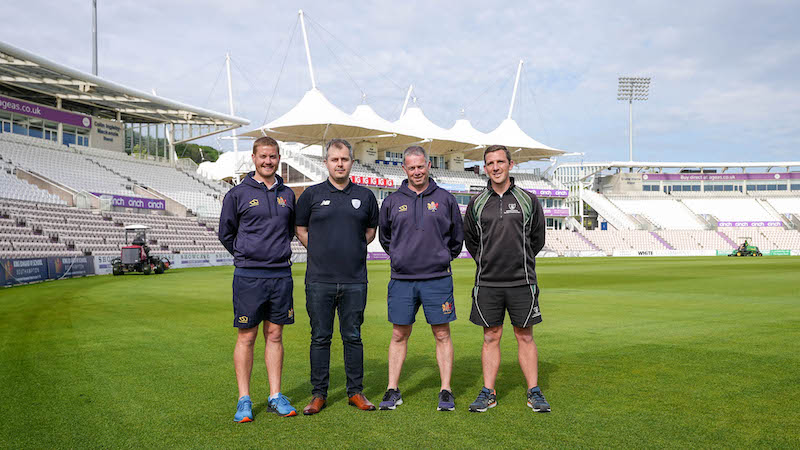 The Ageas Bowl is pleased to announce a renewal of its partnership with King Edward VI School and Stroud School as Official School Partners of Hampshire Cricket and Official Supporter of The Ageas Bowl. The partnership has been extended for a further two years.
King Edward VI School has been part of the educational fabric of Hampshire having been established in Southampton since 1553. During the partnership in recent years, Hampshire Cricket Pathway participants have both trained and played fixtures at the school's Wellington Sports Grounds. The Hampshire Cricket Pathway comprises of approximately 800 children across four regions within Hampshire – North, West, Central, and South East, with each region consisting of seven youth squads from Under 7s to Under 15s.
King Edward's support of cricket goes further as a host venue for cricketing charitable provision provided through the MCC foundation, the Lord's Taverner's 'Wicketz' programme and most recently the newly formed City Scorchers, all providing opportunities for talented young cricketers from all backgrounds in the City of Southampton.
Alex Penn, Head of Cricket, said: "This is an exciting time for cricket in both schools with the continued growth of girls' cricket, on top of the well-established boys' programmes. This partnership will not only support our whole programme but provide great inspiration for our most talented performers. We are delighted, as a leading cricket school in the area that both schools and our students will continue to benefit from this partnership."
Current Hampshire opening batsman and former student Joe Weatherley said: "As a former King Edward's student and now Hampshire Cricket first team player I am delighted that this partnership is being renewed. I know from first-hand experience how well the school supports its talented sports men and women to enable them to work towards their sporting aspirations whilst ensuring that they fulfil their academic potential."
Tim Simmonite, Player Pathway Cricket Operations Manager, said: "We are delighted this partnership has been extended for a further two years. Wellington Sports Ground and Hill Lane have been key components of our Player Pathway training and match schedule and we look forward to this partnership continuing over the coming years."