The benefits of 'urban boarding'
Posted on 24th May 2018 in School News, Which London School?, Boarding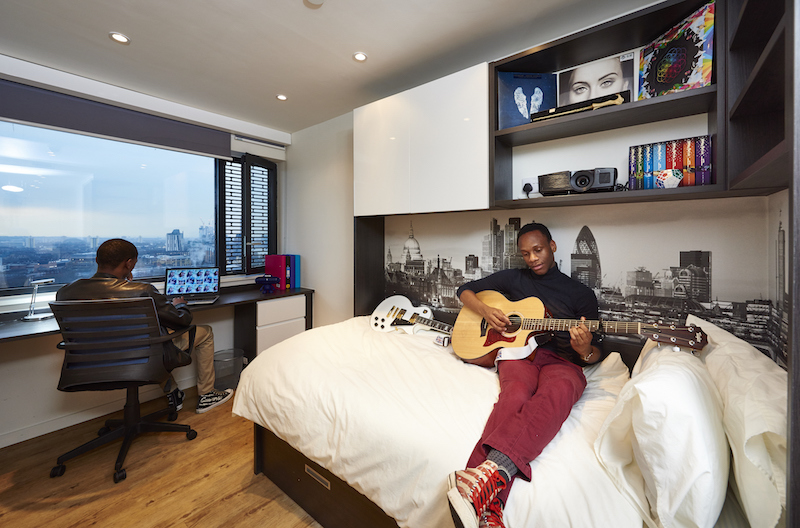 Irfan Latif, Principal of DLD College London, gives an insight into why pupils choose to board while studying in their hometown...
UK Boarding schools and colleges are often the most sought-after institutions in the worldwide education system. Despite the traditional heritage often associated with them, many have now moved with the times to offer 21st century facilities, education and pastoral care. Not only do these schools and colleges attract international students but local domestic students are now starting to seek the benefits of a residential education, ie boarding.
Urban boarders, those opting to board whilst attending a school or college in their hometown or local city, are welcomed with a range of opportunities that they may not encounter if they were to make a daily commute for their education whilst living at home.
When studying and residing at a school or college, particularly an institute that attracts a large international profile, students have the valuable opportunity to connect with others from various different places around the world, something which they may not do if they were to attend a day school. Learning about other cultures and nationalities can not only educate the students about different faiths and practices, but it can also help them to learn more about themselves.
Speaking to our students, Adam Moyler, a domestic boarder, described the international cohort at the college as one of the "key benefits of boarding in his home city." He added, "I opted for the residential choice with the understanding that I have the freedom to go home at weekends to see my friends and family, however since moving I now find myself spending increasingly more time at the college on weekends due to the bond I have created with my peers. I spend my time mixing with a close friendship group all of differing nationalities and other boarders at the college, something which I find to be just like a family."
Often associated with providing the best possible schooling, boarding can offer academic consistency. Remaining on the same site allows the student to continue their learning in a single environment rather than having to adapt to a different surrounding during the transition from school hours to evening time.
Urban boarding is a way for the student to immerse themselves into their own experience where the learning never stops. Being in an educational environment means that even when they're outside the classroom they are still fostering key life-skills that they wouldn't learn when at home. Living away from the comforts and support of family enables the student to deal with day-to-day organisational skills. Preparing them for the challenges of life, boarding sets them up to learn the crucial aspects of independence in a supportive, yet safe and nurturing setting.
The flexibility of urban boarding for domestic students allows for the challenges that are met with parental separation. Students have the option to see their family at weekends, school holidays and occasionally in the evening, avoiding those difficult goodbyes and bouts of homesickness.
Calming the nerves of students (and their parents!) are houseparents, carrying a primary role of pastoral care; they are the first port of call for students. It is paramount that houseparents get to know the students in their care so they feel able to come and talk whenever they are having difficulties. When speaking to Adam he described the relationship with his houseparent as a big help when living away from home, commenting "I have settled into boarding easily knowing that I have someone to talk to when any problems arise, or when they don't."
Many boarding schools run activities for boarders to enjoy, and so that they can have the best experience possible. This may include special occasions such as Christmas celebrations, Burns Night and Chinese New Year events. They often also run boarders' trips at weekends to different places in and around the area, as well as holding in-house activities and events to encourage students out of their rooms to socialise and get to know one another. At DLD College London, in the evenings and at weekends the College's atrium is transformed into a social space with movies, music, sofas and rugs, games, quiz nights, competitions, table tennis and a whole range of other activities. Boarders' trips are also run most weekends to all kinds of places in and around London.
Boarding in the centre of the city places students directly on the doorstep of a large variety of opportunities to be entertained, educated and enlightened – London is our classroom.
A thriving co-curricular programme is an addition to college boarding that enables the student to take advantage of the newly found time that they have. When speaking with Adam he found that, "since boarding at the college as opposed to commuting, I now have time to participate in the weekly boxing club sessions rather than needing to rush back home in time to complete homework." Motivating and inspiring students to participate in such activities and giving them the opportunities to do so contribute to the encouragement of an active and healthy lifestyle. Yoga is also made available to the students to help relieve stress and increase mental health.
Investing in boarding, despite perhaps not needing to due to the feasibility of attending a local day school or college, allows for complete investment in the student's educational journey – greater efficiency leads to a greater academic result.