At Moreton First we mean business
Posted on 27th Apr 2020 in School News, Prep Schools Guide Tweet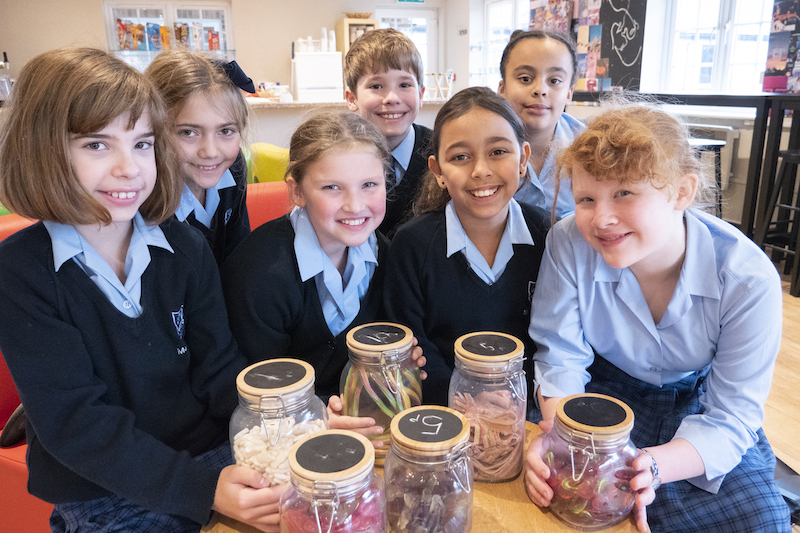 Head Catherine Ford encourages enterprise from an early age...
At Moreton First from the earliest days of their education, we seek to give pupils real-life experiences with an age-appropriate awareness of the world beyond the classroom.
This awareness begins incidentally by learning through play via mediums such as the 'Home Corner'. The importance of these interactions, when language, compromise and turn-taking are experienced, is well documented by pedagogists. Ostensibly early reading, phonics and numeracy skills are the educational focus at this stage, yet it is the real-life skills of learning to communicate effectively with others, while developing self-confidence to take place in the world that is paramount for progress.
Here at Moreton First in the Junior years, we continue to show our commitment to preparing our pupils to find their place in an ever-evolving world. Through a holistic approach to education, we strive to open countless doors of opportunity to each child. This can be illustrated clearly through Mini Moreton Enterprises. This is our school-based business, through which we encourage Junior pupils to develop skills of entrepreneurship by taking on monetary projects from their inception to completion.
Witnessing the outstanding success of Moreton Enterprises operating in Moreton Sixth Form, the Junior children felt empowered to delve into the world of business themselves. Thus with guidance, they embarked on market research and evaluated the needs and interests of their peers. The projects that have been undertaken have reflected the varying needs of their immediate market such as sunhats, individualised Mother's Day gifts, Christmas gifts, hoodies and school equipment. There has been a variety of success and popularity. Some have made small profits whilst others have enabled the children to proudly donate several hundred pounds of reading material to the Junior Library.
The Mini Moreton Enterprises team have extended their understanding of gaps in the market, by having to assess the feasibility and interest in a potential project. The children report that the easiest project to market was the running of a Tuck Shop for Juniors. Repeat business and word of mouth meant that advertising was minimal.
A favourite project was Moreton First's Christmas chutney, all of which sold out within a day! The children particularly enjoyed this project as they felt they were able to follow their ideas through every stage. They collected the organic ingredients from our school vegetable garden and booked a cookery lesson with the school's catering manager. He taught them how to cut and prepare the vegetables and add spices whilst cooking the chutney. Using recycled jam jars the business partners worked cooperatively to decant the chutney, seal and prepare the produce ready for display and sale.
Whilst counting profit and depositing money in the bank is exciting, we believe that Mini Moreton Enterprises is about far more than just making money. The experience of being part of this child-driven business offers our budding entrepreneurs exposure to potential benefits that will reach far beyond these formative years.
For Prep school children with busy timetables filled with academic lessons, sport, commitments to Drama and Music plus Prep, setting aside a weekly meeting time can be difficult. The children soon realise that time management and the completion of tasks require a sense of responsibility. They learn that sharing a collective responsibility to projects means developing resilience to setbacks and avoiding the unpleasant consequences of letting others down.
There were some heartfelt discussions when individuals had to pitch their ideas and convince the rest of the team that theirs was worth the investment of everyone's time and efforts. The real life opportunity for persuasive language, persistence and respect for the views and perspectives of others served to enrich every member of the team.
When questioned, pupils reported that the overwhelming lesson they learned was the value of money. They confessed that previously they had no appreciation of how much time and effort it takes to make money. This awareness of financial literacy at such an early age is a way in which we are able to link the content of lessons such as Mathematics with real life experiences, giving it context. The pupils acknowledge their business experiences have taught them that money simply does not grow on trees.
The idea of teaching entrepreneurship has been explored in many forms. VentureLab is one example that has spread to Britain from the USA. Founded in 2013 by a university professor, it provides courses to teach young people to be the next generation of innovators and entrepreneurs through inspiration, experiential learning and mentorship. VentureLab are passionate in their belief entrepreneurship education can change the world.
Academic research papers have been conducted into entrepreneurship education more recently in children rather than young adults. (García-Rodríguez, Gutiérrez-Taño, Inés Ruiz-Rosa 2018) The results of this study showed that by being involved in business ventures there is a significant increase in self-confidence in children and their own belief in the possibilities of what they can achieve.
Just as our youngest pupils learn life lessons through their creative play in the home corner, whether a make-believe house or pretend vet's surgery, our older pupils are learning far-reaching life lessons by being part of Mini Moreton Enterprises. They believe their future is bright and they mean business!
This article first appeared in John Catt's Preparatory Schools 2020, which you can read here: