Brentwood School students create 'For Heaven's Bakes'
Posted on 21st Mar 2022 in School News, Competition, Winners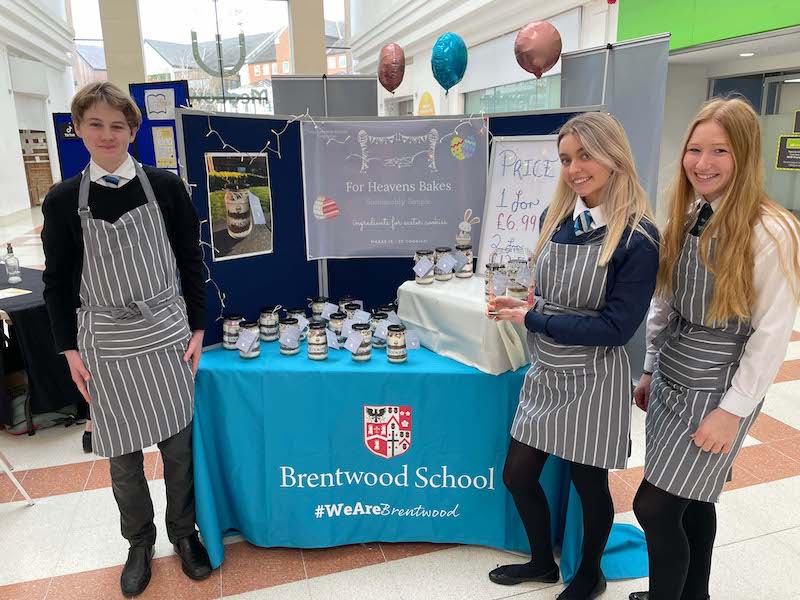 For Heaven's Bakes, a Brentwood School Young Enterprise Company specialising in making baking simple, cooked up a storm at the Easter Trade Fair in Chelmsford last week scooping the top accolade.
The fledgling company, whose motto is 'Sustainably Simple', won Overall Best Company beating off stiff opposition with their eye-catching stand in Chelmsford's Meadows Shopping Centre.
There were no half-baked comments from the event judges, who were 'mightily impressed' by the product, with comments ranging from 'this is too good for a student company' and 'I would expect to find this product in John Lewis and House of Fraser, very impressive'.
For Heaven's Bakes specialise in making baking simple. CEO and Lower Sixth student, Olivia Argent, explained: "Our business provides the satisfaction of creating a delicious treat whilst keeping it a straightforward experience. Our high quality, natural ingredients come together to form mouth-watering cookies that please everyone. All you have to do is pour the ingredients into a bowl and follow a few simple steps as seen on the index card tied to the neck of the jar. That's it.
"It is accessible to everyone due to its simplicity - the whole family can have the bonding experience of baking these delicious treats. From the youngest to the oldest in the family, this will spark joy among everyone."
So successful are the young entrepreneurs in whipping up interest in their Cookies in a Jar, orders are now flooding in and the jars are gracing the shelves of key local farm shops. Anyone interested in purchasing this mouth watering and sustainable gift, can do so using this link.
Young Enterprise, who organised the Chelmsford Easter Trade Fair, is the UK's leading enterprise and financial education charity reaching over 250,000 young people every year. It makes the connection between school and the world of work, enabling young people to develop the knowledge and attitudes they need to succeed.