Can I ask a silly question?
Posted on 7th Apr 2022 in School News, Prep Schools Guide, Choosing a School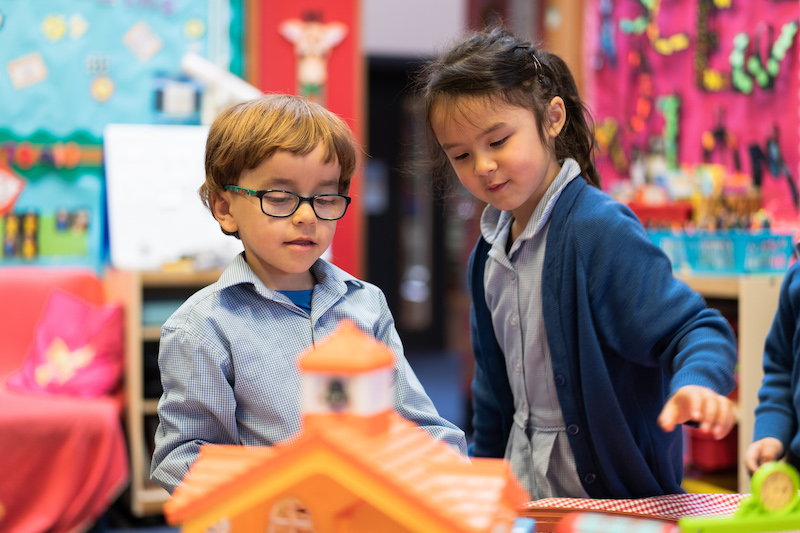 How to get the most out of a school tour – insights from staff at Ipswich Prep.
Looking around the schools you are considering plays perhaps one of the most important parts in the decision making process. Schools, trying their best to make a good impression, will focus on the positives, downplay any potentially weaker areas and be prepared for your visit. So how can you make the most of a tour, what should you be looking out for and what are some of the best questions to ask? Here, a number of Ipswich Prep staff give an insiders' viewpoint.
Pastoral care
James McCaughran, Deputy Head and Pastoral Lead, says that wellbeing has deservedly become even more of a focus for parents during the pandemic as we have come to appreciate more than ever the value of human connection. It's essential to really understand how a school supports pupils and families during difficult times and how it promotes positive mental health more generally. Good Prep schools will have established pastoral programmes and you should expect confident and detailed answers.
Talk directly with pupils and staff when you get a chance. Enthusiastic pupils and staff are a good indicator of a strong pastoral care system. A strong pupil voice promotes confidence in children when sharing their experiences at school with someone they have just met. Likewise, caring staff will be welcoming to families looking at their school and proud to showcase their lessons. Watching the interactions between staff and pupils will give you the best feel for how your child will settle into this school environment as well as show how these relationships are valued by both pupil and teacher.
Learning environments should highlight the achievements of the children and be a strong record of the abilities and hard work that they have put into their outcomes. Classes should be colourful, creative and vibrant places where there is a strong sense of purpose aligned with a tingling feel of excitement and fun. Good schools are child-centred and should feel like a place where children can have fun, be creative and express themselves whilst feeling supported and confident whatever the task.
Life outside the classroom
Parents should ask about the range of activities outside of the core curriculum – clubs, wraparound care and school trips. A wide range of choice is important here so that a child can discover new passions, meet different children and learn how to enjoy something they may not necessarily excel at. James McCaughan explains that a broad co-curricular programme is about teamwork, opportunity and taking a risk by trying something new. The aim is to nurture different skill sets to those developed in the classroom and perhaps instil passions for activities that will last a lifetime. We are fortunate to have a wide range of skills in our staff so that we can offer a wonderfully diverse programme of activities and clubs. What might you expect in terms of clubs available? Anything from bushcraft, bingo and gardening all the way through to fives, skiing and robotics.
Behaviour and wellbeing
Don't be embarrassed to ask some hard-hitting questions, particularly around discipline, bullying and if the children feel safe at school. All schools will have issues with behaviour and if a school brushes this question off that should send warning signals.
Rachel Bryanton, Prep Director of Studies Curriculum, explains that teaching children to behave responsibly and with kindness involves continuous dialogue and an interactive approach. Fostering a caring environment by taking time to talk to pupils is important so that they feel happy and safe in and out of school. We teach children that every single one of us has a part to play in ensuring our school remains a happy and safe place to learn.
Ask schools to explain how their anti-bullying policies are addressed – what does this look like in lessons and rewards systems? Recent examples at Ipswich Prep include a 'Kindness Tree' with leaves made by the children to highlight acts of kindness they have experienced or performed. Pupils also took on the role of 'Agony Aunts' and considered what advice they themselves would give to other children experiencing problems. Rachel explains that these activities teach children how to recognise issues and give them the tools and confidence to speak out if anything happens to potentially affect their wellbeing.
There is no such thing as a silly question
It's well worth spending time with the Admissions Manager who will know all about availability of places, assessments and follow-on schools. Make sure you ask the questions that are important to you. Kate Frankland, Ipswich Prep Admissions Manager is adamant that no question is a silly question! If it matters to you then the answer should matter to the school whether it be a simple question such as what can children bring for a snack, or how much homework do they get, to more difficult questions like how do you deal with friendship niggles or discipline.
We often talk about the most stressful things you do in life being buying a house and getting married but choosing a school for your child is equally as important as one of these big life choices. It is a financial commitment. It is a decision that hopefully you only make once. So it is important to feel completely confident in your choice. Don't allow a school to put undue pressure on you through unrealistic deadlines. There are timelines for the admissions process obviously, but we also appreciate that family lives can be busy.
We always recommend visiting on a normal school day. Open events are great and showcase lots of lovely 'wow moments' but, does the school really do what it says on the tin? You can see first hand the enthusiasm in pupils and staff, get honest answers to the questions that matter to you and see the interactions between teachers and pupils. This really will give you the best feel for how your child would settle into the school.
This article appears in the 2022 edition of John Catt's Preparatory Schools, which you can view here: