Collaboration, creativity and critical thinking – the core of an independent approach to education
Posted on 17th May 2017 in Which London School?, Curriculum, Independent Education, Sport, Music Tweet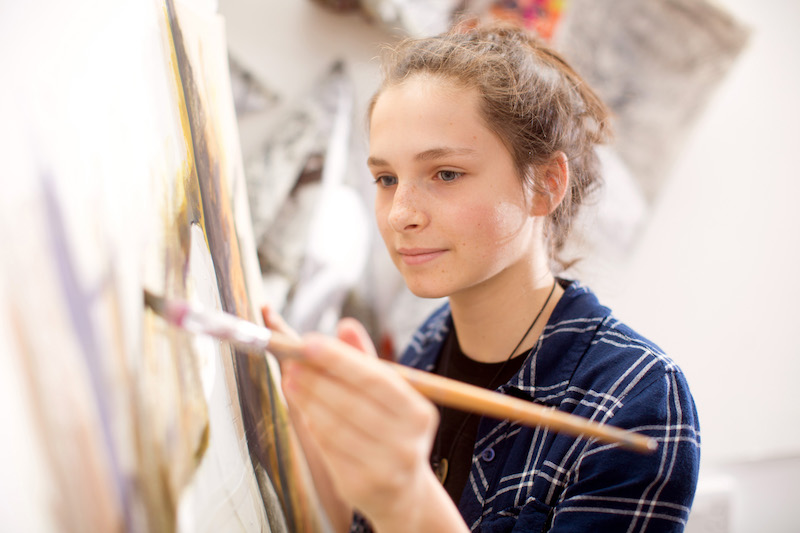 Angela Drew, Headmistress of Bromley High School GDST, says that a modern independent school 'equips its pupils to be flexible team players prepared for the less hierarchal, more collaborative 21st century workplace'...
For Britain's innovative, world-class independent schools, the images used to portray private education in the media seldom serve us well: aristocratic boys lounging in tailcoats; radiant little girls in straw hats; teachers striding across ancient ivy-clad quads, black gowns flapping behind them. Tradition with a capital T.
Of course, I must declare my own faiblesse for inspirational Latin mottos, little boys in caps with dirty knees and girls who wield a fierce hockey stick in defence of school spirit. Such stock evocations of independent school life do capture a sense of the consistency of moral purpose which remains the hallmark of independent schools whatever waves of government regulation and short-lived political initiatives ebb and flow across education from year to year.
However, a respect for the past should not be mistaken for a lack of willingness to embrace innovation. Schools which value their past, take an equally long-term view of their pupils' futures and that means being rigorous in developing the broadest possible range of skills and attributes in students. Crucially, whatever the sophistication of the academic tracking systems working to monitor pupils' progress in the classroom, boys and girls in the best schools will not be defined and valued merely as the aggregation of sets of academic data; they will be developed and nurtured holistically as young people whose moral, physical, creative, cultural and spiritual formation is integral to their intellectual maturation and long term well-being.
The Govian policy of a narrow E-Bacc of favoured functional subjects (English, Mathematics, Science, Geography or History and a Language) has meant that the curriculum of independent schools has already begun to diverge from that on offer in the state sector. From the perspective of what is measured in government performance tables and hence what is, by implication, valued by the Department for Education, the aesthetic arts; Art, Dance, Drama and Music, now sit with Design Technology and Computing, firmly outside the academic core for pupils in Years 10 and 11. Independent schools apply independent thinking to the construction of their curriculum. The Arts, within and beyond the curriculum have always been highly valued in independent schools as they enrich both the educational and aesthetic development of young people. The emphasis in independent schools on preparing pupils for their future career only serves to reinforce the significance of developing creative and design skills in a world where functional operations within established professions are fast being overtaken by complex algorithms.
That same balance between preserving the best of the past and responding to current needs and future trends is at work in the co-curricular programme and it is no more evident than in the abiding and whole-hearted commitment of independent schools to competitive sport. Expensive, difficult to organise, fraught with health and safety considerations, nonetheless, the value of young people running around together chasing balls on muddy fields in the fresh air remains unquestioned. This is because the current impact of exposure to the pressures of modern life, notably the twenty four hour demands of social media, combined with long experience of the effects of young people enjoying regular team sport tell us that children who enjoy sport go on to be happier and healthier adults. The more committed schools are to traditional competitive team sport, the more likely they are to embrace variety and innovation – in my own academic girls' day school, synchronised swimming, trampolining, rugby, dance and water polo are on offer in the core PE curriculum, not as an alternative to Netball, Hockey, Tennis, Rounders and Athletics, but as an enhancement of a healthy physical culture which is all pervasive.
Music in independent schools benefits from a diversity that is driven by a need for mass participation and a passion for excellence. Show me a school which has an outstanding Chamber Choir or sublime String Quartet and I will show you a flourishing Music Department whose walls throb to the wayward rhythms of Rock and Samba Bands and Beat Boxers. The House system, which works to engage pupils of all ages and abilities in friendly competition, has the laudable effect of drawing pupils back into music and drama through annual House Choral and House Play competitions long after their choice of three sciences, Maths and Further Maths at A level might have seemed destined to curtail any further involvement in aesthetic activity.
The house and prefect structure has been at the heart of many schools' commitment to building character and inculcating in young people a capacity and a desire for leadership. None of that enthusiasm for thrusting young people into leadership roles has been diluted. To be a Head Boy or Girl, to Captain the First XI or First XV, to lead the School's Orchestra or Combined Cadet Force is still a cherished aspiration for pupils as they move through the school – and rightly so because these roles give older students an early exposure to adult responsibility in working with younger children and an exciting opportunity to act upon their own initiative.
However, the modern independent school equips its pupils to be flexible team players prepared for the less hierarchal, more collaborative 21st century workplace. The Duke of Edinburgh Award Scheme is just one of the approaches to adventurous activity which all good schools use to encourage pupils to become more resilient and adaptable. Yet most crucial to the development of a 21st century skill set is what happens day to day in the classroom. Calm, ordered, relaxed lessons free teachers from the burden of dealing with disciplinary issues. Lessons which are fuelled by mutual liking and respect between teacher and pupils are the perfect environment for innovative, experimental teaching. Independent, explorative learning relies on co-operative, enthusiastic learners who remain resolutely 'on task', however much fun they are having working together.
It takes an independent approach to curriculum to place collaboration, creativity and critical thinking at the heart of a child's educational experience.
Bromley High School GDST is an independent selective day school for girls aged 4-18.