Curriculum 200 at Eagle House
Posted on 13th Dec 2019 in School News, Curriculum, Which School? Tweet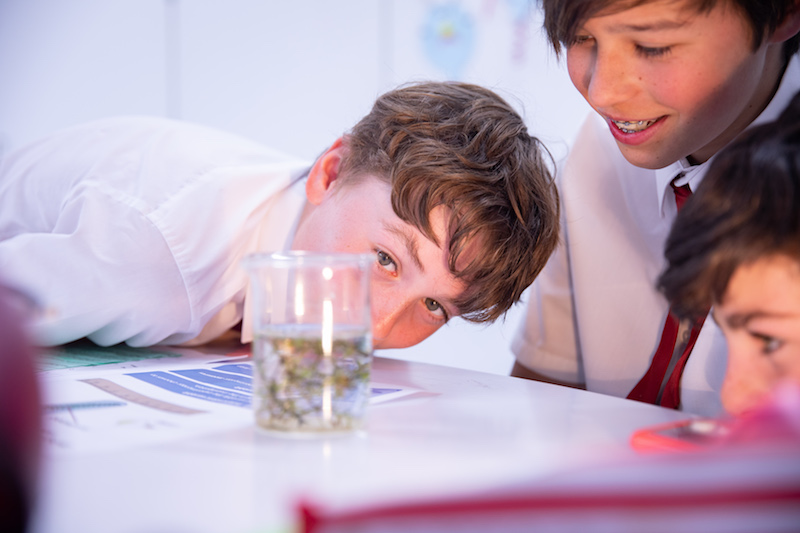 Helen Brice, Deputy Academic at Eagle House, explains the reasoning behind the launch of a new approach to Years 5–8...
It may sound rather obvious, but the magic of the independent education system is the ability and permission to be independent, unique and go above and beyond the 'typical'. There is no doubt that all schools strive to be 'outstanding' not only in the sense of being the best they can be, but to actually 'stand out'.
There are many aspects of school life that make Eagle House: drama productions for 150 children in a professional theatre, forward-thinking personal, social, citizenship and health education, a wide range of sporting opportunities for all and an extraordinary co-curricular activities programme.
On the academic side of school life, we were one of the first prep schools in the country to adopt the IPC (International Primary Curriculum) for Years 1–4. This enabled us to combine the teaching of the humanities, science and arts subjects into meaningful thematic units in which the children are encouraged to research, report and explore with a greater degree of freedom and independence, without losing the rigour of these distinct subjects. Pupils, staff and parents have offered nothing but praise for this new curriculum and every year we host staff from both state and independent schools who are keen to observe the curriculum in action in the hope of emulating what we offer.
By stark contrast, the curriculum beyond Year 4, examined through the Common Entrance examinations at 13+, has been around in the vast majority of prep schools up and down the country, since 1904! Whilst it has, of course, evolved over the past 115 years, it does continue to restrict a school's ability to be creative and devise a curriculum of their own for these senior years; a curriculum which builds on the foundations set in the early years and prepares the children for the world in which they will live. Certainly, producing a 'stand out' curriculum for these senior year groups has been a real challenge.
As senior schools have moved to Pre-Testing in Year 6 the concept of Common Entrance as an entrance exam to independent senior schools has become somewhat redundant. In addition, many top employers have criticised the current education system (both state and independent) for producing graduates that are not fit for the workplace. Top performances in school examinations do not necessarily correlate with success in the workplace and the skills valued, honed and practised in a typical school are not necessarily those that will be important to succeed in later life. Currently, a lot of curriculum time is lost, especially in the final two years to exam preparation. Exams are important and whilst they are still the method by which pupils are assessed and judged, they need to learn to do well in them. That said, we must not allow this to dominate to the detriment of the future success of these young people. We need to ensure they are 'Learning for Life'. We need to create and develop learners of the future. Learners who are engaged, reflective, communicative, motivated, resilient, organised, inquisitive.
As Eagle House celebrates its 200th Anniversary we need to ensure we are teaching a curriculum that will prepare children for the next 200 years. By one popular estimate, 65% of children entering primary school today will ultimately end up working in completely new job types that don't yet exist.
From September 2019 Eagle House will be launching our new Curriculum 200 for the pupils in Years 5–8. This rich, knowledge-based curriculum will continue where the IPC has finished. As pupils move into Year 5 and are taught by subject specialists, teachers have built the curriculum with topics that ignite passion and allow for relevant and meaningful cross-curricular links. Curriculum 200 will be a modular system with regular formal assessment to allow for the continual monitoring of progress every half term, rather than cramming for exams. Every lesson in every term will count. Exams will still take place in every year group from Years 5–8 but only in the summer term, providing up to 6 weeks additional teaching time over the course of the year.
Alongside new topics assessed through end of unit assessments, we will also be assessing pupils learning skills; their levels of engagement in class, whether they can be reflective, how communicative they are, their self-motivation, the resilience they show when faced with academic challenges and whether they are organised and inquisitive. Curriculum 200 includes a seven-point grading scale of all these key learning skills. Pupils will be graded each term and shown where, and more crucially, how they can develop in these vital areas.
In addition to the new, broader range of topics being taught, pupils in all year groups will complete a range of short independent learning projects throughout the year. These will take place in curriculum time due to the time gained from fewer sets of exams. These smaller but more frequent projects will enable pupils to have greater ownership of their learning and be able to develop the vital learning skills that employers value so highly.
This article first appeared in the 2020 edition of Which School. You can read the e-guide here: