DLD College London students shine on stage
Posted on 14th Feb 2018 in School News, Drama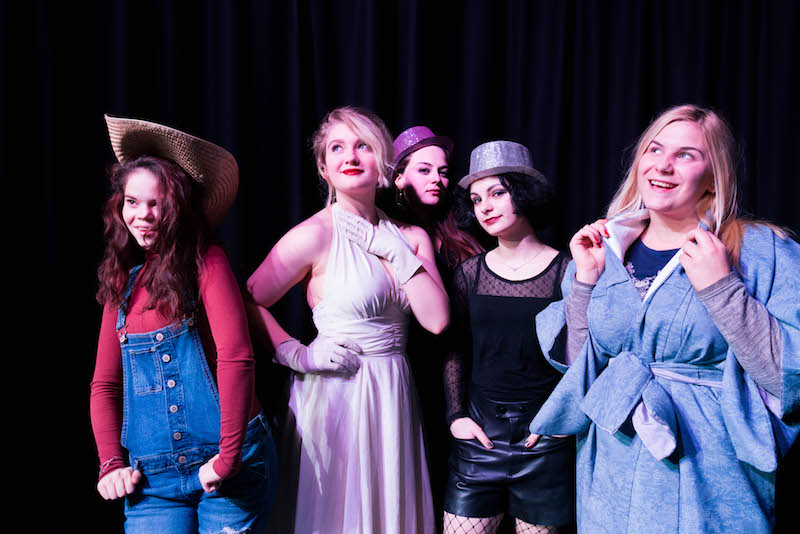 Students at DLD College London recently showcased their exceptional talents during the annual drama production, performing a rendition of the well-known musical 'Guys and Dolls'.
The Westminster Bridge-based College stunned the audience with an outstanding performance of the romantic comedy, telling the familiar tale of gambling and love.
Guests gathered in the remarkable atrium as the popular plot was re-enacted by the highly-creative students. Year 13 students Christian Mitchell and Emina Curic, returned to the stage after last year's production where they once again gave a convincing performance portraying two of the lead characters.
Many students assumed roles which they were not expecting, such as Aniruddha Palanimurugan (Year 13) who joined the group originally to document the rehearsals on video however he has since taken to the stage to perform.
The inaugural musical at the college was also the first time that the yearly production was student-led with A-Level student Magalie Basil-Surenthiran producing the show, and fellow students working on choreography, costume and props.
Principal Irfan Latif commented: "Our students and staff showcased a highly professional performance that thoroughly captivated and entertained the audience; the dedication and enthusiasm to rehearsals was evident, making our first ever musical a great success.
"At DLD College London we encourage our students to express their creativity by engaging in a wide variety of extra-curricular activities, building on their confidence, instilling a vital life-skill."
Those interested in finding out more about the college can attend the next open evening on Wednesday 28 February 2018, 5pm – 7pm by pre-booking at: www.dldcollege.co.uk/dld/students-at-dld/admission...
Founded in 1931, DLD College London is one of the oldest and most prestigious colleges in the UK, and since its foundation has built a strong reputation amongst students, parents, schools and universities.
In September 2015, DLD College London relocated to brand new, purpose-built premises in the heart of London, on 199 Westminster Bridge Road, overlooking Westminster and the River Thames.
The college offers students the chance to study a wide range and flexible combination of A-Levels, GCSEs, International Foundation courses and BTEC courses.
As part of the Alpha Plus Group, DLD College aims to maintain a 'gold standard' of educational quality. Classes are small, enabling students and teachers to focus upon the most effective ways of learning.