Embracing – and navigating – the digital age
Posted on 28th Nov 2019 in School News, Online learning, Which School? Tweet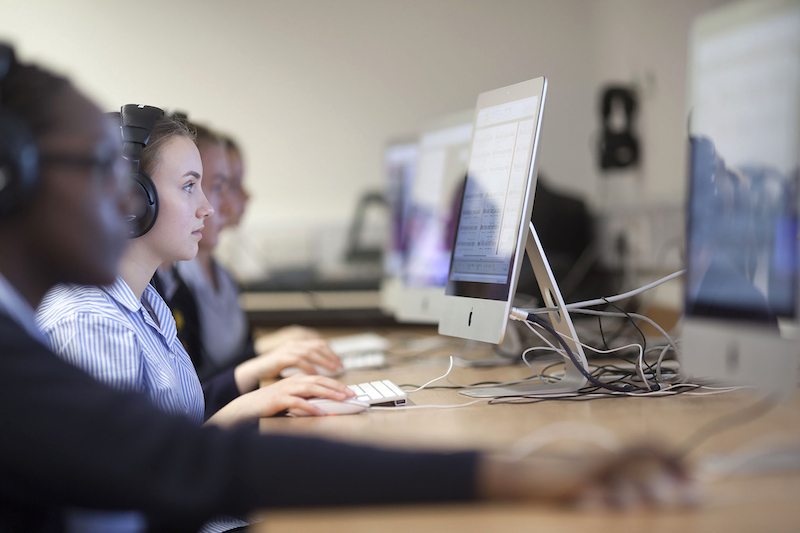 How technology has impacted on everyday life at Abbot's Hill School in Hertfordshire...
Abbot's Hill School aims to prepare pupils for a lifetime of learning. Our historic campus offers modern facilities in a magnificent country setting, situated in over 70 acres of beautiful parkland on the outskirts of Hemel Hempstead, Hertfordshire. Our pupils are encouraged to aim high, enjoy learning and to grasp opportunities.
In a world where technology is constantly evolving and more accessible than ever before, we have chosen to embrace this at our school.
This includes inside the classroom, for teaching and learning, parent communications and pastoral care. Recognising that technology is increasingly part of our everyday lives, our goal is to create a modern learning environment in which pupils are taught to navigate the privileges and risks of the digital age.
At Abbot's Hill School, we recognise that technology can greatly enrich the curriculum and help to assist pupils' learning. We also realise that our pupils need to be aware of how to use technology safely.
Our Senior School pupils are each issued with a Chromebook device which is used to enhance their learning through the use of Google Classroom and associated apps. These pupils will all complete an Online Safety qualification to ensure that they are aware of the online dangers and the ways in which they can use the internet wisely.
The school has also run interactive sessions and talks for both pupils and parents on how to engage with technology in positive ways. The Director of Pastoral Care works closely with the school's ICT team and a board of parent volunteers who make up the dedicated Online Safety Community Group for the school. They work together to find practical ways to support families through the ever-changing developments in technology and any potential issues that they could cause.
We pride ourselves on our pastoral care and at Abbot's Hill; the individual pupil's well-being is at the heart of everything we do. This is reflected in all aspects of school life and starts from the moment a pupil enters the school.
Abbot's Hill was the first school in the country to begin using the AS Tracking tool for both Prep and Senior pupils. It is an online self-assessment which is completed by pupils up to three times in an academic year and monitor pupils' mental health in its results. This data is used by staff to inform proactive, targeted and evidence-based pastoral support for each individual child.
Parents also directly benefit from the use of technology at Abbot's Hill. All parents have access to a dedicated, secure Parent Portal which provides instant access to their children's timetables, reports, the school calendar and much more. Clubs and extra-curricular activities can be booked through this, as well as slots for parent consultation evenings. There is no need to rely on your daughter bringing home consent forms for an upcoming trip, you can complete these on the Parent Portal and the information will go straight back to the school. If you need to update your contact details, that is just the click of a button.
Over recent years, we have taken on feedback from our parent body about the most effective ways for the school to communicate with them. This greatly favoured digital communications, where parents can instantly access the information that they need. We have now developed a weekly e-mail bulletin for families which incorporates key school news items, reminders and letters for each year group across the school.
The Senior School Council voted unanimously to ensure that all Abbot's Hill pupils were issued with the same device to ensure there was no peer pressure to have the very best technology that they could afford. By equipping all pupils with the same Chromebook models, it allows the girls to have equal opportunity to learn in this way.
We take great pride in the quality of the teaching and learning at Abbot's Hill. Throughout the school, pupils are taught in small classes and receive personalised support, ensuring that they are stretched and supported at each stage of their education. Traditional methods of teaching and learning still have a key place in education and at our school, with technology acting as an additional educational tool to enhance and aid learning.
We have seen positive results in both pupils and teachers working together through dedicated Google Classrooms. Abbot's Hill School promotes learning in a supportive and nurturing environment in which children have the means and support to mature naturally. By using apps that enable teachers to assess learning, pre-teach material and completing assignments within guidelines that do not put pupils' at risk of online dangers, Abbot's Hill can ensure that technology enhances education where it is meaningful.
To experience Abbot's Hill School for yourself, come to our next Open Event. For further details, please visit www.abbotshill.herts.sch.uk or call us on 01442 240333. We look forward to welcoming you.
This article first appeared in the 2020 edition of Which School. You can read the e-guide here: