Felsted School rugby players selected for England U18
Posted on 14th Feb 2020 in School News, Achievements, Sport Tweet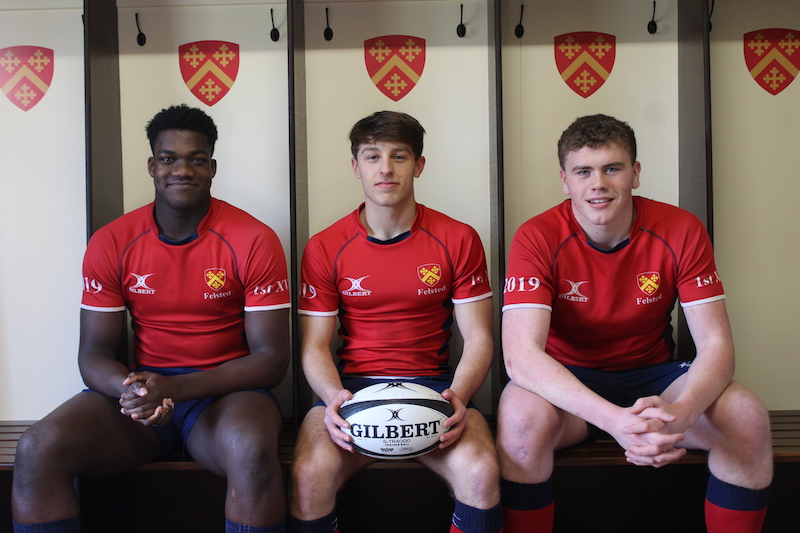 Three Felsted School rugby players, Samuel Bryan, Obinna Nkwocha and Tristan Smith, have been selected for the England Under 18 development camp, a camp that will determine final selection for the upcoming international fixtures against Scotland, France and Wales as well as the 6 Nations Festival against Wales, Scotland and Italy. Felsted is delighted that not only has the boys' hard work been rewarded but also that they have the most boys attending from all schools across the country, alongside Wellington College and Beechen Cliff School.
Playing for Felsted 1st XV rugby under the guidance of Andrew Le Chevalier, Director of Rugby, all three players also train with the Saracens U18 Rugby Academy. Andrew comments; "we have had boys reach these international heights in the past, but to have three from Felsted in one year is just fantastic!".
Samuel Bryan, age 18, a weekly boarder from Chelmsford, already has experience of the U17 England development camp, where he played in two international matches as well as a summer tour to South Africa where he captained the side to a victory against France. He is the current Felsted 1st XV & 1st VII and Saracens U18 Academy Captain who has made his debut this season for Saracens Storm Senior team. Sam is studying A Levels in Geography, Business Studies and PE.
Obinna Nkwocha, age 17 and weekly boarder from Hornchurch, only joined Felsted last year, but has already made an impact on the field this season for the schools 1st XV, as well as being involved with Saracens U18 Academy where he has been making a big impact in their recent matches. Obinna is studying A Levels in Music, Economics and Business Studies, playing the piano alongside rugby to balance his academics.
Tristan Smith, age 18 and a weekly boarder from Notley, has played a major part in the success of the 1st XV for two seasons being the cornerstone of the pack as well as being involved with Saracens U18 Academy, where he has put in some outstanding performances. He joined Felsted in the Prep School and is studying A Levels in Business Studies, Design Technology and PE.
Rugby is a strong discipline at Felsted, with success at every level over the last few years. Overseen by former Wasps player Le Chevalier, the school currently holds partnerships with Saracens and Northampton Saints, helping build a pathway to success for current players at all levels. Many current pupils play for league academies including six at Saracens, four in the Lambs National Squad and four at Northampton Saints. There are also a number of former Felstedians playing at professional level including Max Malins and Ollie Stonham (Saracens & former England U18), Ehren Painter (Northampton Saints) and Rory Hutchinson who recently represented Scotland in the opening Six Nations game against Ireland.