​Importance of creative subjects should never be underestimated
Posted on 15th Nov 2016 in Which School?, Curriculum Tweet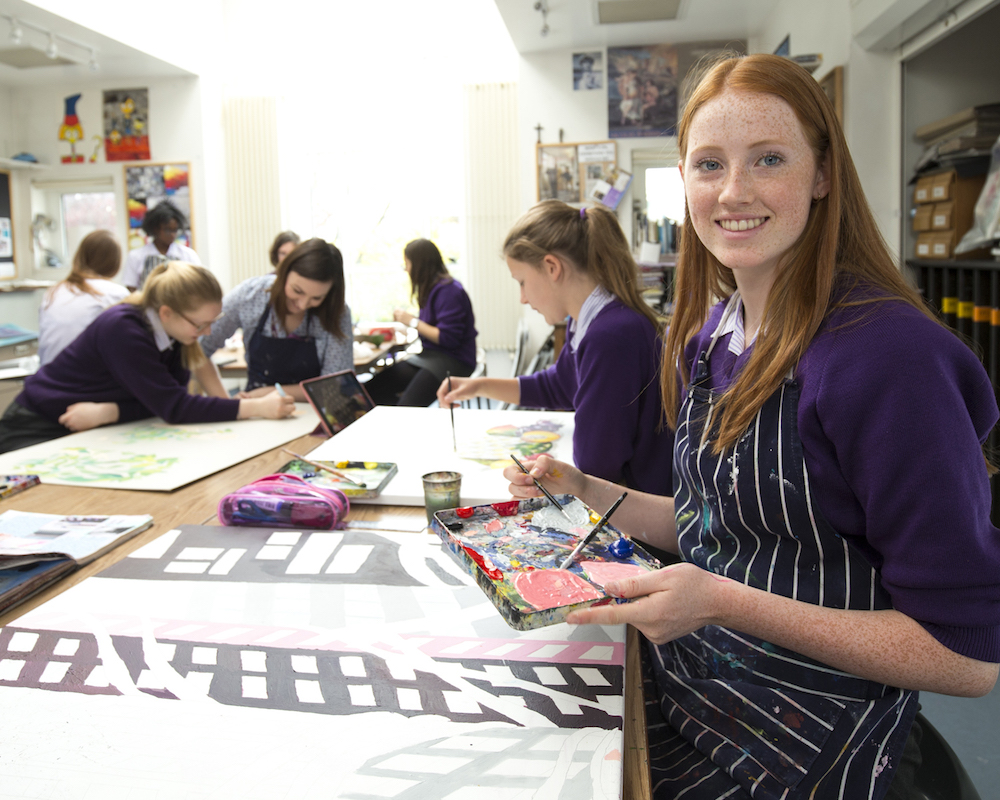 Dr Kevin Stannard, Girls' Day School Trust (GDST) Director of Innovation & Learning, says that firing the imagination will always be at the heart of great learning...
In April 2016, The Girls' Day School Trust (GDST) conducted its first Student Survey on the subject of 'What makes great teaching?' We were cautiously optimistic about the number of responses we hoped to receive but no-one could have predicted the overwhelming enthusiasm with which our young people rose to the challenge.
In total, we heard from almost 12,000 students ranging in age from nine to 18. Answer formats included everything from the traditional to the somewhat less conventional – think poems and recipes à la Roald Dahl and even a song submitted as a video clip from a group of junior students.
One of the most interesting findings identified by the survey was the Key Stage 4 'bottleneck' – a phenomenon whereby student's mindsets switch from being 'enthused learners' to 'exam exponents' as their focus shifts to their imminent GCSEs.
Students in Key Stage 3 tend to carry with them, from the later primary years, an appreciation of teachers who challenge them and give them scope to make choices and be independent. This happens again in the Sixth Form, with an additional focus on teaching that enthuses and inspires. But there appears to be a change of focus in Years 10 and 11.
In Key Stage 4, this 'bottleneck' is reflected in the greater relative importance that students place on teacher qualities like not pressuring them and understanding the pressures they are under. 'Toolbox' qualities – teachers who control the classroom, give good notes and structure lessons well – are also ascribed much greater importance at this stage of a student's school career.
The influence of the battery of external exams at age 16 effectively amounts to a distracting factor that forces students into a 'learned helplessness' that can involve a great deal of additional anxiety. Encouragingly, the survey also indicates that participating in subjects that could be classified as 'alternatives' to the largely sedentary academic subjects – art, performing arts, music and PE – can significantly mitigate the effects of the bottleneck.
The importance of creative subjects was referenced by Baroness Evans of Bowes Park in a House of Lords debate initiated by the GDST Student Survey. She said: "We believe that every child should experience a high-quality creative education at school. Participation in creative activities helps prepare children for adult life by building confidence, perseverance and the ability to co-operate with others."
The way in which lessons are taught can also have a huge impact on how students respond to the subject being taught. Information can be imparted in a way that is inspiring and challenging or it can be delivered in a way that numbs the mind. An education that fails to equip an academically high-achieving student with a sufficiently curious mind so that they are thrown by an unexpected admissions interview question is no education at all.
By spoon-feeding them to achieve their grades, teachers can, albeit unwillingly, reinforce the student's defensive reflex that to be asked to think on their feet becomes a travesty of epic proportions.
That's where the ubiquitous 'life skills' come in. If I had to sum them up, I would say these are the skills that enhance life chances. Exam results should never be disregarded but building a young person's independence, curiosity and ability to collaborate are just as important as their academic achievements, if not more so if employers' predictions of future recruitment strategies are anything to go by.
As the GDST's student survey so clearly identifies, how teachers talk, use humour and engage with students as individuals can ultimately determine whether young people leave school equipped with or lacking these all-important 'life chance enhancers'.
Flip the coin and you'll find that teachers similarly need encouragement, support and ideas in order to be able to advance their practice. Schools need to develop a culture of inquisitiveness and experimentation among staff so this process becomes the norm rather than the realm of a lucky but somewhat off-beat few. A note of caution at this point – when it comes to implementing change effectively, delivery is key.
Small steps that allow for early adoption and feedback are undeniably preferable to hastily imposed 'new structures'. A conversation which highlights the importance of life skills should be going on at every level within the school, that way it quickly becomes embedded as part of the philosophy.
Of course there is no getting away from the fact that innovation in all its forms requires sufficient resources – without this foundation, even the best laid plans are likely to come to nothing. Money and changing structures are just one small part of what makes great teaching. Firing the imagination will always be at the heart of the matter – at the heart of great teaching.
You can find out more about the GDST at www.gdst.net.
You can also follow on Twitter at @GDST and like on Facebook at www.facebook.com/TheGDST
Photo: Putney High School