Independent school education for your four-year-old for just £37 a week
Posted on 21st Sep 2018 in School News, Independent Schools, School fees planning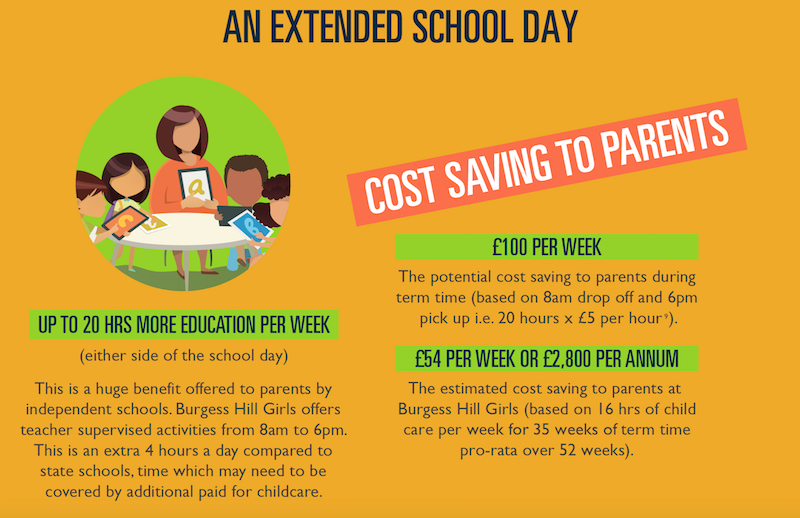 As soaring nursery fees take their toll on working families, a top independent school has produced a ground-breaking infographic to show that a place in a top independent school for a four-year-old can cost as little as £37 a week.
A recent TUC analysis showed that working parents with children under five have seen nursery fees rise three times faster than their wages over the past decade, with childcare costs rocketing by 52% per week since 2008.
With this in mind, Burgess Hill Girls is reaching out to parents to publicise the underestimated financial benefits of private education. The school's infographic, which details potential costs and savings, demonstrates how a premier education is actually within reach for thousands of families.
It shows that the extended school day can reduce childcare cost by £2,800 per year, while free after-school activities at independent schools represent a saving of £350 a year (based on two after-school clubs per week at £5 per club). And with a free breakfast and dinner factored in, on top of a hot lunch, many families may also find themselves £437 (per year) better off.
And now, thanks to the Government's free childcare scheme for three- to four-year-olds, the £81-per-week actual cost to parents of a Reception place at Burgess Hill Girls can be reduced even further by a maximum of £44 to only £37 a week, or £1,924 a year, as the infographic shows.
Burgess Hill Girls Head Liz Laybourn said: 'So many families assume that the cost of an independent school education is beyond their means, but we're showing in one handy infographic that there are a number of significant savings that should be factored in before they make a decision.'
Mrs Laybourn added: 'Of course, the decision to educate your child in the independent sector is about far more than money. For example, the pupil-teacher ratio in independent schools is, typically, almost half that of state schools, meaning more one-to-one time with your four-year-old and more effective teaching from day one.'
She added: 'We really hope the infographic gives parents all the information they need to make an informed decision about choosing the right school for their four-year-old. It's one of the most important decisions they will ever make.'