King's Rochester pupil continues cycle journey from Kent to Inverness
Posted on 21st Jul 2021 in School News, Charity and community work, Fundraising, Sport Tweet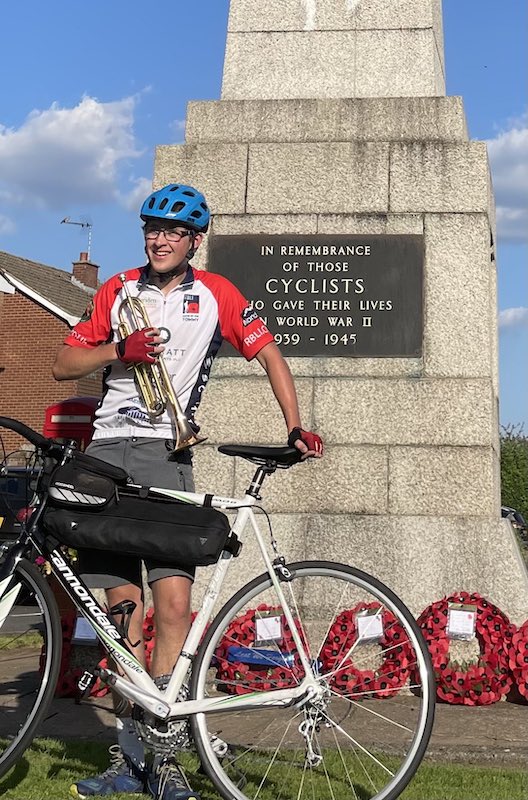 Archie Caithness, a Sixth Form student at King's Rochester has just completed the 150 mile RBLI Ride with a Veteran 2021 and doesn't plan on stopping there.
Archie along with a team of veterans, completed the 2 day, 175 mile trip from Aylesford to Meriden this past weekend in 29°C heat. In a display of sportsmanship and comradery, Archie helped support a struggling rider for the last 20 miles, watched on by his proud parents.
The keen cyclist from Rochester, plans to continue on to Inverness, Scotland to surprise his Grandparents after a long Lockdown apart. Including his journey from Aylesford, Kent to Meridian, West Midlands with the RBLI, his total distance will be 1300km which includes a lot of climbing.
Archie's journey will take him along the Great North Trail, an almost entirely off-road route devised by Cycling UK in 2019. Friends and family will be joining him for short sections of the ride along the way.
On planning for the journey, Archie said; "I have known for a while that I wanted to do an extending cycling expedition this summer. I completed my Gold Duke of Edinburgh Award with a walking expedition in summer 2019 and a canoe expedition in 2020, and with the travel restrictions currently in place, I started looking at routes within the UK."
Cycling is a passion of Archie's who is no stranger to undertaking such challenges. He led a fundraising challenge for his classmates to virtually travel between their tutors home towns in February 2021 and last summer cycled the 127km to Dover from Rochester with classmate, Pedro Gomes.
To those who may be considering cycling this Summer, Archie says; "Do it. Wear a helmet. Have fun. The great thing about cycling is that it's enjoyable on your own or even better with friends. Age doesn't matter and there are different styles of riding so you can find the one that suits you."
Having completed his A-Levels at King's Rochester, Archie will be heading to St Andrews University to study Psychology in September, with the long term aim of becoming an Educational Psychologist. After his big ride this summer, he is taking a course in the Lake District to train and qualify to lead mountain bike expeditions and hopes to contribute to the mountaineering club at University.
Mike Hebden, Director of Sport at King's Rochester said; "Archie continues to showcase the four key values of sport at King's, Resilience, Passion, Ambition and Work Rate. This is an amazing undertaking and I wish him all the best."