Merchiston – Scottish Schools' Cup U18 Winners 2018
Posted on 6th Dec 2018 in School News, Sport, Competition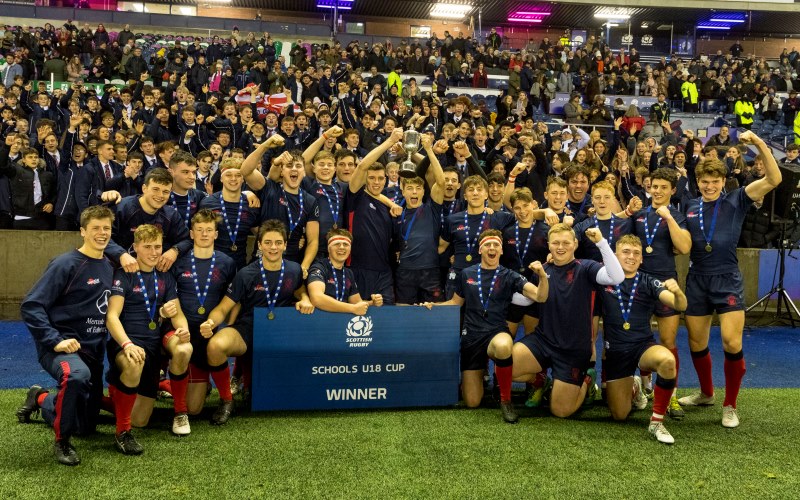 Merchiston is justly famous for its reputation in sport and not least for its highly successful rugby at all levels. This year looks like being no different as Merchiston's 1XV was honoured to be crowned U18 Scottish Schools' Champions 2018.
No other School in the history of the Cup has won as many times as Merchiston. As Tatler's School Guide said, 'Rugby is crushingly good here.'
The School has 12 senior teams, and nine junior teams, all of which have regular fixtures; a 'rugby for all' philosophy encourages excellence at the top level.
Merchiston is certainly set to make their mark on the remainder of the season.
'We are extremely happy for the whole School and this set of boys as they thoroughly deserve this success through their hard work and determination. Many of these boys have been in the School since their primary years and are firmly rooted into our culture. To see the sheer delight and joy on their faces is what our Rugby Programme is all about: enjoyment, teamwork and commitment.
'Winning against a very strong George Watson's College in the semi-final gave us the confidence to trust our systems and go into the final in good shape. Half-time came at a good time for us: we managed to regroup and calm down from the pressure of the final. In the second-half we were more composed, we kept the ball better and went through our attacking systems to exert pressure on St Aloysius' College. The way we scored our final tries to win the game is what our rugby is all about; playing at speed with a high level of skill execution.
'The boys will remember this night for the rest of their lives.'
Director of Rugby, Roddy Deans
'Last night's victory was a very special occasion for everyone involved. The coaches, staff, parents and the wider Merchistonian community have supported the team massively over this season and last night was a chance for us to give something back.
'The final score did not reflect the close encounter we had, especially in the first-half, but the determination and work-rate in the second-half showed how much a Cup win meant to us as a team. We have worked hard on and off the pitch for many years now and to finally to get our hands on the trophy is wonderful. On behalf of the team, I'd like to say a massive thank you to everyone who has helped us to this point. To the coaches, who put in hours of unseen work to help us out, parents, family and friends, for supporting us throughout the season and giving us this opportunity as a group. Thank you to all the Merchistonian family for supporting us through any means and seeing the joy after ending ten tough years in fantastic.'
Captain of Rugby and Man of the Match, Jamie Dobie
'Merchiston is one of the established super-powers of schools' rugby in Scotland, playing in the top tier Colt Conference and travelling each October to compete in the St Joesph's Rugby Festival in Ipswich against 15 of the other top rugby schools in the UK.'
David Barnes, The Offside Line
'Merchiston instilled the perfect ethos and culture in preparing me for a professional rugby career. The standard of coaching on the field and the support in video analysis and strength and conditioning in classroom allowed me to shape my game to a different level and provided me with the pathway to professional sport.'
Zach Mercer, Bath Rugby