Pocklington School's Anna wins prestigious BTEC ICT Award
Posted on 16th Jul 2020 in School News, Achievements, Awards, Student awards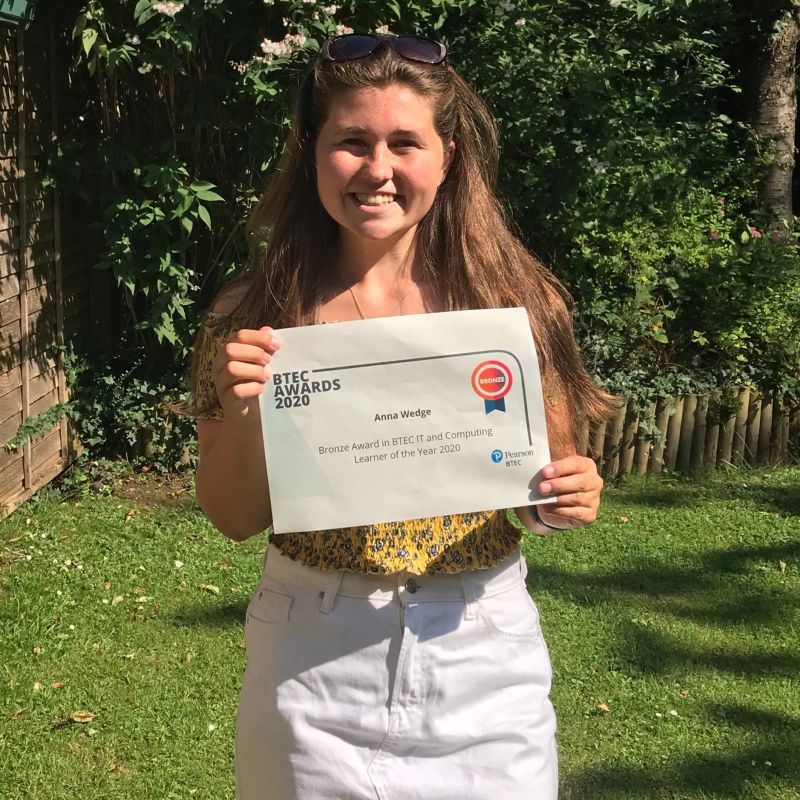 The exceptional achievement of Pocklington School Upper Sixth Form pupil, Anna Wedge, has been recognised in a prestigious national competition by awarding her a Bronze Award for Information Technology and Computing (ICT) in the BTEC Awards.
The 2020 BTEC awards which are in their 10th year, are overseen by the UK's largest awarding body, Pearson.They are designed to celebrate the hard work and commitment of both trainers and learners, across the globe. Due to the coronavirus pandemic, the awards were held online for the first time on 25th June 2020. Awards were presented by Double Olympic Gold Medallist Gymnast, Max Whitlock, as well as actress and former BTEC Drama student at The BRIT School, Kellie Shirley.
Anna was recognised by Pocklington School teachers and peers for her outstanding and dedicated approach to the BTEC Level 3 National Extended Certificate in Information Technology. She is one of the first cohort to complete the qualification which was introduced to the school curriculum in September 2018. BTEC qualifications equip millions of learners with the knowledge and practical transferable skills to take their first steps into the world of work, progress through their careers or enter university.
Anna commented: "Throughout my time at Pocklington School I have always enjoyed ICT as a subject. Therefore, being awarded the Bronze award in BTEC IT and Computing Learner of the Year 2020 has been exciting for me and a great way to finish my time at school. I wish the upcoming year of learners all the very best and hope they continue to enjoy the course as much I have."
Helen Alexander, Head of Curriculum ICT and Computing at Pocklington School said: "Anna has just completed the two-year ICT BTEC course and we have been so proud of all she has achieved over this period. She has been a true ambassador for the subject and for the launch of BTEC within the school. Alongside her personal growth and practical skills development, she has constantly supported her peers, encouraging collaboration and an excellent team approach. We know she will go onto great things as she leaves us for the next step in her educational career and we wish Anna all the very best."