Pupils at The Froebelian School raises thousands to help make wishes come true
Posted on 10th Nov 2016 in School News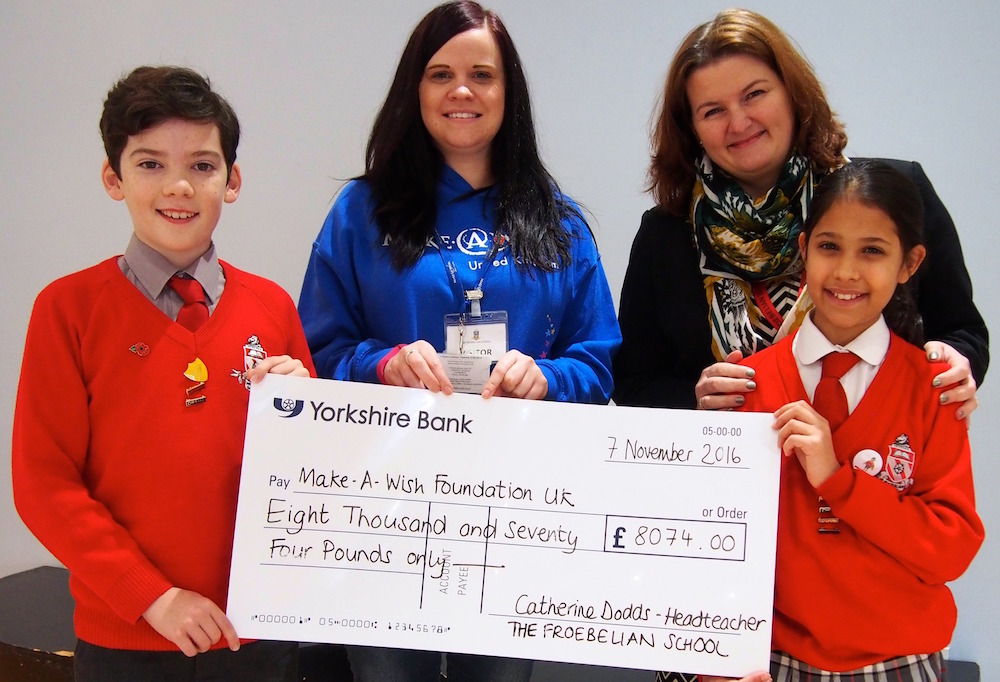 Pupils at The Froebelian School in Horsforth, West Yorkshire, have raised an astonishing £8074.00 for The Make-A-Wish Foundation, which 'grants wishes to transform and enrich the lives of seriously ill children'.
Working tirelessly throughout the last academic year, the whole school community, including all the children aged 3-11, their parents, families and the Froebelian Parent Teacher Association, held a number of fund raising events to support the charity having been inspired by the story of Luke Harrison who has been diagnosed with leukaemia.
Headteacher Catherine Dodds said: "Watching Luke and his family battle against his leukaemia and seeing how they all benefitted from the wonderful work of Make-A-Wish, was the reason I selected it as last year's chosen charity. His story inspired the whole school to want to do something to make a difference and help children like him through a difficult time. The amount we have raised will pay for at least two children and their families from our area, currently living with a serious illness, to have their wish granted for the holiday or experience of their dreams."
Dr Larissa Kerecuk, Consultant Pediatric Nephrologist, Birmingham Children's Hospital said: "I've noticed a very positive change in every single child, and their family, that Make-A-Wish has granted a wish to. A Make-A-Wish wish helps in so many ways that medicine cannot. A wish gives hope, offers light at the end of the tunnel and respite in the face of debilitating conditions."