The importance of creative and expressive arts in school
Posted on 5th Jul 2018 in School News, Prep Schools Guide, Art, Drama, Performing Arts, Music Tweet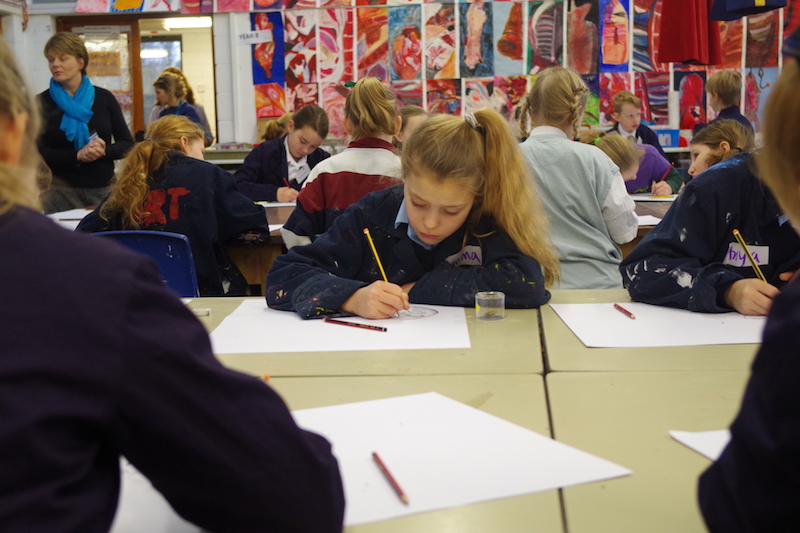 Catherine Ford, Head of Moreton First Prep School in Shropshire, reflects upon the essential role that creative and expressive arts play in a rounded education.
The inspiration and power of the arts play a vital role in enabling our children and young people to enhance their creative talent and artistic skills.
If you think about it, the lessons we remember are not those that are planned to an outstanding level, complete with starter and plenary. Look beyond the lesson format and this is where we as educators can deliver the most significant lessons – be creative. Lessons at Moreton First are embracing just this. We have set out the vision for change, emphasising the importance of the arts for a broad and balanced curriculum.
We've always had a strong reputation in the performing arts: Music, Drama, Verse Speaking, Public Speaking and Debating in particular. The ability to communicate with confidence and clarity is vital and our dedication to performing arts is central to our belief that confidence is the product of a holistic education.
At Moreton First, speaking to an audience becomes the norm as all pupils from Transition to Year 6 have numerous opportunities each week in Drama and Public Speaking. For the younger children, the emphasis is on participating, encouraging, creating imagination and the ability to work in a partnership with other members of the class. For the older children there are opportunities for improvisation and group projects.
After school Drama clubs are popular with all ages. Dynamic Moreton First musical productions take place twice a year, in which every child has a role. Moreton Hall's stunning amphitheatre, surrounded by glorious gardens, provides the perfect backdrop for all summer productions and concerts.
All Moreton First pupils are offered weekly Spoken English sessions with specialist teachers. Boys and girls investigate and practise the pronunciation, intonation and delivery of the spoken word using humour and different exercises to enhance their ability to deliver English in its spoken form. The Debating Club also gives our budding spokespeople the chance to perfect their skills of rhetoric.
The progressive Art curriculum builds on skills, knowledge and experience and all Moreton First pupils have lessons in the Design Centre benefitting from the use of equipment such as the printing press and kiln.
And our Music Department offers all children outstanding facilities and specialist teachers in a wide range of musical instruments. In fact, lessons with specialist conservatoire teachers can be arranged in virtually every musical discipline!
We regularly have guest practitioners from industry to hold workshops and talks with the students, in all areas across the creative and expressive arts sphere. As a school that's committed to supporting the local community, we continue to launch exciting new initiatives.
The importance of drama and performing arts in education is significant. It's easy for children to become swamped in a sea of theory, which is why subjects that offer practical learning are essential. Achieving a balanced education is just one of the benefits of studying the arts. It is important children are offered a range of exciting experiences which offer independent thinking and teach valuable life skills, which help equip them for life and work beyond school. At Moreton First, this is viewed as crucial.
Drama and the Performing Arts serve to generate a rich array of reciprocal benefits for both students and our community. At Moreton First, Drama and Performing Arts have been part of the curriculum for over a decade. During that time, we have had the pleasure of witnessing many student productions and musicals.
We have also enjoyed seeing the way in which studying the Arts have helped our students to improve their overall academic results.
The school's plan for a £1.45m Community Theatre cements the belief we have in this type of education. The new theatrical venture began when generous benefactors, Bill and Julie Holroyd, saw the positive results of drama through their own daughter's education at Moreton. Mr Holroyd is an active philanthropist who has been instrumental in setting up and developing the Onside Youth Zones; a partnership between the public and private sector. At these 'zones' young people from all backgrounds can engage in many activities; from sport to creative arts to support with their careers.
Mr Holroyd explained; "I have seen the results of community engagement to deliver projects that help a local area at many levels. I feel that the students of Moreton Hall can successfully lead a campaign that will add to their experience - but most importantly, result in a place for the community to come together and learn about, participate in and enjoy all that the arts have to offer. I look forward to being in the audience when the doors open."
It's fair to say students, parents, staff members and the local community alike are looking forward to the impending new theatre, no other more than ten year old Jack who enthused: "I've always loved drama and being able to learn from the best and be the best on a new stage really excites me!"
With plans surging ahead, the 'Holroyd Community Theatre' is set to open in 2019, an exciting reality, embraced by parents and teachers alike, who recognise the transformative effect of a child finding a passion early in life.
Whether your child is academic, sporty or artistic, independent prep schools are dedicated to educating the whole child, to providing a breadth of opportunity for each child to explore their interest and develop their talents. With the growing importance of the creative and expressive arts at risk of becoming undervalued in the school curriculum, it is up to the best schools to continue to commit to leaving their pupils with a lasting educational legacy.
A Prep School education is so precious because an education is so much more than just what we learn in the classroom.