Tolstoy or Twilight – are there right and wrong books for our children to read?
Posted on 9th Jun 2017 in Curriculum Tweet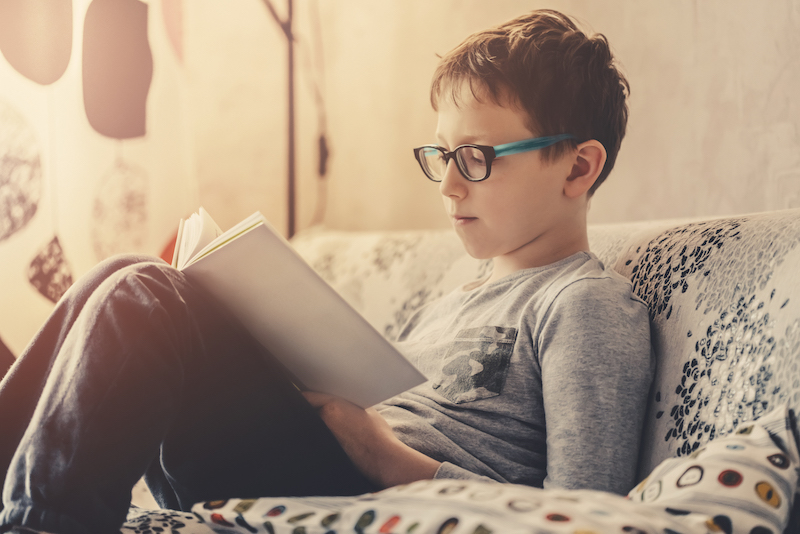 Kieran McLaughlin, Headmaster of Durham School, considers the impact reading has on young learners...
What was the last book you read? A common question that I might ask a pupil, and a standard interview question for prep school children moving to a senior school. The response can be a bashful one: "Harry Potter, sir". Even more shockingly, Billionaire boy, Timmy Failure or Diary of a Wimpy Kid. Sometimes I will get the more calculated answer: "Oliver Twist. I do love Dickens, sir, such memorable characters".
Of course there is no right answer. Or is there? Debate raged recently on social media (where else?) between those who believed that easy books, such as those I mentioned above, aren't a route to lifelong reading. Children, it was argued, need to be challenged; they need their horizons broadened and should be exposed to authors like Tolstoy and Chaucer early on. Others argued that, it is more important that young children read at all; what books they choose matters less, and if that meant they read and reread simple stories so be it. The time would come later on for the greats of the western canon.
My own route to the delights of Dostoyevsky and Joyce was a fairly straightforward one. I enjoyed the childhood staples of anyone who grew up in the '70s/'80s: Ladybird books and Enid Blyton, through to Narnia and Middle Earth, via Supergran and the Turbulent Term of Tyke Tyler. As a teenager and, again, in common with many at the time I worked my way through the horror novels of Stephen King, the sci-fi comedy of The Hitchhiker's Guide to the Galaxy as well as books that we studied at school: To Kill a Mockingbird and My Family and Other Animals.
I read a lot during my childhood but of course the difference between then and now was the lack of distractions. There were just four channels in the television, the internet didn't exist and mobile phones were for the mega rich. As a father, I often compare the books of my childhood to those of my sons. The books my sons choose to read seem to use simpler, coarser language. The pages contain many more drawings than I remember from my own reading, and the text is less dense. Back in those days, once you graduated from Peter and Jane, a page of a children's book much resembled that of adult literature. Nowadays, the print is bigger and written in a font resembling a child's handwriting rather than the Baskerville of the '60s. It's hard to resist the conclusion that books are written or published with a focus on engagement rather than challenge.
The situation is less bleak than that. Revisiting some of the titles I mentioned above, there's a simplicity that sits at odds to the world which children grow up in today. They also possess rather Anglo Saxon attitudes in their depiction of the society in which they were written. The vocabulary may be more demanding, but the characters and plot are not, and the best of the novels written for children today render their stories in a way which can be sophisticated.
Is it bad for youngsters to read The Hunger Games or the Twilight series? I would argue not at all; they may not be the kind of books that professors will write papers on, but it would be very grim if all children read were weighty tomes designed to improve. The educationalist Horace Mann is credited with the quote: A house without books is like a room without a window. Books we read provide a window through which we look out to see the world and understand the lives of others. They offer us something no other medium can: the ability to see the world from another point of view. We can get inside the head of a narrator in a way that is impossible in film or TV.
That makes for a richer experience; we can all remember times when we have seen a screen adaptation of a book we have read and found it wanting. That's because our ability to take an author's words and build a world in which those words become pictures, sounds and realities is infinitely powerful. Rather than having the direct access to the author's words, we are seeing somebody else's interpretation of them, closing down narrative options rather than widening them.
The best novels for children do the same as they do for adults. They make us laugh or cry; they enhance our understanding of the world and of the people in it; they open us up to a diversity of experience which helps us to understand our own. Children are as curious as they have ever been, and we have a responsibility to encourage them to read widely. Put down the screen and pick up a book, because whether it be Williams or Wordsworth, Rowling or Ronald Dahl, Tolstoy or Tolkien, the best books are those that speak to us in a language we understand and give us an experience we never forget.
This article first appeared in the summer 2017 issue of Prep School magazine. To read the latest issue, and to subscribe to the magazine, visit www.prepschoolmag.co.uk.
Durham School is a coeducational day and boarding school for pupils aged 3-18.