Why choose a boarding school?
Posted on 15th Nov 2022 in Which School?, Choosing a School, Boarding, School News, Independent Schools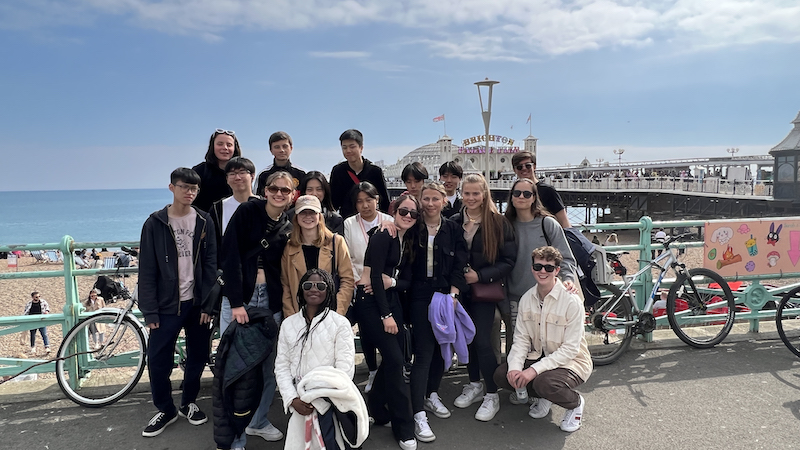 Chris Coetzee & Elizabeth Hanson, Heads of House for boys and girls boarding at King's School Rochester, share some of the opportunities available when attending a boarding school.
At King's School Rochester, we have two boarding houses offering a boutique boarding experience where no-one is a number. The second oldest boarding school in the world, King's was founded in 604 AD. As the centuries have ticked over, the boarding community has changed to reflect the society we live in and today our boarding family has pupils from both the UK and 20 different countries including Brazil, Malaysia, Germany, Spain and the Ukraine.
We are proud to provide a warm, home from home, family experience to all our boarders and to facilitate that, we limit boarding numbers to 55 pupils, split into a boys' house (School House) and a girls' house (St Margaret's). The houses are just that, modernised large Victorian homes and are just a stone's throw from the school itself, the second oldest school in the world, one of the most vibrant high streets in the South East of England and just over half an hour away by train to the bright lights of London.
The reasons for boarding in the 21st century are as diverse as the flags we fly on our mantlepieces.
For many UK-based pupils, staying at school during the week and going home on a weekend allows them to participate fully in the multitude of after school activities. We encourage everyone to get 'stuck in' and as a result, making friends becomes effortless. Music scholars can stay late and take part in regular concerts and open mic nights. When taking part in Sport, many pupils stay over to attend after school matches and to represent the school on a Saturday at fixtures, whilst for Drama it gives pupils the flexibility to throw themselves into rehearsals ready for Opening Night. During public exam times, many of our day pupils take up flexi boarding, only staying a few nights a week to help them focus on revision. Having tutors on hand, quiet spaces for study, and eliminating the stress of a commute really has its benefits.
Service families entrust us with their children, safe in the knowledge we provide a stable and nurturing environment, allowing them to form and build friendships that will last a lifetime. Working alongside the day staff, we create strong pastoral systems around all our boarders to help them navigate the ups and downs teenage life brings.
International boarders join us to experience a British boarding school, just like in Harry Potter. Some pupils can only join the boarding community for a term due to the arrangements of absence in their country of origin, and some fall in love with the school and its traditions and end up staying for their whole school career.
Boarding life teaches pupils the importance of good routines and positive habits. More and more Sixth Form parents and pupils are using boarding as a prelude to university life. It is a far cry from the Victorian images of boarding with gruel and angry housemasters stomping around the house. All the rooms are decorated to a high modern standard and equipped with ultra-high speed wireless connections, making a video call home or a quick online game with friends an enjoyable experience. There are multiple common rooms where pupils can socialise, watch movies, play video games or enjoy a fierce game of cards - just like they would at home.
Boarders at King's also have top quality dining and our very own Italian chef prepares two-course meals for lunch and dinner every day. There is always a range of healthy options to choose from and pupils with special dietary needs are expertly catered for. Out of set meal times, pupils have access to their own mini-kitchens to make food and enjoy snacks with friends.
On weekends, some boarders return to their parents and some stay in the boarding house. For those staying, there's always an activity to get involved in, be it a trip to the beach, a pottery or cookery class, horseriding, a West End show in London or a visit to the local shopping centre for some retail therapy.
There are many reasons why families choose boarding and for those that choose King's, the family-focused boarding community we have here ensures that everybody settles in quickly, makes friends and has fun. We find the hardest part of boarding is often saying goodbye to friends and teachers after what many pupils call 'the most unforgettable experience of their lives'.
This article first appeared in the 2023 edition of Which School? You can view the digital version of the guidebook here: