A focus on happiness, wellbeing and integrity
Posted on 3rd May 2022 in School News, Prep Schools Guide, Wellbeing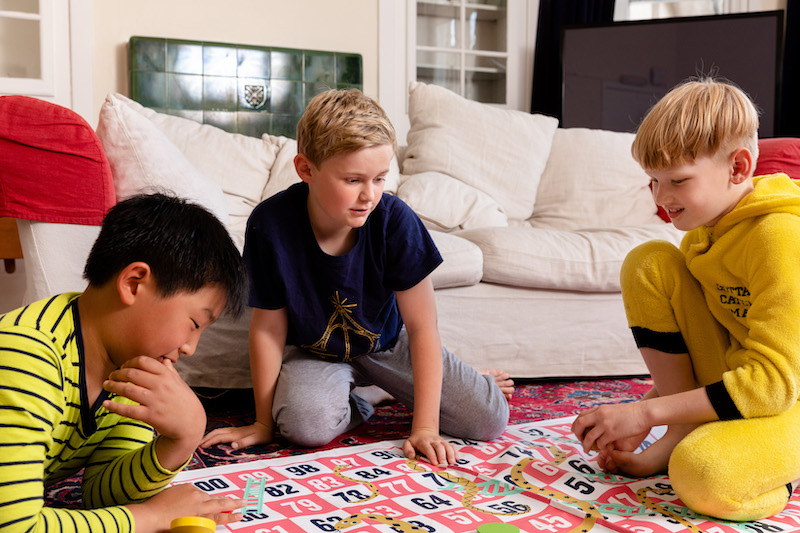 How Merchiston supports individuals' wellbeing to benefit the whole community.
Wellbeing underpins everything we do at Merchiston. It is what makes for meaningful and connected conversations. It is how we get to know our students really well, how we can support and motivate them, to enable them to thrive because they are understood, valued, and supported in everything they do.
Our Rights Respecting Schools work informs the whole School and leads to a focus on children's rights and wellbeing, encouraging us to advocate for global justice and sustainable living.
Merchiston's pupils hold strong feelings about how we can all take action to slow the impact of climate change and the School is very excited to have launched its new Sustainability Committee. It is co-ordinated by pupils in all year groups with support from the Geography Department and involves the whole school, from ground staff, kitchen and domestic staff to support staff and teachers. The pupils are undertaking research and proposing improvements, ensuring sustainable practices across the School. These younger generations are determined to make a difference. Overall, the motivation for all is knowing that, "There is no Planet B!".
Students and staff are thrilled to have the opportunity to continue their work to promote sustainability by supporting Edinburgh Zoo and RZSS in their vital efforts to protect animals that are at risk from extinction. To this end, we will soon invite our local Preparatory Schools to get involved in our new art competition in collaboration with the Zoo. We will welcome children to submit designs showing how they would paint and decorate one of the Zoo's 4-foot giraffe sculptures. The winners will work with our Art Department's staff and students to turn their plan into a reality. After the project is complete, the young artists will take their giraffe back to their school, complete with resources for their friends to learn about these beautiful animals and with a plan to create a habitat for their giraffe as a creative continuation of their work.
We always make sure there is time for creativity and playfulness here at Merchiston. In fact, in order to promote student wellbeing we are currently focusing on the 12 Happiness Habits, of which 'Learning to Play' is just one. Our Deputy Head Wellbeing, Mr Danny Rowlands, writes:
"Happiness is something which needs to be actively pursued, and those who enjoy happiness often do not do so simply through good fortune. Helpfully, various studies have observed that there are common behavioural traits amongst happy people and these have been enshrined in 'The 12 Happiness Habits':
Learn to play
Express gratitude
Savour the positive
Harness your strengths
Live with meaning
Learn optimism
Value relationships
Practice kindness
Get physical
Turn to nature
Practise mindfulness
Strive for success.
During our first term of the academic year we celebrated one habit each week in order to instil these amongst our boys. We have enjoyed assemblies at all levels highlighting individual happiness habits; encouraged play with wild outdoor camps and water sports trips; displayed gratitude towards our friends and staff across the school. With a plethora of outlets for these goals, and by making good practice a habit, there is a real buzz around Merchiston with huge excitement about the opportunities for learning the coming months will bring.
Our exam results show both the consistency and excellence of an education at Merchiston, which place us annually at the top of the league tables of Scottish schools. Not only do our students achieve the highest level of personal academic success, but they have a strong sense of who they are, with respect for others, having learnt what it means to have true integrity.
Now, there's another all-important word: Integrity.
So many of those who have been part of the Merchiston community will often comment that ours is a school with something very special to it that is incredibly hard to articulate. This intangible 'something' that gives a school its identity – far beyond bricks, mortar, and open space – is the most precious asset we have; but how to authentically express it has, for many years, been an unresolved challenge.
We are soon to launch our new 'statement of self' – 'Young Men of Integrity' – both to our own community and the world beyond our walls. In these four words we feel we have honed in on what truly distinguishes Merchiston. It is not our results, as enviable as they may be; nor is it our setting, as stirring and unforgettable as that may remain. It is the young men we are so proud to call our own. In those 'boys' – those young men of integrity – are imbued all the qualities that make a parent proud of their son. Honesty, empathy, determination, commitment, and manners that some might dismiss as 'old fashioned', yet to us mean so much. As part of our new brand 'narrative' extolls:
"To hold that door an extra beat,
To get to your feet,
When the moment calls.
To shake a hand like you mean it,
To take your leave or say your bit.
Means something in these walls."
Through this new expression of ourselves we are now able to confidently return to a single idea that will underpin everything we do as a community. Our mission is as simple as it is profound; to develop young men of integrity. If we can cement that integrity in each and every young man in our care, we have achieved our most fundamental of goals. Examination grades and achievements of all kinds will provide opportunities, but young men of integrity will walk out of our doors and through those that will matter most in the future of our world.
We would enjoy nothing more than to welcome you into our community and to share our beautiful School and grounds with you. Please join us for an in-person visit during which you will be able to meet our students and staff. To find out more, please get in touch with our Director of Admissions, Mrs Kay Wilson on 0131 312 2201 or admissions@merchiston.co.uk. A warm welcome awaits.
This article appears in the 2022 edition of John Catt's Preparatory Schools, which you can view here: