Churcher's College Godalming Performing Arts Festival results for 2020
Posted on 20th Mar 2020 in School News, Drama, Performing Arts Tweet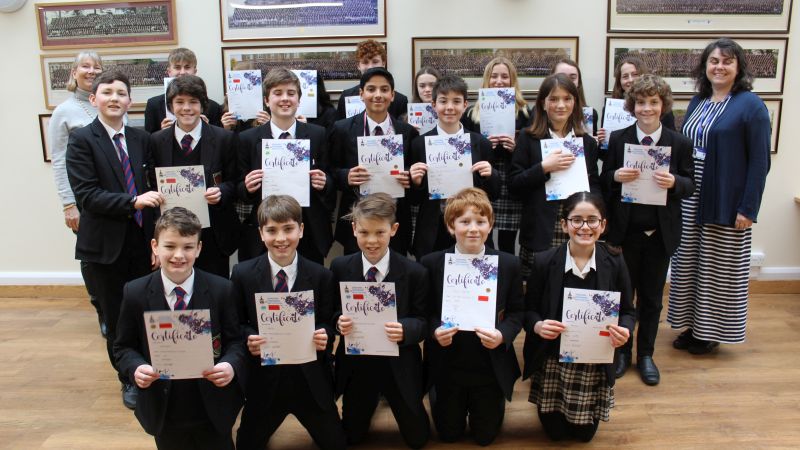 It was another very successful year for Churcher's College at the Godalming Performing Arts Festival in 2020 with students winning prizes in almost every category in the Speech and Drama Section, including 27 pupils achieving 1st place.
Churcher's College entered over 60 pupils into the Festival aged between 11 and 18 years, including 20 first years who were performing in front of a festival audience for the first time.
Churcher's College has a thriving LAMDA department (London Academy of Music and Dramatic Art) where pupils engage in solo and group lessons to develop self-confidence, physical presence, theatrical skills and a strong speaking voice which leads to qualifications in speech and drama.
Suzanne Hall, LAMDA teacher, said: "Churcher's College has been taking part in the Godalming Festival for 9 years originally starting with 11 entries and growing each year. We are very proud of all the pupils who entered, as they performed in a variety of theatrical styles with confidence and enthusiasm, putting into practice the skills and techniques that we have been developing all year. Our pupils put on an eclectic show; they portrayed goldfish, unruly schoolgirls, convicts, soldiers and giant insects to name but a few, in pieces ranging from contemporary drama to Shakespeare. We really like to engage our pupils with exciting and challenging texts.'
The highest mark for a Churcher's pupil was received by Ben Mackay for his Public Speaking entry. Five other pupils scored over 90% to receive Honours: Jackson Wilks, Megan Cullen, William Dean, Daisy Holroyd and Olivia Cropley.